A day in the life: Creative executive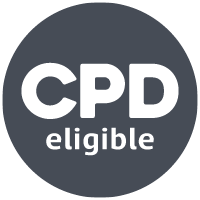 Marketing campaigns are fuelled by creativity. Read on to find out what it takes to bring marketing ideas to life with compelling creative from CIM's very own creative executive, Claudia Gridelli. From producing, filming, and editing videos to managing project workflow in a busy design team, you'll learn exactly what a creative marketing role entails.
My creative career began at university, where I studied Film Production, specialising in editing. After graduating, I worked as a freelancer to develop my skills in photography and videography. This is where I discovered my passion for producing visual content to promote products and showcase what a brand has to offer. 
After this, I started looking for a company where I could use my skills to promote their brand image. CIM was the perfect fit for me; I've learned so much about marketing whilst working here and developed a wide range of skills by working with many different teams within the marketing department.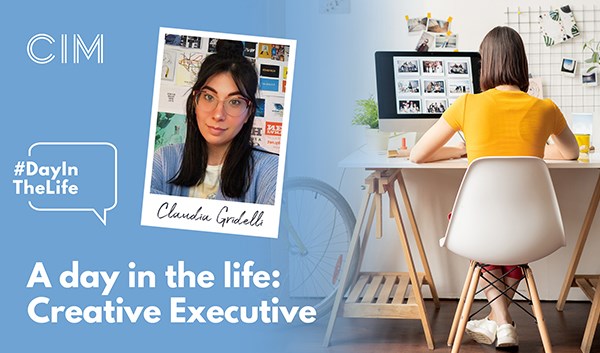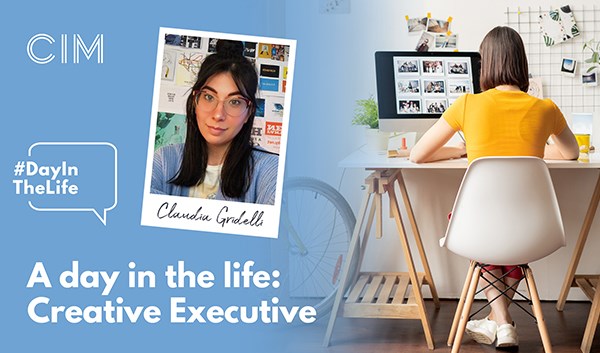 9:00 – Co-ordinating the Creative team 
An important part of my job is organising the Creative team schedule and inbox, which is generally where my day starts. I decide how to prioritise incoming projects and brief my team weekly to establish our current and upcoming jobs, so that we can manage our time effectively to adhere to strict deadlines.
Once I am set up for the day, I go through any new emails in the Creative inbox. I then sort through the Creative schedule on our spreadsheet, making sure all the projects for myself and the designers are recorded correctly so that we can track their progress and any outstanding actions.  
10:00 – Filming video footage
Since joining CIM, I have had many opportunities to develop my skills in all areas of video production. In particular, working remotely since spring 2020 has vastly improved the significance of sound in my work.
My latest video project was CIM's Marketing Excellence Awards (MEAs), which I edited on Premiere Pro. In lieu of a real-life awards ceremony, a virtual event should make guests feel as though they are at a celebration befitting the hard work they have put into their projects. Video captured at a professional level with well-recorded sound has the power to make a virtual event much more immersive; this has been crucial for creating virtual experiences in which brands can connect with customers during lockdown. 
To prepare for the MEA virtual event, I received a rough storyboard from the events manager, which helps me to understand her vision and expectations for this project. The storyboard explains what the actual video itself is going to consist of. I then collaborated with the Events team to book a day to film with our host, comedian Tom Allen. Though the video footage was split into a three day 'event', we are only able to film with Tom Allen for one day. This means that we have to stick to a tight schedule.
In preparation for today, this week I coordinated the script with a shooting schedule, and made sure all the equipment was fully charged and ready to use in preparation for today. This morning, I brought all the equipment to the location and set up before our host arrived. I make sure the backdrop is clean and crease free, the microphone is connected to the sound box and recording properly, the camera had an SD card and battery in, the camera has the right lens attached and all the lighting is set correctly. I then check that everything looked and sounded as it should by having someone stand in place, so we're ready to film as soon as Tom arrives on set!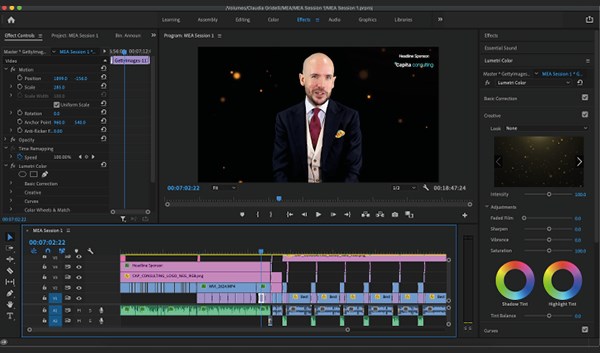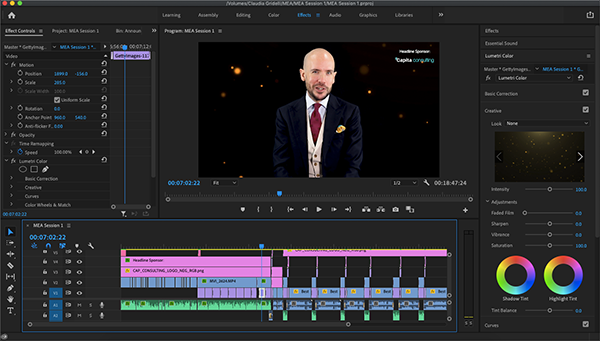 12:00 – Wrap up
After a few hours of filming, we are done! I back up all the footage and sound files ready to start editing later in the week. Creating a video has a lot of different elements to it that take up a lot of time; not only do I have to work on the edit itself, but I also have to work on the audio, music editing and colour grading, and consult with a designer on any logos or graphic placements that will be used within the video.
14:00 – New campaign creative
This afternoon, I am working on creating visual content for an upcoming marketing campaign. This involves being fully briefed on the project's general direction from our Brand & Communications team, before conducting thorough research to make a plan for my approach. To make sure I'm up to date with the latest techniques, I also regularly attend CIM courses, such as the British Film Industry's new courses on filmmaking and video creation for marketing. This is a great opportunity to continue my professional development and allows me an insight into the products I am promoting. Following our briefing this afternoon, I will await the storyboard for the project before I start putting together the finished video.
16:00 – Managing project workflow
Throughout the day I check on the Creative inbox to ensure I update the scheduling spreadsheet with any new briefs or feedback. I also email projects over to the designers as required so there is a constant workflow. Lastly, I go through all the tasks I've been working on throughout the day, checking everything is backed up and saved properly. A final check over the Creative schedule means I am clear on what we all need to work on for the next day.
What skills does a budding creative executive need?
In this role, there is always something to do, whether it is individually or collaboratively. The job requires a lot of your own initiative and a strong creative presence. Being a creative executive can include anything from filming to sound editing to organising the designer's schedules, all within a single day - so you've got to be organised and adaptable. 
Being able to multitask is a huge part of the job, as well as taking on board constructive criticism. When you are in a creative role, a lot of people appraise your work. It's important to remember that the occasional piece of negative feedback does not mean you are not good at your job. All it means is that people want this piece of work to be the best it can be. Ultimately, this is to your benefit: when you are working on an edit all day, your judgement can be a little blurred, so it helps to have a few pairs of eyes to help enhance your perspective and create the best outcome.
If you have creative flair and a commercial mind, with the communications skills to work across multiple teams and projects, a successful career in creative marketing could await you.
Has your mind been opened up to being a creative as a marketer? If that's the case, you can explore your options, and maybe start a career, by visiting our Get into Marketing page today.