June 30, 2022
1:00 PM - Webinar Express

Liverpool ONE is one of Europe's leading retail and entertainment destinations, set in the heart of Liverpool, the UK's most sociable city. Built around the city centre's existing streets, the 1.65 million square feet contemporary open-air destination opened in 2008 and is managed by Grosvenor Britain & Ireland. It attracts visitors from throughout the North West and, as part of the city's tourism offer, the wider UK and overseas.
Consumer needs have accelerated the move online and reinforced the recognition that Liverpool ONE has to provide more than simply great shops, restaurants and leisure offers. Liverpool ONE has established itself as a place for people to socialise and be entertained; a place where they feel connected and belong.
As consumer confidence returns, the strategy is delivering; visitor numbers are approaching pre-pandemic levels and spend is already ahead. Donna Howitt, Liverpool ONE's Place Strategy Director, will make the case that retail is now about shared experiences rather than consuming products.
Donna will discuss:
•
How to connect people and brands in an authentic way
•
The role of an inclusive Purpose and Vision in connecting employees and stakeholders with a shared goal
•
How sustainability has been a positive driver for innovation
•
The importance of selecting and working with strategic partners
Speaker: Donna Howitt – Place Strategy Director at Liverpool ONE
Donna has spent most of her working life in the retail sector in the North West, initially working for McArthur Glen designer outlets. Sharing insights from Liverpool ONE, Donna will reveal what's she's learnt from almost 30 million annual customer visits and how innovation, enlivenment and sustainability are now rooted in the business.
The webinar has been organised by the CIM North West Group and lasts approximately 40-45 minutes inclusive of a Q&A session after the presentation.
To register for this webinar please click
here
or on the image at the top of the page.
This event has now passed
BOOK NOW - click the image below to register for the webinar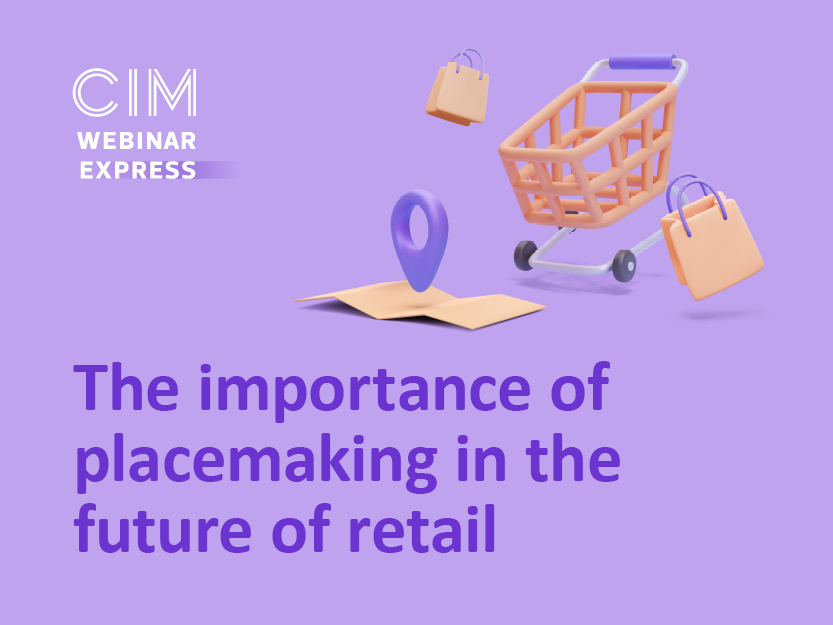 Add to calendar

Sector: Retailing
Region: North
Speakers: Donna Howitt
This event is free
Tweet