CIM and AMI host first joint member event in Sydney Australia
08.12.2022
CIM and AMI host first joint member event in Sydney Australia
By Bryndley Walker, PR Executive
Following the recent announcement of the CIM/AMI partnership, Stu Kaley, director of customer experience and digital at CIM travelled to the Australian Marketing Institute (AMI), Sydney to speak at an exclusive invite-only networking event for senior marketers.
In February this year, CIM announced a partnership with AMI with the aim of supporting marketers throughout their careers both in the UK and Australia. Discussing the announcement of the joint-partnership, Chris Daly, CEO of CIM said: "This new partnership is excellent news for both membership bases. It was clear very early on in our discussions that the AMI shared our passion for upskilling through training and qualifications. The new partnership will enable us to provide access to the very latest training, research, thought leadership, webinars and best practice – making Australian and British marketers the envy of the world."
A milestone event for AMI and CIM
The evening event was held at the Kirribilli Club in Sydney and was hosted by Andrew Thornton, chair of the Australian Marketing Institute, who discussed the strategic partnership and how collaboration between the two leading professional bodies would benefit members and the wider marketing profession.
CEO of AMI, Bronwyn Powell, delivered a talk which emphasised how the skill sets of both institutes complement each other and increase the level of support for members of both institutes, expanding the range of opportunities now available to them. Powell's talk then went on to focus on the shared passion of CIM and AMI around upskilling marketers by providing them with access to best-in-class resources including: the latest training, research, thought leadership, webinars and best practice which she hoped will make marketers in both Australia, the UK and the world, the best in the world.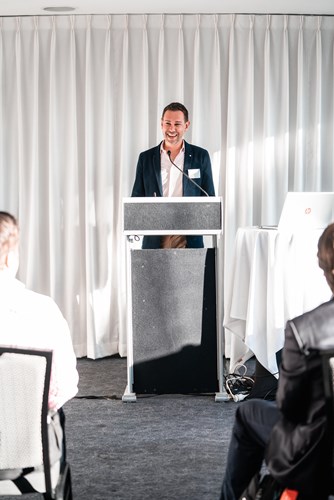 CIM's director of customer experience and digital, Stu Kaley, presented insight into CIM's CMO50 report. He went on to explain some of the key areas of interest identified by marketers in the report which include regulations, data and analytics, talent management, sustainability and customer behaviour.
Kaley went on to talk about how the training and qualifications provided through CIM and AMI's partnership can support marketers at every stage of their careers and help them to achieve their professional goals. In relation to the similarities between the two organisations, Kaley stated that "really, our approach is exactly the same as AMI's, it's the three areas. It's career support, it's content and it's community, they're all really important to us."
The benefits of international collaboration
As well as a face-to-face networking event, there was also a virtual version of the event which gave people across Australia and the world the opportunity to learn more about the joint partnership and hear from well-known industry figures who delivered presentations. The virtual portion of the event featured a talk led by Gina Balarin, TEDx speaker and non-executive director at CIM. Balarin gave a fascinating insight into the international marketing community and, as the first joint member of CIM/AMI, was perfectly placed to explain the advantages of being a member of both organisations. Balarin made it clear that an isolationist mentality is not a strategy for success in today's international world.
Balarin continued: "When you're part of a community of marketers everything changes […] You are holding yourself to account. You are representing yourself as someone who has a bigger picture, a bigger purpose. Both the CIM and the AMI recognise and acknowledge the importance that marketing plays in this world, but they go one step further: they allow organisations to be able to encourage marketers to learn from each other, and that is the thing that makes a massive difference."
There was also a talk from award-winning marketer, Brendon Cook, during the evening. Cook was given the prestigious Sir Charles Mcgrath award at the beginning of the year, which he received for his outstanding contribution to the field of marketing through sound business practice and industry achievements. Cook is the founder of oOh!Media and throughout the course of his career spanning over 30 years, has played an instrumental role in the development of the Out of Home (OOH) advertising industry. Cook's insightful talk was followed by a drinks and dinner reception which provided the opportunity for marketers to network in the beautiful surroundings of Sydney.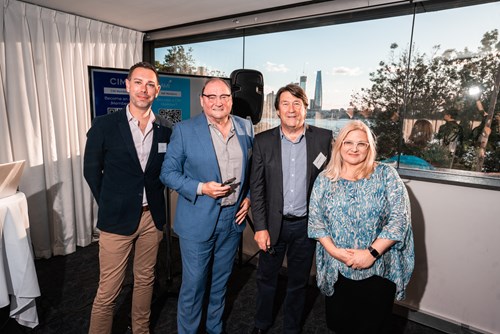 The benefits discussed at the recent partnership event align closely with the findings of CIM's latest Impact of Marketing report, which highlights the lucrative opportunities on offer to marketers on the global stage. The report also identifies some of the major challenges marketers face which hold them back from working internationally. CIM/AMI's milestone event has helped inspire international marketers to work together for the benefit of the marketing industry.
Thanks to our partnership with the Australian Marketing Institute (AMI), members of CIM and the AMI can take advantage of joint membership at a preferential rate, allowing for best practices, training and resources to be shared. An overview of AMI's member benefits can be found here. The existing qualifications and experience of joint members can also count towards Chartered Marketer status or AMI's Certified Professional Marketer programme.
You can also download your copy of CIM's latest Impact of Marketing report here.
-Ends-
Notes to editors
For media enquiries:
For further media information please contact the Chartered Institute of Marketing press office at Good Relations on CIMTeam@goodrelations.co.uk
For CIM enquiries:
James Delves
CIM Head of PR, Content and Community
Bryndley Walker
PR Executive
About CIM:
For over 100 years, CIM has supported the marketing sector. With over 20,000 members in more than 100 countries, CIM strives for business leaders and opinion formers to recognise the positive contribution professional marketing can bring to their organisations, the economy and wider society. We support, develop and represent marketers, organisations and the profession all over the world. Our ability to award Chartered Marketer status recognises a marketer's commitment to staying current and abiding by a professional Code of Conduct. While our diverse range of training courses and world-renowned qualifications enable modern marketers to thrive in their roles and deliver long-term success for businesses. Find out more about CIM by visiting www.cim.co.uk
Contacts
For all press enquiries, please contact the media team:
Fact Sheet
An overview of CIM our history and services.
Sign up for the latest news
x
We'll always treat your personal details with the utmost care and will never share or sell them to third parties. You are always in control of how we contact you – you can change your contact preferences at any time. For more information, visit our privacy policy.
To receive sector specific news: