Need some help making your choice? We have a dedicated team available to assist you. They'll make sure you find the right course to support you in achieving your goals. Call us on +44 (0)1628 427360.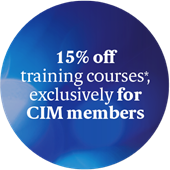 Our globally recognised training courses cover all marketing disciplines, providing you with the skills and confidence to improve your organisation's performance and advance your career.
Widen your horizons through our world-class virtual, in-person and online training - all designed to give you an engaging and interactive experience.
Whether you enjoy the live tutor-led virtual delivery, the convenient, flexible, self-paced online experience, or the physical in-person training: we have the options available to suit your needs and learning styles.
Courses
x
Thank you for your enquiry
We will be in touch within 24 hours (or one business day if it's a weekend). If you'd rather speak to us now, please call us on +44 (0)1628 427250.