CIM Event: The evolution of Lonely Planet
27.03.2018
By James Delves, Corinne Lavictoire and Ally Lee-Boone
The travel sector has become increasingly busy and disruptive. The industry has seen transformable changes to customer engagement and brand positioning, with a strong emphasis on digital marketing, which consumers have embraced with digital travel content increasing at a consumption rate of 44% in the UK, 41% in the US, and 18% in Canada*.
To debate this issue, CIM ran an event at the iconic London College of Fashion at The University of Arts London and invited one of the most successful travel content brands, Lonely Planet, to speak.
Laura Lindsay, director of global communications stepped up the challenge and presented to over 60 delegates about the brand's development over the years, the role cross platform marketing now plays and how a multi-platform approach helps the marketing team deliver maximum impact and global awareness of Lonely Planet's annual 'Best in Travel' campaign.
How one idea turned into a global campaign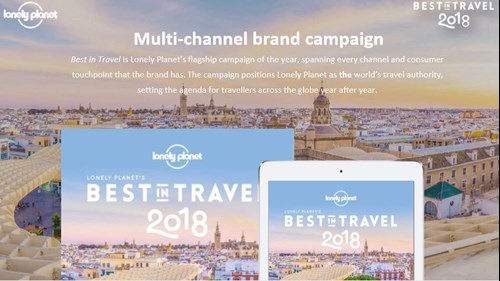 Starting off as a small PR initiative, it quickly became a highly renowned global campaign. Laura spoke of the initiatives that have made 'Best in Travel' a worldwide success. The travel brand has gone from strength to strength, since its company founders, Tony and Maureen Wheeler went on a sensational trip around Asia and published their first book, Across Asia on the Cheap back in 1973.
Since the couple's debut guidebook, Lonely Planet has taken off and continues to inspire the next generations of travellers. The brand has sent writers on the road as 'destination editors', who share information on the best places to go and where to get great value in the world. The aim of the brand is to help generations of travellers experience the world armed with as much information as possible and as Laura had mentioned at the event, today's consumers are absorbing information in many different ways.
Merging tech with backpacking around the world
As a result, the 2018 'Best in Travel' campaign encompasses clear imagery of worldwide destinations, all captured by GoPro video technology, their sponsor of the campaign. When asked whether Lonely Planet would ever welcome VR and AR technology in their marketing activities, Laura had expressed optimism, saying, "Since experimenting with an AR app 8 years ago, that consumers certainly weren't ready for, I feel there is definitely space for this advancement in technology to be incorporated in the brand, we would just need to figure out what it would look like". Lonely Planet's business has, therefore, shifted focus from solely printing guide books for travel enthusiasts, into a multimedia brand.
The evolution of the campaign over the years has changed remarkably with the digital age and advancements in technology, which was fascinating to see when Laura demonstrated a timeline of the campaign from 2006 to the modern era. This year's 'Best in Travel' campaign specifically shows how far the travel brand has come. 'Best in Travel' now embraces digital, social media and TV platforms to enhance customer engagement but at the same time, ensures the brand values, design and inhouse expertise are always at the heart of Lonely Planet's content and aligned across all aspects of the business. The campaign has launched in many different languages and this year, Lonely Planet's organic search was increased by 111% since campaign launch, which demonstrates the positive impact it has had on the brand awareness from a digital perspective.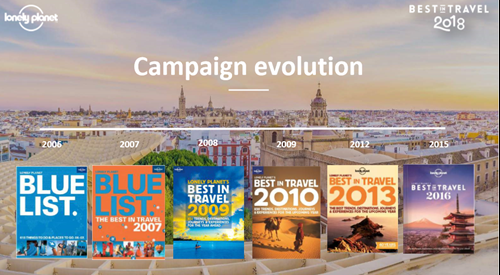 Corinne Lavictoire, PR executive at CIM, who attended the event, says: "I really enjoyed listening to Laura speak about the success of the 'Best in Travel' campaign. Lonely Planet's use of different multimedia platforms for the campaign has maximised opportunities to empower stakeholders and further drive customer engagement, which has been a huge triumph for Lonely Planet's global outreach. It goes to show how the art of cross platform marketing really has a profound and positive impact on brand value and the changing expectations of consumers."
Another CIM attendee at the event, Ally Lee-Boone, a content and engagement executive, said: "Lonely Planet is a fantastic example of an organisation who have adapted their commercial offering to match the pace of the rapidly changing travel sector, and their marketing efforts on the 'Best in Travel' campaign over the years are a testimony to this. Their cross-platform approach, driven by an awareness of what their customers want and need from them, has been hugely successful and is a lesson to all marketers on the importance of staying ahead of key market trends, and listening to your customers."
If you're interested in attending CIM's events in your region, click here. 
Source: The 2016 Traveller's Path to Purchase study *
Contacts
For all press enquiries, please contact the media team:
Fact Sheet
An overview of CIM our history and services.
Sign up for the latest news
x
We'll always treat your personal details with the utmost care and will never share or sell them to third parties. You are always in control of how we contact you – you can change your contact preferences at any time. For more information, visit our privacy policy.
To receive sector specific news: