Marketing Week: Mark Ritson on the value of marketing
23.03.2018
By James Delves, Corinne Lavictoire and Ally Lee-Boone
Last week marked International Women's Day and this year, the celebration particularly shone a spotlight on women calling for change, looking at the globally trending theme #pressforprogress, the focus of which was to build and strengthen worldwide gender parity. We asked three CIM staff to share their views on gender parity, the marketing industry and how marketers are looking to close the gap. 
Ally Lee-Boone: 
"It's wonderful to see that brands are taking the lead on championing gender equality in the workplace, as well as being held to account when equal opportunities are not provided. It's also great to see intersectional feminism taking precedent, and the unity felt around International Women's Day being used by many to highlight the other inequalities that exist in our world.
However, brands who launch marketing campaigns around International Women's Day should be careful to ensure that their messaging is considered, consistent and relevant to their audience. For example, McDonald's, who on the day flipped their logo from M to W, has come under fire for doing too little, too late for many consumers who have urged them to do more. "A mere 'W'", as it has been dubbed on Twitter, has served instead to highlight the fact that women and minorities form 70% of McDonalds employees but only 35% of their executive team. Consumers have demanded raising the minimum wage and offering career advancement opportunities to women, a move they say would demonstrate true support of women.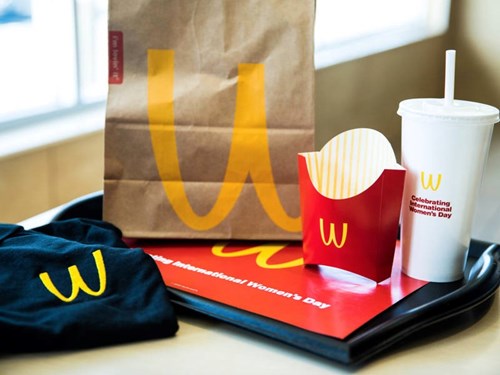 In instances such as these, organisations can often do more harm than good by taking 'superficial' measures to support key political movements such as International Women's Day."
James Delves:
"I was dismayed to read that the gender pay gap in the UK was approximately 17%. It's great to see so many brands using their voice in the media to address the issue and also celebrating the social, cultural and political achievements of women in our sector. 2018 does seem to be the year where marketing stands up and pushes for real change supporting the likes of the #MeToo and #TimesUp movements.
An innovative and slightly risky campaign that caught my attention this week was Craft beer brewery, BrewDog's campaign to address the gender pay inequality. In its usual quirky and innovative way the brewery launched a 'new beer for girls' – Pink IPA, a beer with pink branding, in contrast to the famous blue branding of Punk IPA. To further highlight the gender pay gap the beer is priced at 20% less for women for the next four weeks. Alongside the 20% discount, the brewery pledged to donate 20% of its profits from sales of the pink and punk IPA to the fight against gender inequality."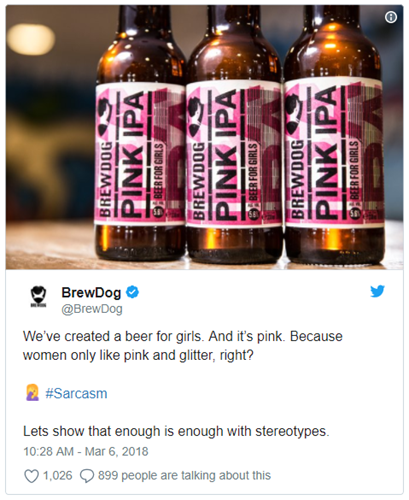 "Although, Brewdog's satirical marketing strategy delivered a key message of equality, it raised many eyebrows over the brewery's ironic approach to sexist marketing to women. Following the news, we conducted a social media poll on Twitter and Instagram, where we asked our followers whether Brewdog's pink 'beer for women' was a risky marketing strategy. Interestingly, the results on Twitter showed that 72% said yes and 28% said no and on Instagram, a similar tone, with 68% said yes and 32% said no. The outcome of the polls suggest that many marketers feel that it was a risky approach to highlight a sensitive issue – but one thing is for sure the campaign has created headlines helping raised awareness for pay inequality."
Corinne Lavictoire: 
"It is clear to say that brands are sitting up and paying attention to engaging consumers on the wider issues surrounding our society. Focusing on big issues such as gender inequality within marketing strategies is key to harnessing the power of transparency and integrity towards your target audience.
One example of how brands are tapping into the empowerment of women is Uber's recent film release, titled #DrivenWomen, which focused on highlighting female drivers, bringing women together who work for Uber to earn an income whilst holding other responsibilities, such as family and education. The film showcased how women drivers are challenging the status quo of working with Uber and embracing the empowerment of women.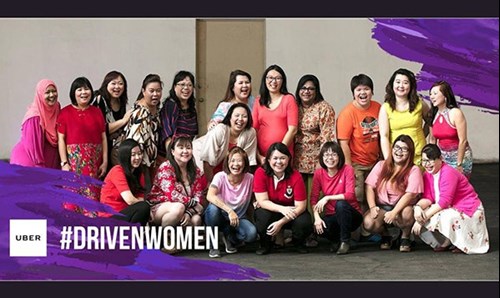 Vodafone had also released a film, titled 'Raising Voices', created by Santo London raising awareness on gender stereotypes and improving women empowerment. The film features child actors asking, 'why are almost all superheroes men' and 'why have there been so many male presidents, but not many females'.
Other brands such as Spotify and Smirnoff also teamed up to release the 'Smirnoff Equalizer', which was designed to factor in a user's listening habits by gender and as a result, could potentially change how people listen to music. The tool aims to promote equality for women musicians and singers all around the world. A study by Annenberg Inclusion Initiative* found that out of 600 popular songs from 2012-2017, women represented only 22% of all artists and just 12% of songwriters."
One thing our three CIM marketers feel, is that important topics like these need to be addressed more in society so that positive steps can be made. The fact that global brands are highlighting many of the major inequalities through marketing campaigns is a big step in the right direction – the next challenge is to ensure the conversation does not stop in the coming weeks and months.
*Source: Annenberg Inclusion Initiative 
Contacts
For all press enquiries, please contact the media team:
Fact Sheet
An overview of CIM our history and services.
Sign up for the latest news
x
We'll always treat your personal details with the utmost care and will never share or sell them to third parties. You are always in control of how we contact you – you can change your contact preferences at any time. For more information, visit our privacy policy.
To receive sector specific news: