Release: The best of the marketing industry celebrated at CIM Marketing Excellence Awards
26.10.2023
The best of the marketing industry celebrated at CIM Marketing Excellence Awards
 CIM Global Marketing Excellence Awards recognise innovation and creativity in the sector
Brand & Reputation wins 'Agency of the Year'
Ella Swain recognised as 'Marketer of the Year'
Brand & Reputation, Lewisham Council and Boots were among the big winners at the Chartered Institute of Marketing (CIM)'s prestigious Marketing Excellence Awards.
The awards were held at The Brewery London, and were hosted by renowned comedian Tom Allen.
The winners were judged by an esteemed panel of experts from leading brands, agencies and consultancies including: Microsoft, VCCP, Virgin Atlantic, LID Business Media, Lucky Saint, SaturnFive, Thinkbox and many others.
The ceremony highlighted the importance of consumer experience and the innovative strategies used by professionals to enhance it as AI continues to transform and reshape the marketing landscape.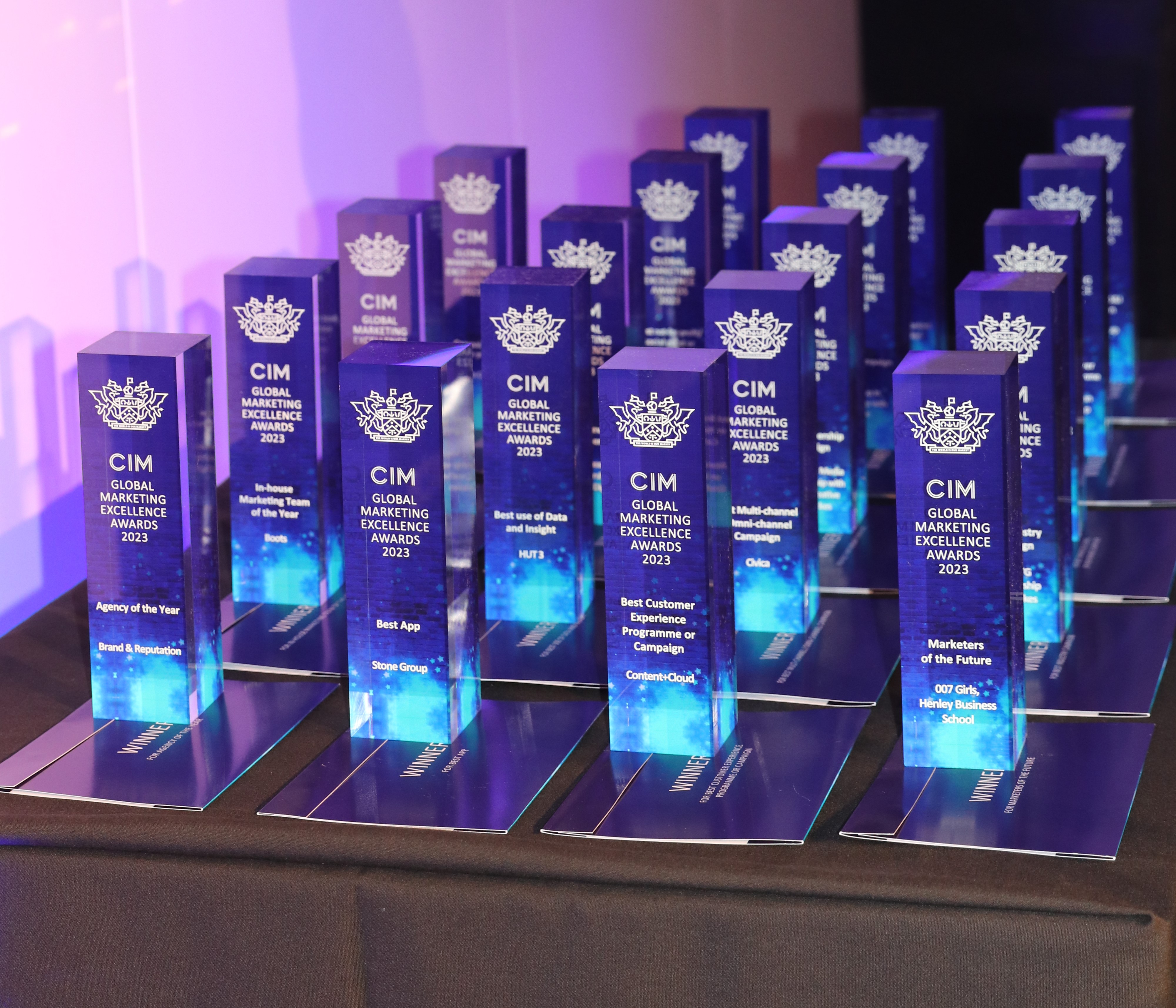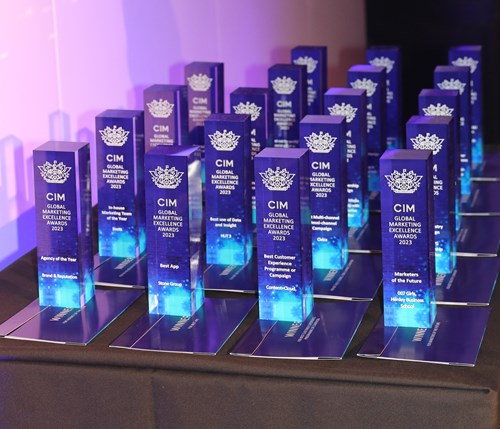 Stand-out campaigns included: Global Healthcare Engagement for Atos by Hut 3  a large budget, campaign which scooped the best use of data and insight award and Team ITG in partnership with Wickes for the Wickes Mission and Motivation Engine – Using AI to drive incremental revenue campaign – commended for its and strategic execution.
Brand & Reputation scooped the prestigious 'Agency of the Year' title with judges praising its focus on employees, and putting people at the heart of the agency.
Meanwhile, Ogilvy Africa picked up the 'Best Not for profit / social good or community programme' award for their Lesso Lessons Initiative, highlighting the importance of marketing campaigns which promote social good.
Chris Daly, chief executive of CIM, said: "Congratulations to all those who won, this year's submissions have been excellent. I would like to thank our judges and sponsors, and all who have helped to make this event possible. It's clear that the global marketing industry has once again risen to the occasion, crafting remarkable campaigns and reaping the rewards for both organisations and agencies alike. The significance of professional marketing remains critical for enhancing commercial performance and nurturing talent."
"However, there is a clear imperative for marketers to prioritise the customer journey and experience, especially in the context of the evolving marketing landscape and the emergence of AI.
Innovation lies at the heart of this transformation, and the finalists tonight undeniably exemplify innovation and entrepreneurship, while delivering concrete results."

Attendees thoughts on the evening
Pete Markey, CMO Boots UK said: "CIM's Global Marketing Excellence awards once again showcased marketing at its very best. It was great to reconnect with so many brilliant people from the industry and to celebrate their success. For Boots it's a huge honour to be named the In-house Marketing Team of The Year, an award that has meant so much to the team after a strong year where we helped communicate our new purpose and put customer focused innovation at the heart of everything we do."
Sarah Crabtree, Sales Director of Evoke Classics, said: "We were thrilled to be finalists, so actually winning feels just fabulous! Having Nerd Digital on board has allowed Evoke Classics to make its mark in the auction industry. Noel and the team are clearly very passionate about what they do, bringing with them a wealth of knowledge and experience which Evoke Classics has been lucky enough to benefit from. It's all about teamwork."
Noel Anderson, founder of Nerd Digital said: "It's a bit of a cliché, but six years ago we started Nerd Digital around the kitchen table with the goal of working with clients who are looking to challenge the status quo. We first met Sarah at a classic car show, and instantly knew that this was an amazing opportunity with an incredible team. To go from strategy sessions, creating the brand, launching the product, fine-tuning campaigns, making sales, and then winning Best New Product / Service with the leading marketing organisation in the UK – in just over two years – is no mean feat! We can't wait to see how this brand grows in 2024 and beyond".
Carly Davis, Head of External Communications, Lewisham Council said: "We are absolutely thrilled that our Discover Lewisham this Summer campaign took home Campaign of the Year at the CIM Global Excellence Awards. To win this against an astounding field of marketers is something we are very proud of. It was fantastic to represent local government at the Awards evening, and show that despite challenging budgets, when you've got an idea, get creative, use data and have fun, you can do brilliant things!"
Now in their twelfth year the awards, recognise and reward brilliance in the field of marketing, celebrating the finest minds within the profession.
-ENDS-
Full List of Winner:
'Campaign of the year' -

Discover Lewisham this Summer – Lewisham Council 

'Best not for profit / social good / community programme' -

The Lesso Lessons Initiative - Ogilvy Afric

'Best brand building / new brand campaign' -

Greater Anglia - Atomic London on behalf of Greater Anglia

'Best new product / service' -

Female Led, Online Classic Car Auction and Community New Product Launch - Evoke Classics in partnership with Nerd Digital 

'Best multi-channel / omni-channel campaign' -

Building a fresh perspective - Civica

'Best partnership campaign' -

Mail Metro Media, StoryLab and Wickes - Mail Metro Media in partnership with Dentsu Creative and Wickes

'Best PR campaign' -

Period Equality - Breaking down the barriers - PHS Group in partnership with 'Cause 

'Best use of content in a campaign' -

Building a fresh perspective - Civica

'Best use of data and insight' - Global Healthcare Engagement for Atos - HUT 3
'Best industry campaign' - Wickes Mission and Motivation Engine - Using AI powered segmentation to drive incremental revenue- Team ITG in partnership with Wickes 
'Best ESG / D&I campaign' - Stone Group: sustainable IT that protects our planet - Stone Group
'Best employer brand programme' - Living Well - a colleague as consumer approach to impact health behaviours - Northumbrian Water Group
'Best customer experience programme / campaign' - Cloud transformation CX programme - Content+Cloud
'Best app' - Stone 360: revolutionary, responsible recycling - Stone Group
'In-house marketing team of the year' - Boots Brand Team - rebuilding trust inside and out - Boots 
'Agency of the year' - Let's Talk About Six - Brand & Reputation
'Marketer of the year' - Ella Swain, University of Salford
'Marketing pioneer award' - Asif Choudry, Resource | Sustainable Creativity, Providing a Platform for the Marketing Community
'Marketers of the future' - The Pitch 2023 Winners - 007 Girls - Marie Océane Bax De Keating, Anita Marcu and Scarlett Cassidy (Henley Business School)
Notes to editors
For media enquiries
For further media information please contact the Chartered Institute of Marketing press office at Good Relations on CIMTeam@goodrelations.co.uk
For CIM enquiries
James Delves,
CIM Head of PR, Content and Community, CIM
James.delves@cim.co.uk
Bryndley Walker
PR Executive, CIM
Bryndley.walker@cim.co.uk
About CIM:
For over 100 years, CIM has supported the marketing sector. With over 20,000 members in more than 100 countries, CIM strives for business leaders and opinion formers to recognise the positive contribution professional marketing can bring to their organisations, the economy and wider society. We support, develop and represent marketers, organisations and the profession all over the world. Our ability to award Chartered Marketer status recognises a marketer's commitment to staying current and abiding by a professional Code of Conduct. While our diverse range of training courses and world-renowned qualifications, enable modern marketers to thrive in their roles and deliver long-term success for businesses. Find out more about CIM by visiting www.cim.co.uk
Imagery:
Photography will be available via our Facebook account.
You can access a full list of winners here.
Contacts
For all press enquiries, please contact the media team:
Fact Sheet
An overview of CIM our history and services.
Sign up for the latest news
x
We'll always treat your personal details with the utmost care and will never share or sell them to third parties. You are always in control of how we contact you – you can change your contact preferences at any time. For more information, visit our privacy policy.
To receive sector specific news: