Release: The Chartered Institute of Marketing and The Chartered Marketing & Communications Society of Greater Kuala Lumpur announce partnership
23.06.2023
The Chartered Institute of Marketing and The Chartered Marketing & Communications Society of Greater Kuala Lumpur announce partnership
New partnership will support marketers across Malaysia
Partnership will enhance high standards of marketing practice through a collection of shared aspirations for the marketing profession.
On 23 June 2023, the Chartered Institute of Marketing (CIM) and The Chartered Marketing & Communications Society of Greater Kuala Lumpur (CMCS) announced a partnership to support the marketing profession across Malaysia.
The partnership is designed to provide marketers in Malaysia with access to a network of professional marketers and the latest thinking, to support them through every stage of their career. This new partnership will provide marketers with the confidence needed to improve their organisation's performance while also advancing their own careers.
CIM and CMCS's partnership will support the marketing profession in Malaysia by:
Providing access to exclusive events and networking
Driving engagement with local universities
Creating a network of CIM Accredited Study Centres
Developing relationships with local businesses, highlighting CIM's status as the gold standard in professional marketing, creating job opportunities for members
Developing joint CIM/CMCS Continuing Professional Development (CPD) activities in line with the CIM Professional Marketing Standards and to move practicing marketers towards CIM Chartered Marketer status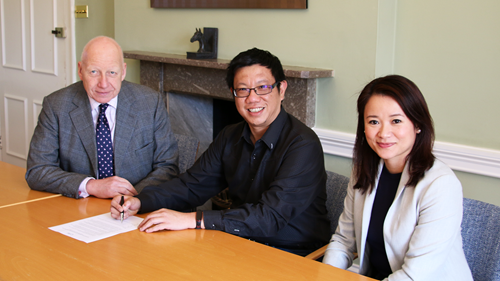 Discussing the partnership Maggie Jones, Director of Qualifications and Partnerships at CIM said: "I am very happy to announce that The Chartered Marketing & Communications Society of Greater Kuala Lumpur (CMCS) has become a partner of CIM. Both organisations share a desire to enhance the marketing profession and operate in a way that is good for both business and wider society. CIM and CMCS will form an effective partnership which will provide marketers in Malaysia with access to the very latest marketing thinking. We look forward to working closely with CMCS in the future to develop further benefits to support the marketing community in Malaysia."
Discussing the partnership Kelvin Tong, Chairperson, CMCS said: "With many businesses looking to drive growth in 2023, it is critical that leadership teams recognise the vital impact professional marketing and training plays in a business' capability to deliver growth in uncertain times. Our partnership with the Chartered Institute of Marketing will enable us to provide marketers across Malaysia with access to the latest training and thought leadership on the key topics, empowering marketers to drive business growth."
Discussing the value to members Norafida Ramlee, Events Ambassador, CMCS said: "The marketing sector in Malaysia is going from strength to strength and the pace of growth shows no sign of slowing. To keep pace, marketers at all levels need to ensure they remain relevant through upskilling. This partnership will provide our community with access to CIM's latest training as well as CIM's growing portfolio of online services, which includes webinars, podcasts and research like the recently launched CMO75 and Impact of Marketing research."
-ENDS-
For media enquiries
For further media information please contact the Chartered Institute of Marketing press office at Good Relations on CIMTeam@goodrelations.co.uk
James Delves 
CIM Head of PR, Content and Community 
James.delves@cim.co.uk  
Bryndley Walker  
PR Executive 
Bryndley.walker@cim.co.uk
About CIM
For over 100 years, CIM has supported the marketing sector. With over 20,000 members in more than 100 countries, CIM strives for business leaders and opinion formers to recognise the positive contribution professional marketing can bring to their organisations, the economy and wider society. We support, develop and represent marketers, organisations and the profession all over the world. Our ability to award Chartered Marketer status recognises a marketer's commitment to staying current and abiding by a professional Code of Conduct. While our diverse range of training courses and world-renowned qualifications, enable modern marketers to thrive in their roles and deliver long-term success for businesses. Find out more about CIM by visiting www.cim.co.uk.
About The Chartered Marketing & Communications Society of Greater Kuala Lumpur
The Chartered Marketing & Communications Society of Greater Kuala Lumpur (CMCS) is a community of marketing professionals based in Kuala Lumpur and Selangor, Malaysia. As a partner of The Chartered Institute of Marketing (CIM), United Kingdom, CMCS champions the CIM Professional Marketing Standards and strive to be the go-to referential community for professional marketers at varying levels of proficiency in Malaysia. Guided by the CIM Code of Professional Conduct, CMCS is built on five pillars: diversity, equality, and inclusivity; purposefulness; passion; sustainability; and collaboration. As a future-focussed community of marketing professionals, CMCS is committed to being purpose-led and sustainable in energising the marketing landscape in Malaysia. CMCS believes that collaboration and innovation are key to shaping the future of marketing and is dedicated to fostering a community that supports and encourages these values. 
Contacts
For all press enquiries, please contact the media team:
Fact Sheet
An overview of CIM our history and services.
Sign up for the latest news
x
We'll always treat your personal details with the utmost care and will never share or sell them to third parties. You are always in control of how we contact you – you can change your contact preferences at any time. For more information, visit our privacy policy.
To receive sector specific news: