Soft Skills Series: The power of mentoring
18.07.2019
Soft Skills Series: The power of mentoring
By James Delves and Mercè Cozens
In this new CIM Newsroom series, I am going to look at the power of soft skills in marketing. What skills marketers need to have and why small improvements to your soft skills can make a big difference to both a marketer's career and campaign work. To do this I've spoken to some of the people who mentor the most successful minds in our sector and the marketers on the front line who implement their teachings to prosper. 
The modern workplace can be a complex place - a world where lines between departments are blurred, stakeholder management is vital and collaboration is key. Soft skills are often overlooked but are they really the key skills we all need to perfect work more effectively and progress our careers? This article will address this very issue and look at the impact of mentoring and some of the many benefits.
Origins
Type the word 'mentor' into Google and it will return over 392 million results, ranging from articles to videos, self-help guides to podcasts. Seeking a mentor to improve yourself is hugely popular today, but the idea of mentoring has existed since at least ancient Greek times, with the roots of the word linked to 'Mentor' son of Alcimus in the famous Greek poem Odyssey. Today, it is a term recognised the world over as someone who imparts wisdom to and shares knowledge with a less-experienced colleague.
So, what is available to the modern marketer and why should he or she consider it?
To answer this, I travelled to Cheshire to speak to Mercè Cozens, CIM mentor and founder of the Think Beyond marketing consultancy. Mercè believes in a philosophy of mentoring and developing a culture of change that empowers and drives confidence in marketers. Think Beyond offer mentorship to marketers and women in business with the ethos of giving back to the profession and spreading the benefits of mentoring across the marketing region.
The importance of soft skills, training and mentoring to the current workforce
Mercè starts by telling me that behind every great business leader, is a team of great advisors and confidants; even Microsoft titan Bill Gates credits Warren Buffet as a mentor with a huge influence on his company. Yet, the practice of mentorship in marketing is a touchy subject; as the profession becomes increasingly influential to company structures, workloads become heavier and finding the time to build relationships with those invested in your career becomes harder and harder.
Yet, learning and training are very much a part of the modern employee's career path, a point recently underlined in CIM's recent survey of school leavers,  which found that only 29% of respondents would give up training in order to land their dream job; in comparison, almost 50% would sacrifice a company car. So, clearly, for marketing professionals, there is a need to learn that runs to the heart of their career aspirations.
It's clear to see that the team at Think Beyond have a strong ethos based on ethics and a philosophy of partnership helping their customers grow faster and get the best return on their marketing spend. At the heart of this is enlightened marketers, who by standing on the shoulders of their mentors can deliver effective marketing strategies and plans whilst delivering on KPIs.
Having the right mentor can be hugely beneficial. Mercè believes when you combine it with best practice the taking on board the following five points the results can be positive at a personal and a business level:
1. Take time to set realistic expectations with your mentor from the very beginning – it will avoid disappointment or a feeling of underachievement
2. Take a genuine interest in your mentor as a person – as they will in you. Some mentor – mentee relationships last years and are close
3. Be forthcoming about mistakes you've made. A mentor can't help you properly if you don't tell them the full picture
4. Celebrate your achievements with your mentor. It shouldn't just be about issues or challenges you face
5. Aim for the long-term, as well as dealing with immediate challenges.
Do execs really need mentors? Surely it's just for youngsters!
Not true, arguably the more senior you are the more small improvements you can make to enhance working ability, the larger the impact it can have on your career or the business you work for.
Steve Jobs mentored Mark Zuckerberg. Barbara Walters mentored Oprah Winfrey. Larry Summers mentored Sheryl Sandberg. Sir Freddie Laker mentored Richard Branson. Benjamin E. Mays mentored Dr. Martin Luther King the list goes on. Rarely do you read an autobiography from a famous figure without a mention of a mentor who helped turn things around or provide that one piece of advice or helped hone a soft skill that meant the world to the individual. There really are benefits to be had at all levels of seniority for marketers.
Giving back is as rewarding as receiving
The other side of the mentoring process is the act of mentoring, which everyone I've spoken to feel is not only a fantastic way to give back to the profession but also can enable senior marketers to keep up to speed on the latest trends and thoughts from their interactions with their matched marketing professionals.
Think Beyond founder Mercè puts it best during our chat by stating: "I am delighted to give back to the marketing community and help empower fellow marketers through the CIM mentoring scheme. Partnership and collaboration are central to our philosophy at Think Beyond. As a team, we are passionate about business growth and supporting marketing talent.
Accelerating your career
Mercè and her team are part of The Chartered Institute of Marketing's comprehensive mentoring scheme designed to match aspiring and developing professionals to the experience and knowledge of a mentor that will suit them best. Affiliate Professionals and graded (ACIM, MCIM and FCIM) members are able to take advantage of a tailored experience based on their region and expertise.
As CIM has a nationwide member network, members can meet with mentoring professionals in their region allowing for a more bespoke, localised service, which provides a fresh perspective and actionable ideas – rather than a text book or generic approach.
Mentoring can help marketers in many ways including progressing your career, gaining confidence, developing news skills, and even help you get promoted. Personally, I've benefited hugely from mentoring in the past and would encourages affiliate professional and graded (ACIM, MCIM and FCIM) members to sign up right away. It doesn't have to require a huge time commitment and CIM's flexible and open platform makes it easy to find a good match to your experience and sector.
All CIM mentors are experienced and specialised marketers. Our mentors vary from management level through to CEOs and directors - they are available to provide guidance on upcoming campaigns as well as career progression advice.
Why not start today?
Interested, want to learn more or become involved in CIM's mentoring scheme? Simply access the mentoring platform through your MyCIM and follow the simple instructions.
For information on CIM mentoring: https://www.cim.co.uk/more/mentoring/ 
About Think Beyond marketing consultancy
Think Beyond is a marketing management consultancy operating in Wilmslow and Alderley Edge in Cheshire, with a focus on marketing strategy and planning. Utilising the science of marketing to grow sales and increase ROI, Think Beyond partners with you to accelerate your potential. Think Beyond's five key service pillars are: Business consultancy and workshop training courses, digital strategy, marketing automation, inbound marketing and improving sales.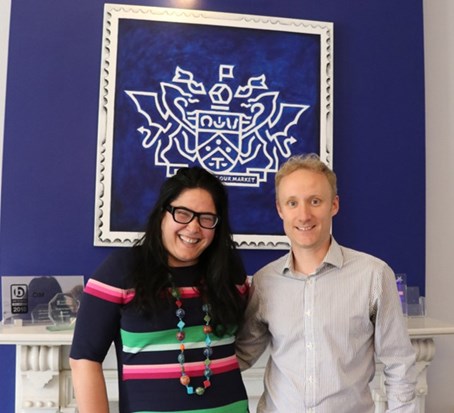 Mercè Cozens, Managing Director of Think Beyond and James Delves, CIM's Head of PR and Engagement
Contacts
For all press enquiries, please contact the media team:
Fact Sheet
An overview of CIM our history and services.
Sign up for the latest news
x
We'll always treat your personal details with the utmost care and will never share or sell them to third parties. You are always in control of how we contact you – you can change your contact preferences at any time. For more information, visit our privacy policy.
To receive sector specific news: