April 08, 2021
1:00 PM - Webinar Express

Join Dr Simon Kelly, co-author of Standout Marketing: How to differentiate your organisation in a sea of sameness, to discover the five key competencies marketing leaders need to stand out.
Through in depth research the authors discovered that many organisations said the same things to prospective customers, leaving customers swimming in a 'sea of sameness' making choice difficult and leading to lost sales. Through their research the authors unearthed the five key competencies marketing leaders need to help them stand out.
Speaker:- Dr Simon Kelly
Simon is a lecturer in Marketing and Sales at York Management School and co-author of two books: Standout Marketing: How to differentiate your organisation in a sea of sameness and Value-ology: Aligning sales and marketing to shape and deliver profitable customer value propositions.
Previously, Simon worked at Sheffield Business School re-joining in 2012 after a stint working for Level 3 Communications in Colorado, USA. During this two and a half-year spell at Level 3, he led value proposition development and ran North American Marketing. He was also a visiting lecturer at Colorado University on their International Telecoms Masters programme.
A 'pracademic' Simon has over 35 years' experience in the ICT industry in Customer Service, Sales, and Marketing. He was Marketing Director for BT's Major Business Division until 2002 where he was responsible for marketing to BT's top 2000 Business and Government customers. During his time as Marketing Director, BT Major Business experienced record growth and successfully entered several new markets moving the business from a product centred to a customer value-based approach. Simon is also Chief Executive Officer of Cohesion Marketing Services and Principal at Shake Marketing. Focusing primarily on B2B technology markets he helps organisations grow business through cohesive marketing and sales.
Simon is a Member of the Chartered Institute of Marketing, an Honorary Fellow of the Institute of Sales and Marketing Management and an Honorary Fellow of the Association of Professional Sales.
The webinar is kindly hosted by CIM Yorkshire and lasts approximately 40-45 minutes inclusive of a Q&A session after the presentation.
To register for this webinar please click
here
or on the image at the top of the page.
This event has now passed
BOOK NOW - click the image below to register for the webinar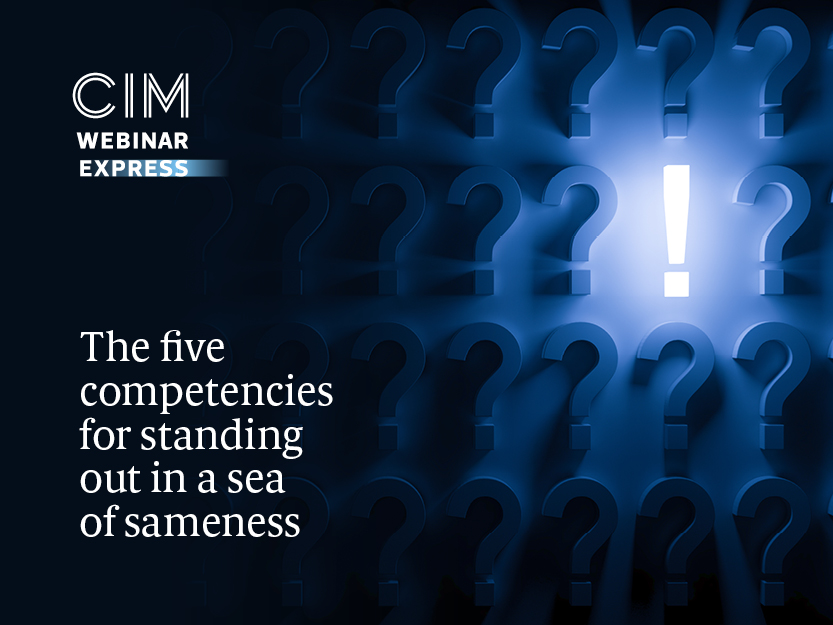 Add to calendar

Sector: Non-specific
Region: North
Speakers: Dr Simon Kelly
This event is free
Tweet