March 09, 2021
1:00 PM - Webinar Express

As we plan for emerging from the prevailing restrictions around how we live and work, we imagine attention is turning to delivering a real business performance 'spring into spring'. This webinar is not about the various amazing marketing strategies that might help you deliver that - but it is about the critical role that your mindset, and the mentality of your teams, will play in executing your strategy and achieving that 'spring'.
Martin will introduce the concept of 'Red2Blue' as a simple approach to developing the mental skills and resilience needed to do really well at critical times, when the pressure is really on. Red2Blue is used by World Cup winning sports teams such as the New Zealand All Blacks, soldiers in the British Army, young students across the world in education and coaches in all kinds of performance environments.
One of the limited benefits of Covid-19 has been the recognition that as humans we are all vulnerable to pressure - especially when caused by factors outside our control. We'll look at the simplicity of the Red2Blue approach and how it can help you and your people develop the resilience needed to think clearly when it matters. Helping build the mental skills needed to embrace the pressure and maintain focus on executing your brilliant plan.
Speakers:- Martin Fairn, Founding Partner and CEO at Gazing Performance Systems and Bede Brosnahan, Director of Operations
.
Martin has been with Gazing from the beginning, and as a co-founder has combined his knowledge gained from many different corporate roles, to develop Gazing's unique framework of equipping individuals to perform well under pressure. Martin leads the development and implementation of Gazing's strategy both in the UK and globally, and ranges from engaging with key customers and overseeing the development of the global partner business, to ensuring the constant innovation of the Gazing approach.
Martin's role centres around facilitating individual and executive coaching, and team and senior leadership development programmes with the explicit purpose of helping leaders develop the capability to create and sustain an organisation capable of performing under the highest levels of pressure and stress. His work also encompasses delivering at small seminars as well as a key note speaker at conferences extending up to 500 attendees, that introduces the concept of performing under pressure in a highly practical way that is built on a straightforward understanding of how humans react under pressure.
Martin's commercial experience was gained at Xerox in a range of roles ranging from Commercial Sales and Key Account Management to going on to become the General Manager at Xerox in Canada.
Bede is responsible for all aspects of Gazing Performance Systems' operations and oversees the systems that support the entire client engagement and delivery process.
Before joining Gazing, Bede had an accomplished career in education both in New Zealand and in London. As well as a background in education, he has a depth of experience in coaching and mentoring in both business and sport. He leads our international projects in business and works directly with senior leadership to ensure that systems implemented are truly embedded for lasting impact. He is also currently working with several international sports competitors to ensure they have the highest level of mental preparation.
As well as having coached a nationally ranked top-level rugby 1st XV in New Zealand, Bede has over 30 years' experience as a martial artist, having competed internationally, and is the branch chief of Seido karate in London.
The webinar is kindly hosted by CIM Greater London and lasts approximately 40-45 minutes inclusive of a Q&A session after the presentation.
To register for this webinar please click
here
or on the image at the top of the page.
This event has now passed
BOOK NOW - click the image below to register for the webinar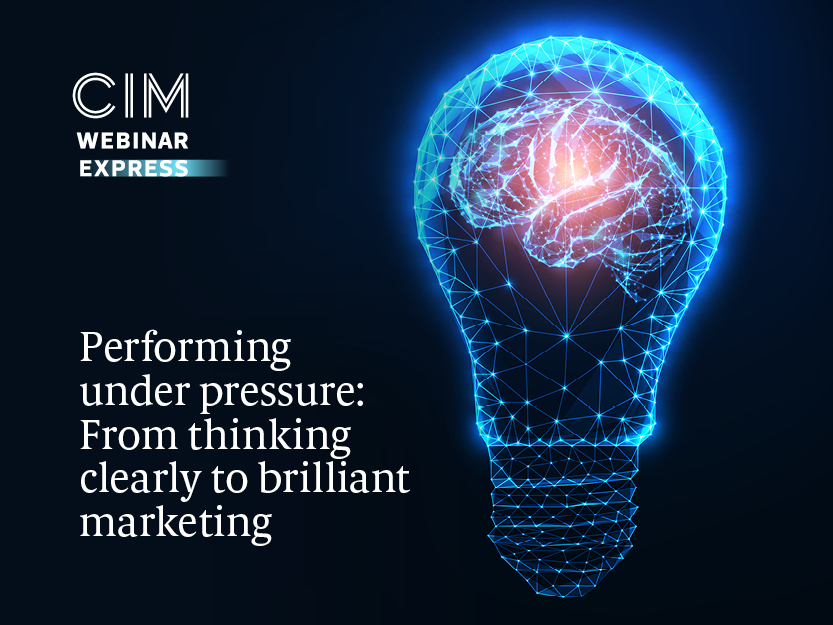 Add to calendar

Sector: Non-specific
Region: London
Speakers: Martin Fairn and Bede Brosnahan
This event is free
Tweet