June 14, 2021
1:00 PM - Webinar Express

No two crises are the same, some appear suddenly and, apparently, without warning. Others such as the Covid-19 pandemic emerge more slowly but, as we have all learned, are no less impactful.
What is common to all crises though is the stress they put on organisations, their people and, of course, their leaders. Navigating a crisis is the ultimate test of leadership.
In this presentation, Tim Johnson will draw on his 20 years of experience supporting leaders through crises ranging from high-profile industrial accidents to cyber breaches and data loss to terrorist attacks.
He will examine questions such as:
• What a crisis is and what gives different types of crises their own individual characteristics
• What makes crises so challenging to navigate? What differentiates them from 'business as usual problems?
• What leaders can do to ensure that they and their organisations are in the best possible shape to respond to crises when they happen
• What competencies leaders need to master and techniques they can deploy
• What behaviours leaders should aspire to demonstrate, how they can be their authentic selves and what they can do to manage their own personal resilience during the scrutiny a crisis brings on them as individuals and their organisations
• How organisations can recover from crises
Following his presentation, Tim will be delighted to answer questions on this fascinating topic.
Speaker:- Tim Johnson, Partner in Deloitte's Crisis and Resilience Practice
Tim is an acknowledged expert on crisis leadership. He has been supporting clients to prepare for and respond to crises and high-impact events for over 20 years. During this time he has worked alongside clients responding to major industrial accidents, terrorist attacks, cyber-attacks and data breaches, market exits and restructuring programmes, product recalls, public health emergencies and allegations of misconduct.
For many years, he was the Chief Operating Officer of specialist crisis and issues management consultancy Regester Larkin. He is a now a partner at Deloitte in its reputation, crisis and resilience practice. His book, Crisis Leadership: How to lead at times of crisis, threat and uncertainty was published by Bloomsbury in 2017.
The webinar is kindly hosted by CIM South West and lasts approximately 45 minutes inclusive of a Q&A session after the presentation.
To register for this webinar please click
here
or on the image at the top of the page.
This event has now passed
BOOK NOW - click the image below to register for the webinar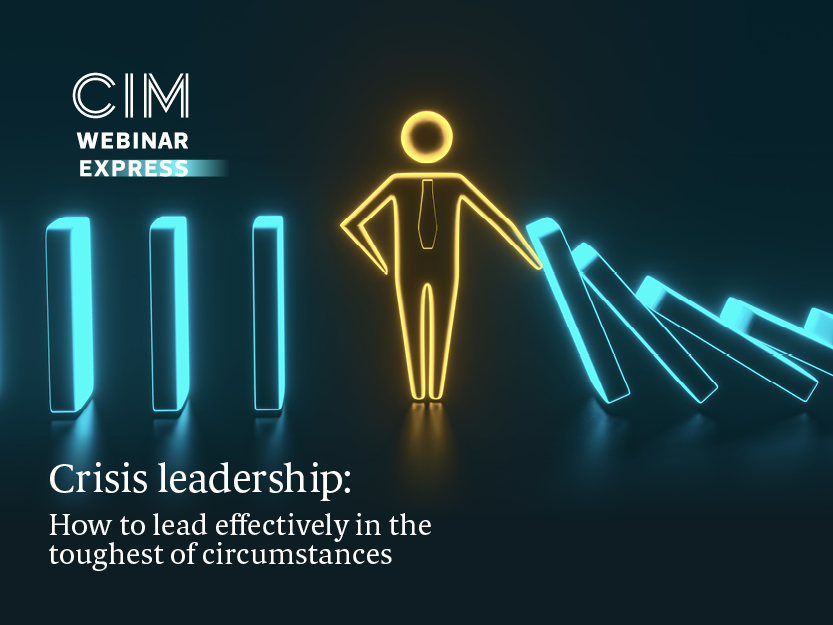 Add to calendar

Sector: Non-specific
Region: South-West
Speakers: Tim Johnson
This event is free
Tweet