October 27, 2021
1:00 PM - Webinar Express

Sustainability has fast become a basic necessity within business amidst a growing need to be environmentally friendly. While the idea of sustainable business is an attractive prospect; implementing the model and knowing how to shout about it comes with its challenges. This interactive session should help you understand the complexities of marketing a sustainable business through the viewpoint of one of the UK's most committed climate-positive brands.
We'll hear from a market leader on:
• An overview of Mackie's of Scotland and its ethos
• Importance of sustainable practices to the business and headlines on what these are
• The balance of being climate-positive whilst ensuring profitability
• Carbon audit credentials and how this impacts on marketing and importance to brand story
• Customer/consumer research on the importance of sustainability in buying decisions
• Mackie's of Scotland's future plans
This session is suitable for anyone in a marketing role who wants to learn about sustainable marketing to help make better decisions on how to promote eco-friendly practice and leadership.
Speaker:- Karin Hayhow, Marketing Director of Mackie's of Scotland
Karin Hayhow is the Marketing Director and one of three sibling owners of the family run Aberdeenshire farm, Mackie's of Scotland, home to one of the nation's most popular ice cream brands. Karin works to enhance Mackie's reputation and ever-growing environmental message through the family farm's eco-friendly policies and infrastructure.
The webinar is kindly hosted by CIM Scotland and lasts approximately 40-45 minutes inclusive of a Q&A session after the presentation.
To register for this webinar please click here or on the image at the top of the page
.
If you have any questions regarding the event please use the contact details provided.
BOOK NOW - click the image below to register for the webinar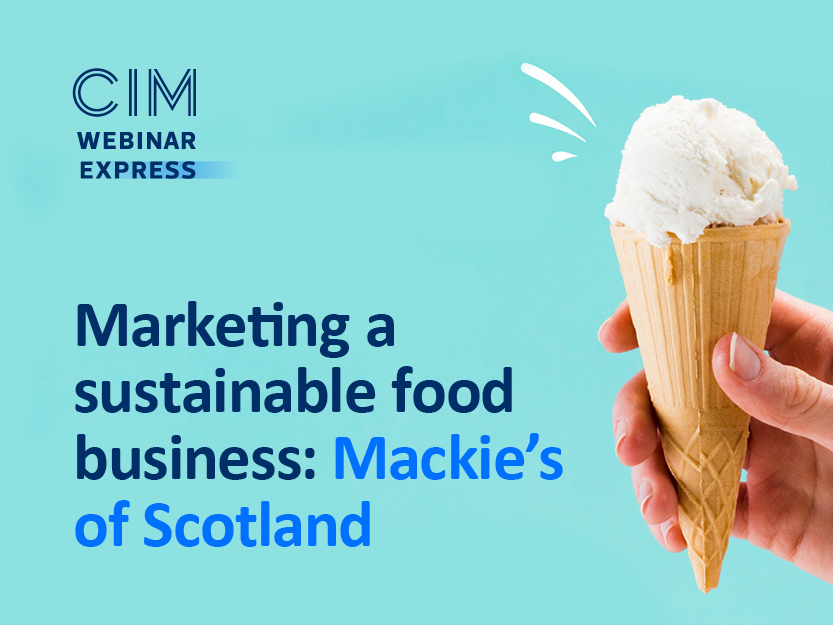 Add to calendar

Sector: Food, Drink & Agriculture
Region: Scotland
Speakers: Karin Hayhow
This event is free
Tweet