Catalyst is CIM's member-only magazine, packed with features that explore new thinking across key fields such as leadership, behavioural economics and sociology. Collating career-enhancing content from a global network of business leaders, Catalyst leads the conversation on the latest topics affecting marketers and businesses alike, making it a truly invaluable learning resource to the modern marketer.
Discover the latest edition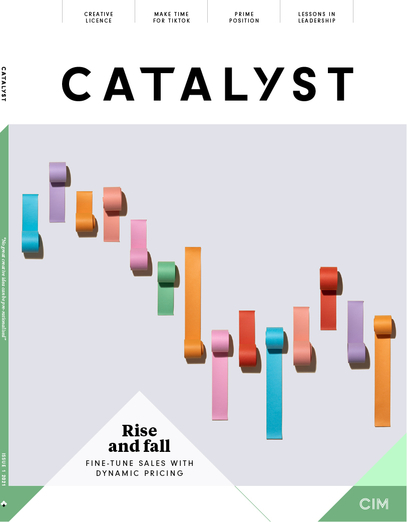 As marketing spreads across more channels, into more parts of the organisation and more disciplines, what it means to be creative has changed. There is creativity of purpose, creativity of approach, creative technology and even creative science, as data specialists magic new stories and opportunities from bare numbers on a page.
This quarter, CIM members can discover what creativity means in organisations torn between today's instant gratification metrics and the slow-burn influence of creativity in our exclusive roundtable.
In our profile feature, find out what Lenovo's chief marketing and strategy officer, Gina Qiao, has learned from a 30-year tenure in technology and how she made leadership last.
Don't miss out on the latest marketing insights to keep your knowledge up to date. Non-members can access a selection of articles from last year's Catalyst magazine to get a taste of our exclusive member-only content by clicking below.
Did you know?
If you take any learnings from reading Catalyst that you can then implement in your day-to-day job role, this can be counted as CPD eligible. 
Find out more about CPD now.