Catalyst is CIM's member-only magazine, packed with features that explore new thinking across key fields such as leadership, behavioural economics and sociology. Collating career-enhancing content from a global network of business leaders, Catalyst leads the conversation on the latest topics affecting marketers and businesses alike, making it a truly invaluable learning resource to the modern marketer.
Discover the latest edition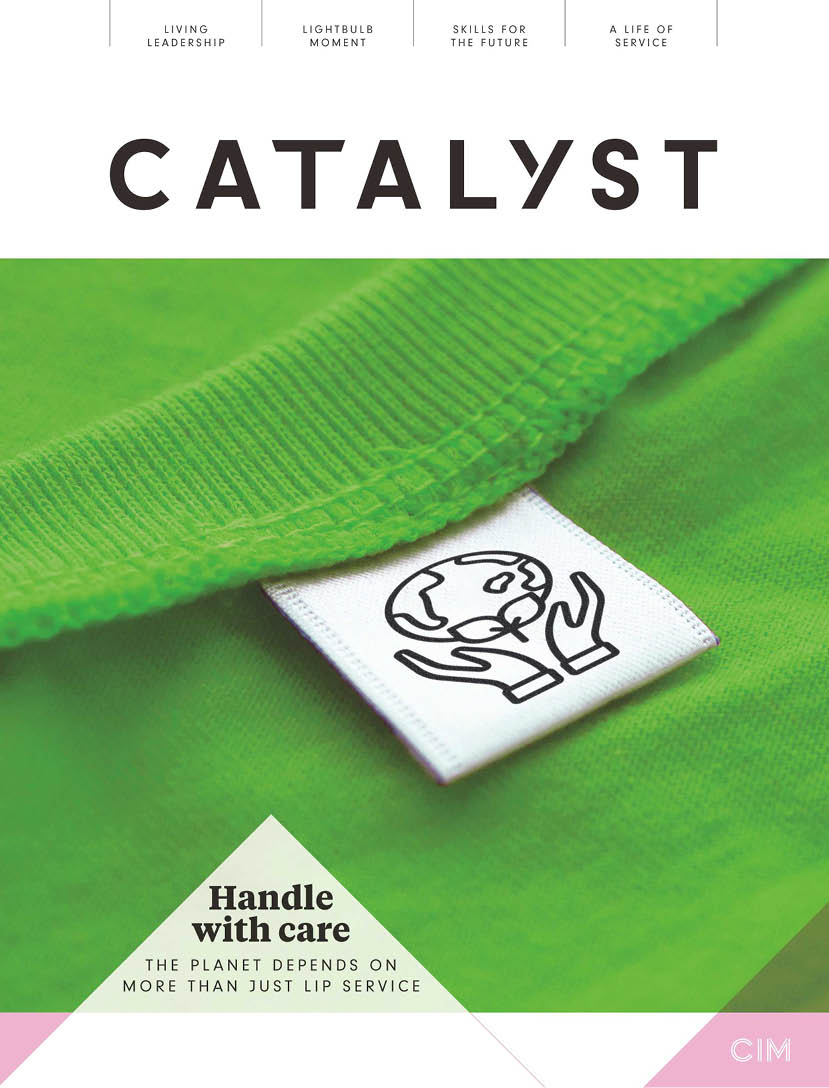 This edition of Catalyst is swayed wholeheartedly in the direction of sustainability and all the ways we can slow down the clock that's ticking away towards disaster. The features in this edition were not written to worry, panic, or depress our readers, quite the opposite, this edition intends to light a fire beneath us all and inspire, motivate and drive us to take drastic action.
In our cover story, MaryLou Costa warns businesses against the dangers of greenwashing and investigates the changing expectations of consumers and regulators. The fast fashion industry has undoubtedly been hard hit, with investigations from the Competition and Markets Authority proving that many fashion brands are being dishonest with their claims. But which industry will the spotlight shine on next, and how can they prepare for it?
Our roundtable this quarter sees seven industry experts explore how businesses can successfully take care of their customers during times of crisis and confusion. The discussion delves into how a brand's purpose and relevancy is key for customer retention and success. In our profile, Booking.com's Natalie Wills shares how she built her success around simply saying 'yes'. Check out our profile feature and many more exclusive articles in this brand-new edition.
Don't miss out on the latest marketing insights to keep you in the loop. Click below to start your CIM membership today and gain access to a full library of resources, including Catalyst magazine.
Did you know?
If you take any learnings from reading Catalyst that you can then implement in your day-to-day job role, this can be counted as CPD eligible. 
Find out more about CPD now.