Changing consumer behaviour and successful strategies for sustainability
25.10.2022
Changing consumer behaviour and successful strategies for sustainability
By Richard Cope, senior trends consultant, Mintel Consulting
Mintel Consulting's Sustainability Barometer shows how consumers are becoming hardened, savvier and more demanding on sustainability issues, but also offers marketers pointers on techniques that can help less impactful products and services to succeed.  
Reality check: Climate change activates consumers
Climate change is a top three environmental concern for 46% of global consumers, followed by air quality (36%) and plastic pollution (33%), but its water and food shortages that have made the greatest gains in the past 12 months (up 4 points and 6 points respectively). Extreme weather events and war in Ukraine have made respondents familiar with these uncomfortable realities, causing less impactful issues (in terms of emissions) like plastic pollution and waste to slip down the agenda (by 3 and 2 points respectively). 
As war in Ukraine impacts food and energy supply lines, consumers are getting an unpleasant foretaste of the system pressures increasingly to come from climate change, with the probability of crop yield failures predicted to be up to 4.5 times higher by 2030. The current cost of living crisis is reviving talk of sustainability being 'too expensive'. In reality, it should cement 'resilience' as the most compelling of pro-sustainable strategy arguments for both governments and consumers, and see greater levels of electrification, renewable energy, home energy efficiency and local production. The energy crisis seems to have strengthened consumer aspiration to transition to renewable home utilities and electric vehicles.
Some 58% of global consumers agree that extreme weather events in the country where they live have encouraged them to personally do more activities to protect the environment, yet their confidence has been dented by media focus around a disappointing COP26 event in November 2021 - that left us on the road to 2.4 degrees of warming. As a result, a modest majority of just 55% agree that "If we act now we still have time to save the planet", whilst an even more modest – but workable – 51% say that their behaviours can make a positive difference to the environment.
Value, quality, durability, then sustainability
It's this cohort that marketers have to work with and mobilise as partners in efforts to reduce impact and achieve positive change. The lessons thus far are that consumers are in need of some positivity, and a sense of achievement, not to mention a return on investment.
Frugality and simplicity define the most commonplace sustainable behaviours globally, with recycling (practised by 59%), meal planning to avoid food waste (53%) and buying fewer clothes (50%) way out in front. Inflationary pressures can be expected to grow emerging practices around buying repurposed technology products (19%) or embracing circularity by leasing instead of buying certain items (10%) way beyond their current levels.
It's accepted amongst most marketers that quality and brand familiarity are 'red lines' that cannot be crossed or sacrificed in the name of sustainability. It's unsurprising that, as conditions toughen, so too have consumers' attitudes towards these barriers. When looking at coffee purchasing considerations, for example, we see that packaging's primary role to protect and avoid costly waste is becoming more important than secondary concerns around recyclability or production. Sustainable products must excel at—or focus on and promote—the expected basics before pushing eco or ethical angles.
Beyond despondency and an unfulfilled desire for impact, another challenge for marketers is to successfully champion synthetic alternatives, with just 43% of consumers agreeing that "science can provide solutions to the climate crisis". Consumers' lack of faith is a lingering hangover from our 'free from' era of natural deification, where anything synthetic, treated or tinkered with is not to be trusted. The reality is that naturals are finite, threatened, expensive, difficult and damaging to extract and vulnerable to disruption (think fossil fuels). In reality, scientific innovation is what is giving us a chance and it will continue to be key in everything from pulling carbon from the air to creating less resource-intensive foods, raising crop yields and affordably electrifying energy and transport.
Educate and sell the sizzle
Another key challenge is that our featured 16 markets* constitute seven of the world's top ten CO2 producers and thirteen of the top 20, yet across the board less than half of consumers surveyed believe that their country is contributing to climate change.   
Not only do brands have to educate on their – and our – negative impact, they need to provide hope for change. One inspirational example comes from Indian zero-waste beauty and personal care brand Bare Necessities. It has an array of 'Bare Learning' online courses, books and games covering how consumers can become more considered and sustainable across their personal care, fashion, culinary and homecare routines and practices, as well as their occupational and leisure choices.
When asked what factors that would encourage them to buy products or services that claim to benefit/protect the environment, 41% cite an "understanding of how my purchase has a direct impact on the environment". Canadian clothing brand TenTree plants ten trees for every garment purchased and represents a manifestation of consumers' desire to have a positive – or at least diminished -  impact at a product level, yet it is crucial to remember that any form of consumption is impactful in terms of its resource use and emissions production. The phrase "environmentally friendly" should be considered dead and gone in the marketer's sustainability lexicon.
Glumness is something else to be overcome. In light of the challenges and dire warnings emerging from COP26, it's unsurprising that the majority (56%) agree that statistics can be depressing. 
In light of that, it makes sense to heed the often followed advice of 1940s American super salesman Elmer Wheeler: "Don't sell the sausage—sell the sizzle!" In sustainability terms that means selling the vision of how the product will make you feel, before hitting you with negative data on what it will address. 
As we've seen from our research on coffee buying, consumers won't trade off on quality, convenience or value for environmental or social ends, and the desire from 64% of consumers for a 'shop where all products are sustainable' reflects the enduring need for the convenience of curation—the very essence of what "brands" are all about. 
 We can also see how other established marketing theories apply to people's motivations. "Associative systems" (or "gut feelings") are evident in a dominant desire for the reward of happiness (68% say doing things that benefit the environment or people brings them this) and the avoidance of shame (something 33% associate with driving a vehicle that pollutes). This leads us into the territory of "social norms" and people seeking cues and proof from peers and wider society that sustainable behaviour equates to "doing the right thing". Half of consumers are provoked by the socially competitive notion of waste reduction, according to our research, and 38% are motivated by the idea of sharing positive behaviour with friends or wider society.  
So what should marketers do?
Embrace clear metrics, rebellion and a connection with nature. To truly succeed, brands must remember that sustainable products are products foremost and sustainable products second. It's necessary to tap into the other characteristics of sustainably-minded consumers and appeal to their distinguishing factors. Simply 'doing good' isn't enough for goods and services to sell and succeed. The sustainably-minded consumers we've identified are notably characterised by being more budget conscious and keener to express their individuality than the average consumer. They have stronger peacock tendencies ('I like to stand out from the crowd') and are more likely to have exercised, scrutinised labelling, bought locally or spoken to a neighbour in the last week than the average consumer. Therefore, more responsible products must appeal on the grounds of ego, health, community and credibility as much as the environment.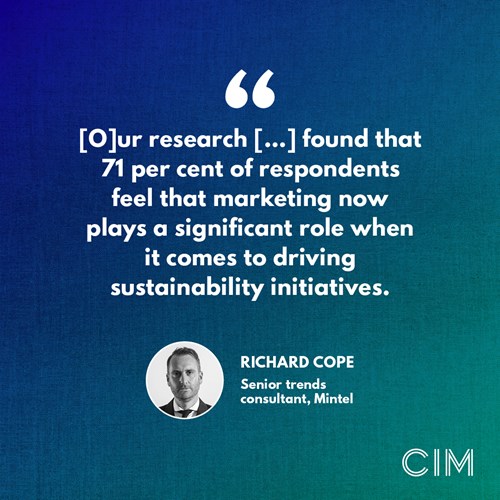 Tech refurbisher and reseller BackMarket stands out a mile as a brand that understands these issues. Its 2021 'Freedom' campaign extolled the virtues of democratically priced devices and being 'different', while trolling Apple—and those who line up for its devices en masse—in the process. The following year its ambient campaign convinced consumers of worth through impact data that used quantities people could comprehend and relate to. For example, "A single refurbished mobile sells 68,400 litres of water". Then on Earth Day 2022 (22 April), BackMarket and ad agency Marcel appealed to consumers' senses of individuality, rebellion and frugality with a guerrilla campaign using Airdrop to convince people in Apple stores in Paris, Berlin and London to buy refurbished iPhones instead —'iPhones you love without the carbon footprint you hate'. 
We've championed the need for products and services to humanise their causes and show their benefits to people and not just the planet, but nurturing nature as something tangible, something that we feel connected to is going to be crucial in campaigns as well.
In a digitised, urbanised world we are 'touching from a distance' and increasingly divorced from each other, not to mention our environment.
"We've seen similar trends in our research, which found that 71 per cent of respondents feel that marketing now plays a significant role when it comes to driving sustainability initiatives, with an overwhelming 97 per cent think marketing has the power to drive through change."
"The good news is that marketers are already, to an extent, influencing businesses to put sustainability at the heart of discussions. Seven in ten (71%) marketers feel they have a voice within their company or with their clients when it comes to sustainability, demonstrating the positive impact they could have within businesses when armed with the right skills. It's up to us to make a difference and try to do things differently", said James Delves, Head of PR and External Engagement, CIM.
Brands have a role to play in communicating—and growing—that sense of environmental connection to the things that feed, protect and move us. To quote the recent Our Time on Earth exhibition at London's Barbican Centre, consumer goods have a responsibility to make us realise that: "that glass of water you drank was once a cloud".
Download your copy of the CIM Sustainability Marketing Skills Gap report.
Or click here to download your free copy of Mintel Consulting's Sustainability Barometer 2022.
*Note: Mintel's Sustainability Barometer is based on a 16,000 survey sample conducted across Australia, Brazil, Canada, China, France, Germany, India, Indonesia, Italy, Japan, Mexico, South Korea, Spain, Thailand, the UK and the US.  
Contacts
For all press enquiries, please contact the media team:
Fact Sheet
An overview of CIM our history and services.
Sign up for the latest news
x
We'll always treat your personal details with the utmost care and will never share or sell them to third parties. You are always in control of how we contact you – you can change your contact preferences at any time. For more information, visit our privacy policy.
To receive sector specific news: