Key skills marketers need during an economic downturn
24.10.2022
Key skills marketers need during an economic downturn
By Patrick Rea, CIM course director and specialist in account based marketing
With a gloomy economic forecast caused by a range of factors including supply chain disruption, war, and inflation, businesses are rightly pessimistic about impending economic conditions. Inevitably during these trying times, it's a natural instinct to reduce spending, but CIM course director and Fellow of the Chartered Institute of Marketing Patrick Rea argues that investing in upskilling will help businesses (and marketers) position themselves to take advantage of the eventual upswing.
As markets around the world prepare to tighten, prospective clients are beginning to cut back on investment in anticipation of a downturn and what may come down the line in the economy and their sector as a result. Prospects will be more hesitant and need more convincing to make a purchase, and this is going to make it even tougher to win and retain new business.
Looking to the past can help us remember the lessons from previous downturns which can help avoid costly mistakes, but it can also help us recognise that there will continue to be new commercial opportunities. This underlines the importance of taking steps now that will benefit your business and ensure that it not only survives, but thrives.
Perhaps the most important lesson to be learnt is that if you simply slash investment in marketing, you will inevitably lose market share to competitors and be poorly positioned to take advantage of any upturn when it comes, as it surely will. You will lose brand presence, experienced staff and perhaps many existing clients, who will be hard to replace.
A number of the world's top brands were set up during a recession. Their winning formula for commercial success was forged in adverse trading conditions, when the owners recognised new opportunities for innovation and expansion. These companies include Microsoft, founded in 1975 when college drop-outs Bill Gates and Paul Allen famously developed the concept of easy-to-use computing for homes and offices, eliminating many of the barriers to leveraging the technology. Other examples of successful companies founded in years of recession include Apple, Netflix, Mailchimp, and Airbnb.
Core sales and marketing skills
 Critical to success now is ensuring that your sales and marketing teams have the right skills. That means they must be able to: design a strategic and tactical plan, find and develop new prospects and convert interest into new business, then retain and expand each account and upsell and cross-sell into other divisions.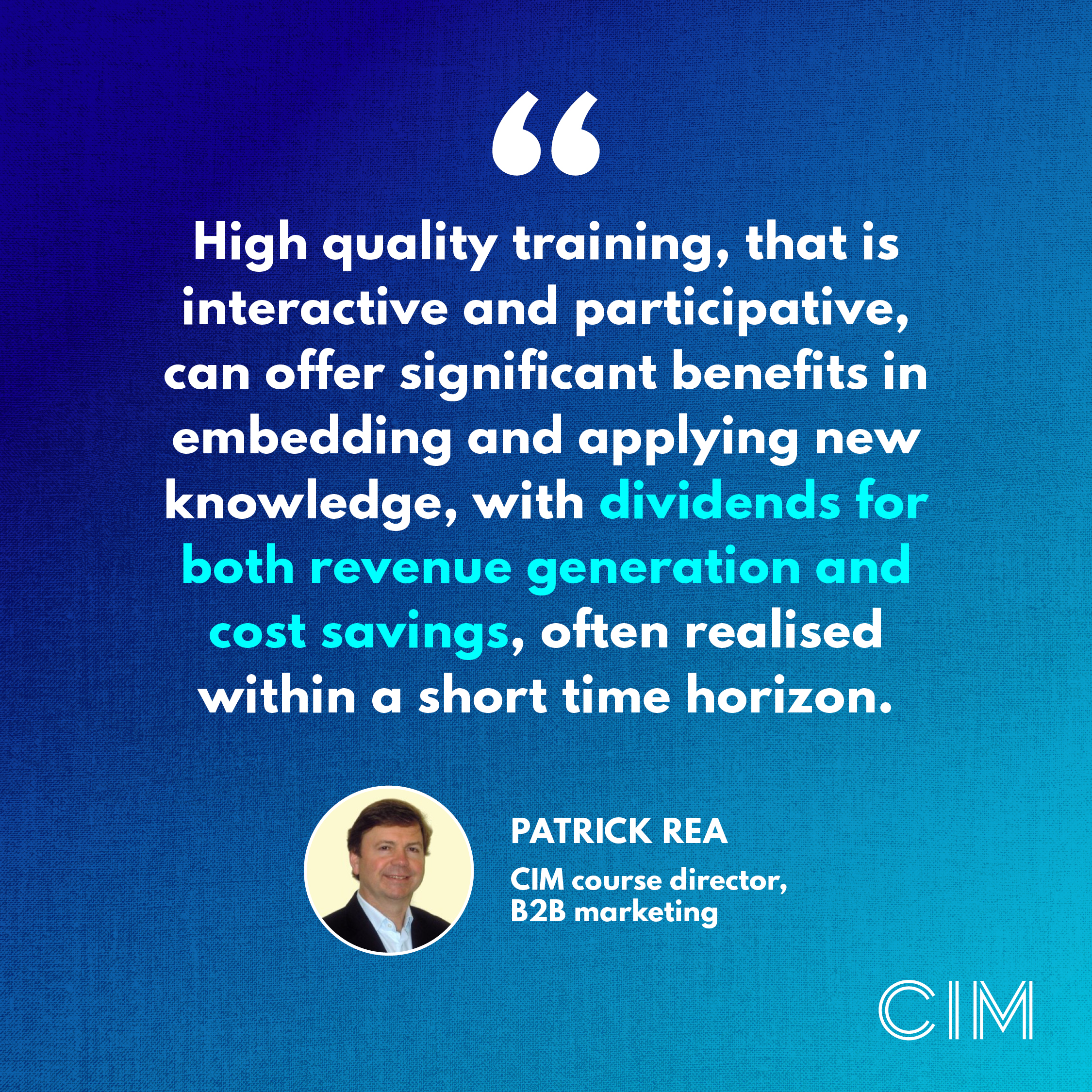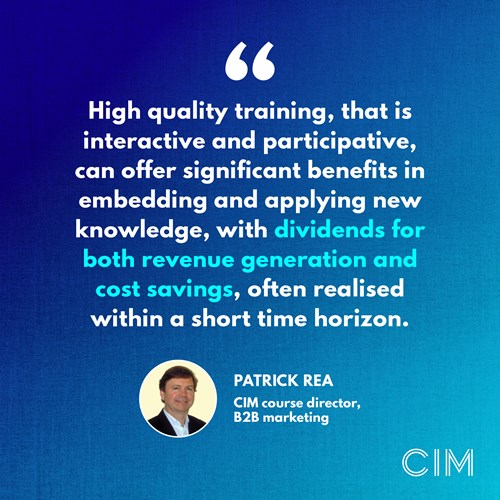 The stark reality for UK businesses, however, is that many marketing people do not have the skills to deliver this, or at least they don't think they do. In a recent CIM survey, it was found that 40% of marketers believe that they lack the skillset to effectively carry out their role to its full potential (CIM Impact of Marketing). So clearly, the roles and skills portfolio of the in-house team needs a review - and fast - to ensure that they are relevant, up to date and that people are ready for whatever happens next in the economy.
Only with the right training can organisations benefit from 'best practice' and new digital technologies that increasingly contribute to a higher return on investment from marketing activity. Martech examples include the growing range of 'insight' and 'intent' software tools: they offer insights into the active buying intentions of buyers for different categories of products and services, data that would be hard or impossible to find otherwise.
High quality training, that is interactive and participative, can offer significant benefits in embedding and applying new knowledge, with dividends for both revenue generation and cost savings, often realised within a short time horizon. Better trained staff are more effective and motivated. They will come away from training - such as from the open workshop format of many CIM courses - with fresh ideas, strategies and insights, to help create a culture of innovation. This is essential in a downturn, when doing the same old things in the same old way is probably not going to work.
The skills marketers need now
So which sales and marketing skills does your team need now to develop for the greatest impact and best ROI?
In addition to developing core operational skills - such as in digital marketing and copywriting - the biggest return will probably result from training in sales, marketing strategy and marketing planning. This can boost all aspects of what you and your teams do. It ensures the business is focused on the most profitable sectors and clients and the key position holders - not just every prospect with a pulse, which can be the unintended default when new business becomes scarcer in a downturn.
Account Based Marketing (ABM) is a popular strategy. It enables organisations to align sales and marketing teams to focus on high-value accounts in a systematic and scalable process that identifies and matches how customers make buying decisions. However, ABM cannot simply be learned from a book. Success requires embedding new skills and a new organisational mindset - as well as the required marketing skills. The Chartered Institute of Marketing one-day workshop offers an ideal introduction for those who are new to, or already have some experience with, ABM. There is the option of then going on to personalised coaching and training, tailored to the situation and needs of any organisation.
The starting point is to understand the skills gap in your organisation, the difference between where you are today and the abilities the sales and marketing team need in order to meet your goals. This in turn requires a new Go-to-Market (GTM) strategy, to address the market transformations we are going through.
A good GTM plan helps you define your target markets and ideal customers, competitive positioning, messaging and tactical campaign plan, together with sales targets and other Key Performance Indicators (KPIs). This will enable you to then identify the specific skills that are needed and any gaps in the team's skillset that you can address.
To help insulate your business and marketing campaigns from an economic downturn, learn and implement the Account Based Marketing techniques from CIM's one day course where you will discover how to create a personalised buyer experience, qualify and nurture leads through to the sales close. You can also find out what other courses are on offer from CIM here.
Contacts
For all press enquiries, please contact the media team:
Fact Sheet
An overview of CIM our history and services.
Sign up for the latest news
x
We'll always treat your personal details with the utmost care and will never share or sell them to third parties. You are always in control of how we contact you – you can change your contact preferences at any time. For more information, visit our privacy policy.
To receive sector specific news: