Release: University of Strathclyde team wins The Pitch 2020
01.06.2020
PRESS RELEASE
University of Strathclyde team wins The Pitch national marketing competition to be named 'Marketers of the Future'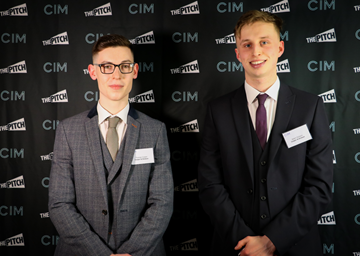 University of Strathclyde team wins £1,500 cash prize as winners of the Chartered Institute of Marketing's The Pitch competition.
Judging panel included representatives fromLidl, Microsoft, Mintel and CIM.
This year's challenge saw students put forward ideas to help leading retailer Lidl reduce its own brand plastic packaging.
The Chartered Institute of Marketing (CIM) has announced a student team from the University of Strathclyde as winners of its student competition, The Pitch. This is the third consecutive year that students from the University have triumphed at the competition.
Thomas Cooper and Adam Dickson formed their team Cooper & Dickson, to beat 28 teams from across the UK to be crowned 'Marketers of the Future'. Due to Covid-19, the team were told of their award win by video call.
Thomas Cooper and Adam Dickson who study BA Hons in Business, impressed the judges with their creative proposition, 'A Lidl means a lot' which not only neatly reflected Lidl's plastic reduction objectives, but also provided a platform to deliver against Lidl's wider CSR strategy.
Thomas and Adam focused on helping Lidl's core audience make little, realistic changes, using their strapline 'A Lidl means a lot' to encourage individual changes such as switching to green reusable bags, while also keeping customers informed with Lidl's overarching sustainability commitments. This included a social media campaign exploring what a difference little changes can make to other people's lives.
Their approach was finely tuned to Lidl's primary shoppers - 16-24 year olds and over 55s - and therefore included a multi-channel focus on digital platforms, as well as more traditional marketing techniques such as email marketing.
Now in its ninth year, The Pitch sees students from leading universities compete to respond to a live client brief in a bid to win £1,500 and the title of 'Marketer of the Future'. It is designed specifically to help accelerate the career of students studying a marketing or business degree, by developing their presentation, communication and problem-solving skills.
This year, teams put forward ideas to show how leading retailer Lidl, can most effectively market its commitment to a 20% reduction of its own brand plastic packaging by 2022.
Claire Farrant, Marketing Director at Lidl, said: ''The competition this year was fierce and there was a high level of research, understanding of the brief and the Lidl business from all 10 finalists which was so good to see. The finalists Paradigm, Met a la mode and Cooper and Dickson all showed a well thought out strategy and a strong customer proposition.
"All three teams demonstrated clearly what the role of Lidl will be over the next three years and how our customers could get involved in our commitment to reduce plastic use by 2022. Cooper and Dickson however showed a true retail roll-out marketing plan, allowing trial, review and roll-out which is a typical framework that a retailer would adopt when launching a campaign like this.
"This showed real insight into our business and ways of working. Congratulations to all teams and to Cooper and Dickson for being The Pitch 2020 winners."
Thomas Cooper commented: "While we might not be able to celebrate in person, we are so pleased to have been awarded this year's title. Both of us jumped at the chance to put into practice many of the theories and marketing techniques that we've been studying since starting University."
Adam Dickson added: "The Pitch has given us the chance to be recognised for our thinking by a panel of respected marketing professionals, and it's given us the confidence boost we needed, as we start to apply for graduate jobs."
Chris Daly, Chief Executive of CIM, said: "Since we first tasked students with this year's challenge, the world has changed significantly due to the impact of coronavirus. However, what remains true, is that there is a huge amount of future marketing talent across the UK.
"We created The Pitch to offer students the opportunity to gain practical experience while responding to a real-life brief for a leading brand. It's this type of business exposure that is critical for graduates preparing to enter the job market.
"Congratulations to Thomas Cooper and Adam Dickson, whose scalable approach offered a genuine solution to a retail challenge, and clinched them the title."
ENDS
Notes to editors:
Full shortlist
Newcastle University, #deplastic
University of Strathclyde, Cooper & Dickson
University of Chester, Eugene and Paul
University of Brighton, Gaeia Consultancy
University of Chester, L2M
Birmingham City University, Lidl on Waste
Cardiff Metropolitan University, Met à la Mode
Newcastle University, NCL Eco-Marketers
Bournemouth University, Paradigm
London College of Fashion - UAL, The Plastic Free Bet, LCF Will Get
About CIM
The Chartered Institute of Marketing (CIM) is the world's leading professional body for marketing, with over 28,000 members worldwide, of which there are over 2,500 Chartered Marketers.
CIM's mission is to create a marketing advantage for the benefit of professionals, business and society with a focus on export, data and skills. CIM believes marketing is the critical factor in driving long term organisational performance.
CIM provides members and organisations with five key benefits: 
Partnership – CIM is a professional and organisational partner to support performance and career development
Education – CIM allows individuals and businesses to continuously upskill
Information – CIM keeps members up to date with the latest marketing thinking, and keeps organisations at the forefront of practices
Connection – CIM provides access to services, expertise and peers
Recognition – CIM is the global benchmark of professional competence
For more than 100 years, CIM has supported, represented and developed marketers, teams, leaders and the profession as a whole. There are 120 CIM study centres in 32 countries and exam centres in 132 countries worldwide. In the last year, over 7,500 people registered at over 230 UK CIM events. Find out more about CIM by visiting www.cim.co.uk.
For more information on The Pitch, please view here: https://www.cim.co.uk/events/the-pitch/students/
Media contacts
James Delves
CIM Head of PR and External Engagement
james.delves@cim.co.uk  
Corinne Lavictoire  
PR Executive
corinne.lavictoire@cim.co.uk
For further information please contact the Chartered Institute of Marketing press office at Good Relations on CIMTeam@goodrelations.co.uk.
Contacts
For all press enquiries, please contact the media team:
Fact Sheet
An overview of CIM our history and services.
Sign up for the latest news
x
We'll always treat your personal details with the utmost care and will never share or sell them to third parties. You are always in control of how we contact you – you can change your contact preferences at any time. For more information, visit our privacy policy.
To receive sector specific news: