Nine SEO tips for small businesses to increase website traffic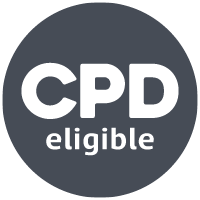 SEO is full of jargon and can be confusing to get right. Most businesses have heard of the return SEO can produce, but only 47% currently invest in it (Visual Objects). Henry Purchase, founder of Rough Water Media, takes you through his nine top tips to use SEO to your advantage and grow your website's traffic.
89% of all purchases start with a search engine (Fleishman-Hillard) - it's no surprise why so many businesses are looking to learn about and implement SEO.
This vast potential for businesses and the never-ending emails from "SEO experts" have led to much confusion about what SEO is and the best practices for small businesses.
Keep reading to avoid common pitfalls and discover how to get the most out of your small business SEO strategy.
What is SEO and why should you invest in it?
Search Engine Optimisation, or SEO, is the process of optimising a website to improve its ranking in search engine results.
SEO has been around for decades, but it has become more critical with the dominance of Google and the change in online consumer behaviour.
When done right, SEO will lead to ranking higher than your competitors on search engine results pages (SERPs), leading to more traffic and revenue.
9 SEO tips for small businesses
You may have read about on-page SEO, off-page SEO, backlinks and other terms in the SEO space. While these are important, we have kept this guide to the basics, so you can take these SEO tips and make impactful changes in your business.
We've focussed mainly on Google, as 92% of all searches go through its search engine.
Setup Google Search Console and Analytics
Google Search Console will get you onto Google's search engine and show you what people search to find your site. For example, below is a screenshot from Google Search Console showing a website's clicks and impressions from Google.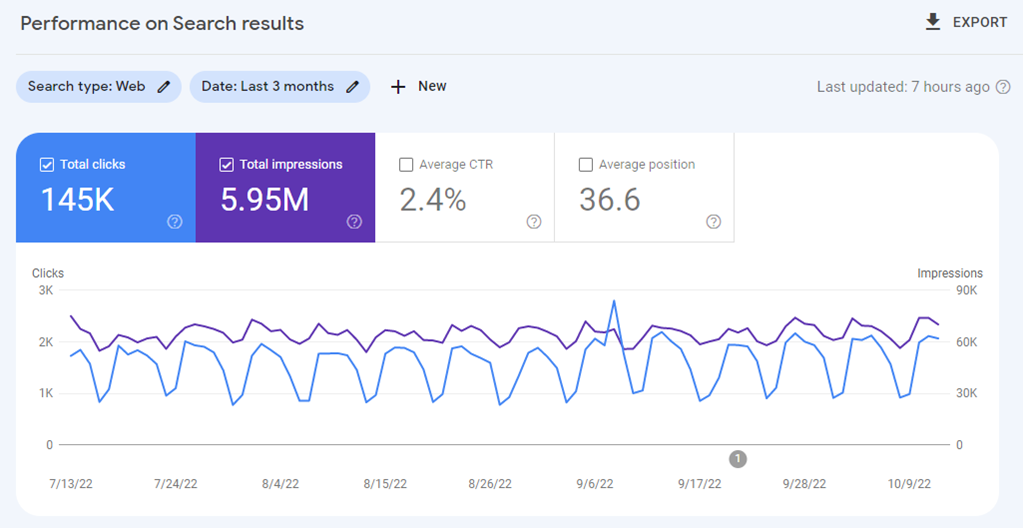 Google Analytics will give you the data on how users interact with your site over time and through what other channels your site is found (such as social media or emails).
Without these two tools, you won't be able to track and measure progress - crucial for any successful SEO campaign.
Ensure your content is the BEST on the internet
Google's algorithm ranks websites using many different factors. Ultimately, search engines want to show users the best results for their searches; as such, you need to ensure your content is the best on the internet for what you want to rank for.
Top tip: Longer articles tend to do better on Google. HubSpot found top articles should be at least 2,300 words to maximise clicks.
But don't pad your articles either, just don't be afraid of writing long-form pieces, as Google respects them.
Use phrases your customers ACTUALLY use
As a business owner, you will likely use terms and phrases that your customers don't. This is a killer for search engines, as if your website doesn't have the phrases that your customers use, you will unlikely rank for what your customers search for.
For example, if this Squarespace website designer didn't have "Squarespace website designer" in its heading, how would Google know to rank it for users searching for that?
Make sure your website loads fast
Google ranks websites higher if they load faster and have a better user experience. Putting your site through Google's Page Speed Insights Tool will give you a website performance score and actionable steps to improve it.
The most common thing for most websites is images slowing down their site, so make sure you compress them before they're uploaded.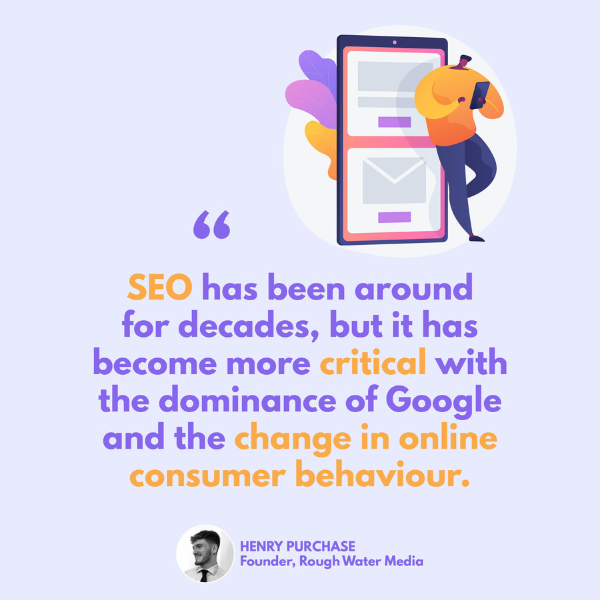 Make your site easy to navigate
If users stay on your website for longer after they find it on search engines, you will rank higher. So make it as easy for users to stay on your website as possible.
This includes adding easy-to-navigate menus and internal links to other pages on your website.
Use SEO plugins
Website builders have plugins you can add to your site that make it easier to follow SEO best practices and give you extra features to boost your rankings.
For example, WordPress has Yoast SEO, and Squarespace has a Squarespace SEO plugin. These will give you peace of mind, as you can get expert advice on improving your site for a fraction of the price or even free.
Focus on long-tail keyword research
As a small business, it's unlikely you will be able to rank high on Google for shorter terms, as many larger companies will have invested much more in ranking for them.
That doesn't mean you still can't get onto page 1. Using research tools such as Keywords Everywhere, you can find related and long-tail keywords (search terms >3 words long), for which you will have a much greater chance of ranking.
By writing content to target these, you can pick up traffic and revenue, which you can invest into more competitive terms.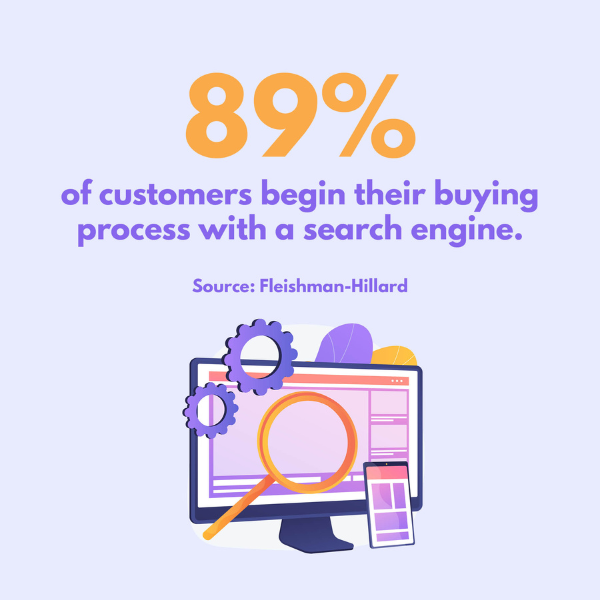 Actively look for collabs and backlinks
If you have more links from other high-quality websites, Google search engine algorithms will rank you higher. This is because backlinks boost your "authority", which is a key ranking factor.
Use your network and local area to look for collaborations with websites or influencers to get link-building opportunities for your website.
Get reviews on Google My Business (GMB)
Google My Business can be a goldmine for local businesses. First, ensure your profile is set up and complete with opening hours, contact information, your website and recent images.
Once set up, actively ask customers for reviews using your GMB review link. If you have a brick-and-mortar store or physical location, you can use Bitly's free QR code guide to get a QR code for customers to give you reviews easily.
Reviews with images and descriptions containing keywords relevant to your business will increase your local business listing's visibility, which will make it easier for people to find and visit you.
Ultimately, the best way for any business to increase its organic search traffic is through trial and error.
SEO can take time, but as a general rule of thumb, if you follow the above 9 SEO tips for small businesses and focus on the bigger picture, you will get results.

Looking to enhance your SEO knowledge and skills? Supercharge your SEO strategy by boosting your understanding and confidence with our Search Engine Marketing SEM Principles training course.