How prepared is your sector for the digital challenge?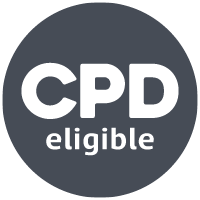 The Digital Skills Benchmark 2020 lays bare that marketers might not be as comfortable with the digital marketing toolkit as they think they are. Find out how your skills compare to those working in your sector in this in-depth review of the latest findings.
The Digital Skills Benchmark 2020, compiled by Target Internet in association with CIM, made for a sobering read if marketers wanted reassurance that the profession has the right skills to overcome a crisis that has the potential to push businesses to the brink. Some minor achievements, such as a 4% rise in content marketing skills since 2018, still revealed hidden problems beneath the surface. In this instance, that the fundamentals of content marketing are improving but the industry falls a long way short of absolute best practice.
However, the report provides a crucial insight for marketers looking to gain a competitive advantage within their sector. It can be tempting to view low scores as a need to re-invent the wheel, but if an industry is scoring poorly as a whole, it could take less than you think for your brand to stand out amongst the competition. In this article, discover what the current level of digital skills looks like in your sector, how they compare to the first Digital Skills Benchmark in 2018, and what that means for your organisation.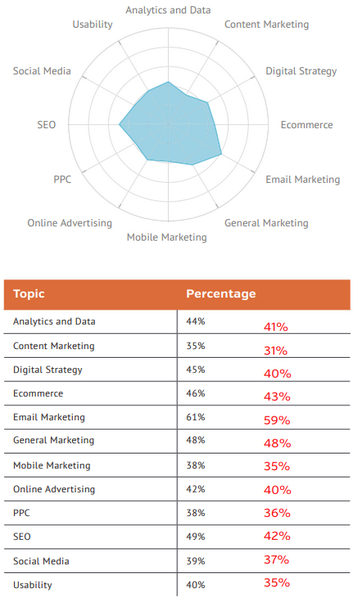 Agency sector
Although it doesn't come out of the Benchmark with glowing reviews, the Agency sector still scores the best overall across several disciplines in the report. At 59% it was comfortably the best sector for email marketing in a discipline that averaged 48%, but even this was a slight decrease from 2018; as seen in the table above. Whilst general marketing held steady at 48%, all other scores declined. 
This might not be such a worry in the long-term, as the sector scored well above the average in each category, but with many brands putting their trust in agencies to innovate and inform their marketing activities, is it fair to conclude that even those at the forefront of the marketing world are stagnating and, in time, will fall behind?
CIM course director Daniel Rowles, CEO of Target Internet, warns against it. "The benchmark includes a wide range of different agency types, and specialist digital agencies actually saw improvements in the majority of disciplines." It might not be that knowledge is stagnating, rather that it is now distributed in varying levels as agencies become more specialised to deliver on client needs. If this is influencing the Agency sector, it will have to be something that other industries will need to pay close attention to.
Financial services sector
Whilst there is some evidence that the Agency sector is specialising, other sectors might be missing out on benefits if they do not embed a culture of wholesale learning. In the integrated world of digital marketing, improving one area and stagnating in others often means that marketing teams miss out on wider insights, even if improvements are apparent on a surface level. Nowhere is this clearer than with the Financial sector.
After a less than stellar performance in the first Digital Marketing Skills Benchmark in 2018, Financial services has polled better than average in most categories for 2020, including their staples of email and general marketing. Pleasingly, the more complex digital skills such as PPC and SEO have improved, with Digital Strategy now sitting at 40% - comfortably above the average of 34%. But is this enough?
"Digital Strategy scores have grown significantly," explains Daniel Rowles, "but this needs further progression with Analytics and Data skills to be truly effective." Whilst Analytics and Data scores remain stagnant, the progress of the Financial Services sector in other areas, whilst laudable, may not be fully realised. Consequently, it does mean individual companies in the sector focusing on fully integrated improvements can soon gain an edge on their competitors.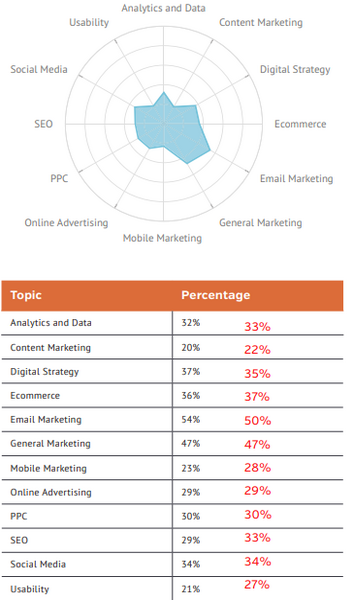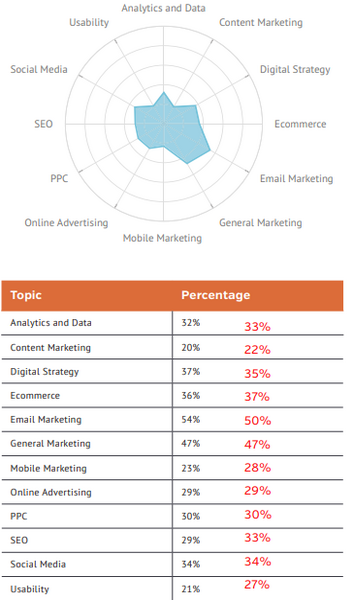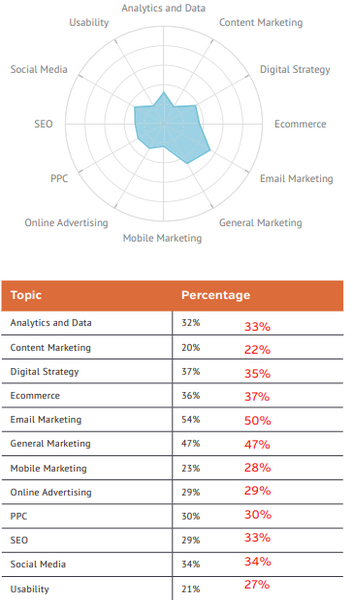 Education and training
In a profession characterised by rapid change, the education and training sector is perhaps the one going through the biggest shakeup right now; both before and during the pandemic. In a sector that is switching to more online activity – both out of necessity due to lockdown rules and the longer term trend of people searching for virtual training options – Daniel Rowles notes that new entrants to the sector, including those surveyed were "more likely to classify themselves as 'online services' [rather] than education businesses." In other words, this is a sector attempting to go digital, and fast.
Yet, this is also a sector that has succeeded in more traditional marketing techniques, scoring highly in 'general marketing' and 'email marketing' in the previous survey. Interestingly, as can be seen in the table above, these scores have remained static or have fallen in the new survey and, though digital skills have increased, they still come from a very low base. More worryingly, digital strategy scores have fallen two points since the last survey.
So, this is a sector improving its tactics, marginally, but potentially missing out on gains thanks to wider spread strategical misunderstandings. Rowles goes further, saying that "This is indicative of an industry changing radically and potentially being disrupted by new market entrants." This is an industry that needs to grapple with its digital skillset, perhaps more so than any other sector highlighted, as learning, of all kinds, begins to take on a heavier virtual element.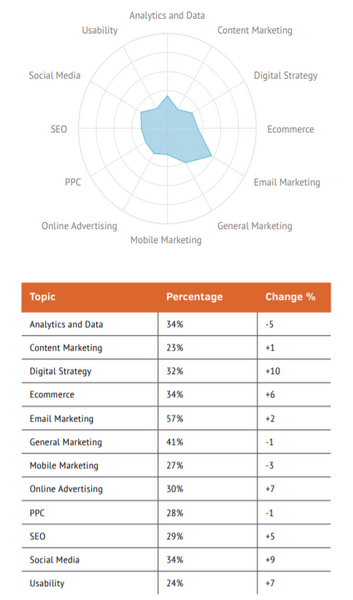 Charity sector
2020 has thrown into stark reality that businesses, and entire industries, must be ready for wholesale change. The Benchmark serves to highlight that, even in normal times, businesses must embrace learning and the development of new skills to stay ahead of the curve.
Few sectors have had to adapt to the current situation in the way that the Charity sector has, as face to face fundraising activity has been put on hold, and the scramble for new forms of revenue generation must include a heavy reliance on the digital mix. As Kimberley Ferguson, brand manager at the British Heart Foundation, suggests, "With digital advertising accounting for more than half of global ad spend in 2020, charities need to ensure that they have the skills to enable them to compete in this competitive market, so they don't get left behind."
As seen in the image above, the Charity sector has made improvements on their 2018 scores, but it comes from a very low base. Significant improvements in several categories still sees the sector behind the average in all but two disciplines in the report; a pleasing rise in Social Media, for example, only brings them in line with the overall average. Worryingly, for all their improvements, a dip in the Analytics and Data scores means that subsequent improvements in Digital Strategy may not have the technical expertise to make real headway.
The Charity sector now faces a large challenge, as in-person engagement opportunities still look to be some way off. The Digital Skills Benchmark 2020 reaffirms the importance of maintaining skills regardless of the economic outlook, because uncertain periods can expose cracks already present in an industry's structure. Optimistically, the Charity sector has made improvements, but it will need to have shown significant further increases by the time the next Benchmark is published, particularly in terms of the full digital mix.
Construction sector
In industries benchmarked for the first time, few scored well against the averages, with many performing under par in almost all categories. The Construction industry is a case in point, analysed for the first time in depth for the report, they excelled at email marketing but scored below average in everything else.
The less than average scores in every other category indicates that this is an industry struggling to grapple with the finer points of marketing tactics, let alone the digital strategy that will be needed as changes come rapidly and permanently to the market. Email marketing itself has become a very crowded market and, though the sector at large appears to achieve stellar results here, it may become harder, rather than easier, in the years ahead.
This might not be all bad news though, as individual organisations can make relative improvements quickly. Rowles notes that "organisations in this sector that address their digital skills gap have an opportunity to stand out amongst their competitors." If you're a marketer in the construction sector, you can make rapid gains by embracing the digital skillset; and, in a sector typically slow to embrace change, standing out could come .
James Ellis, chair of CIM's construction sector interest group (CIMCIG), agrees, echoing that, although the sector is behind the curve, construction is rapidly adopting digitisation in all aspects and functions of the industry.
"COVID-19 has left every industry focusing on digital transformation, the construction industry is no different. There are some great examples of how digital is used from AI through to BIM, which provides marketing professionals the opportunity to drive content and engagement to secure leads and orders. Construction have become market leaders in driving our content due to the specification market and the needs of our customers, if demand changes so will the marketing deliverables but construction is very reliant on humans and a physical product(s) often part of a construction process."
So, the sector might be off to a slow start, but an industry working around new restrictions is making all the right noises to encourage long-term change.
Other sectors
Of the new kids on the block, the Insurance, Luxury Goods and Travel sectors stand out, but the report is careful to highlight that all skills will be needed in an ever-changing world. Marketers working in luxury goods will be heartened to see the sector score well against average for most categories, but, as ever, it's about the mix; with digital skills scoring low across the sector, this should be the focus over the next period in order to make use of other skills.
For the Insurance and Travel sectors, despite good scores, they now face a bold new challenge; as our way of life changes drastically, both industries must use all their skills to adjust course. The report notes the above average scores of the travel industry but, as Rowles points out, "This is against a backdrop of radical change and disruption and it remains to be seen if these new skills can be used to help build business back after the Covid crisis." It's clear that a culture of continuous learning is needed in digital marketing if marketers are to cope with its greatest challenge, even for industries excelling amidst the pandemic.
It's tempting to look at the Digital Skills Benchmark 2020 and conclude that there is a lot of work for marketers to get up to speed with the tools at their disposal. This is broadly true, but by looking industry to industry, marketers can get a better idea of how their skills stack up against their competitors and make a start on improvements. As Daniel Rowles concludes, "The results of this year's benchmark highlight some great opportunities, and great risks, for all types of business. Those organisations that embrace a culture of ongoing learning really do have the opportunity to stand out."
Struggling to keep your team's skills up to date? CIM can help. As your marketing capability partner, our Corporate Training Solutions can work with your team to assess and improve their skills across every area of digital marketing. Find out more about this in our open access webinar with Target Internet's Daniel Rowles, Future proofing your digital marketing teams.