The digital skills you need to progress in marketing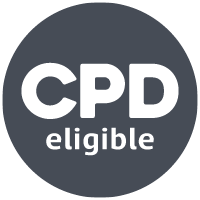 Find out how your skillset stacks up against your peers across the profession in this exclusive look at digital marketing skills by seniority level, according to data from the latest Digital Marketing Benchmark.
Digital has permeated every facet of marketing, bringing with it a requirement for diversification in the skills of marketers, the likes of which the profession has never seen before as businesses embrace the virtual environment.
And yet, despite digital's dominance in the marketing output of businesses of all sizes and sectors, many marketers are still lacking the necessary skills to keep abreast of the latest developments and utilise them effectively.
In this article, discover what the results of the latest Digital Skills Benchmark from CIM and Target Internet, which surveyed nearly 4,000 marketers, mean for marketers as they move through the ranks – and the digital skills they need to enable them to do so.
Intern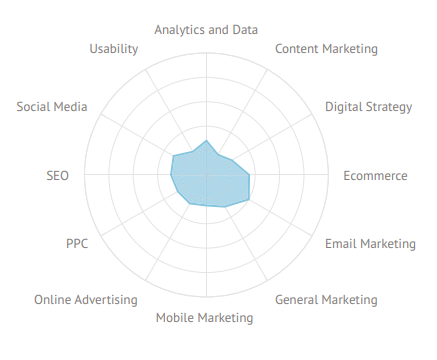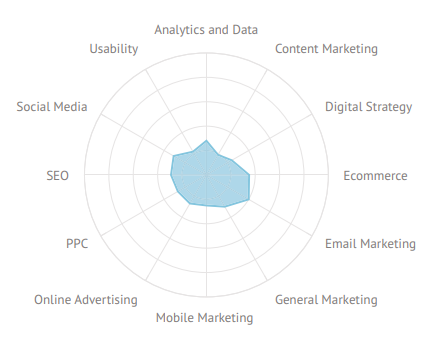 When junior level marketers were surveyed for the first Digital Skills Benchmark in 2018, startling gaps were revealed in their knowledge of core marketing principles. They were found to be generally proficient in core digital activity, but with little tactical and strategic knowledge to use those skills effectively.
In the two years since, however, junior marketers have made some of the most significant gains in terms of knowledge amongst any seniority group. Specifically, for interns, this has manifested as a 22% increase of proficiency in email marketing, matched by a 19% increase in e-commerce knowledge and an 18% uplift in general marketing skill.
This is an encouraging result for those starting their marketing career, with high levels of skill in specialised areas of marketing, such as SEO, analytics and social media, now supplemented by heightened knowledge of the core principles to apply these skills with strategic insight.
Assistant/Graduate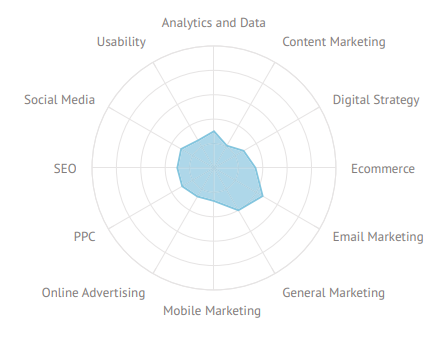 For assistants and graduates in marketing, it is a similar picture. With by far the greatest gains in email and general marketing (24% and 28% respectively), it is clear that many starting their marketing careers have chosen to focus in recent years on the core principles that are guiding the industry.
However, high levels of proficiency in digital strategy, e-commerce and analytics will no doubt help them to develop a highly adaptable and well-rounded set of skills to advance their marketing careers. Where this demographic demonstrate lower levels of skill is in areas such as content marketing, scoring just 21% proficiency, and usability. Budding marketers would do well, therefore, to upskill in these areas to stand out from the competition.
Executive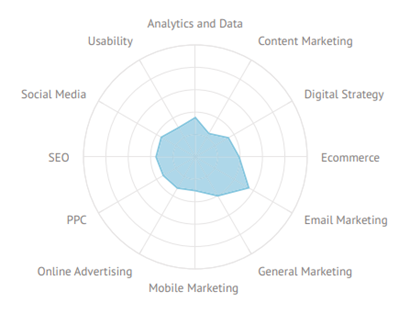 Executive-level skills did not experience the significant shift we saw from more junior-level professionals, but executives continued to perform highly in several core areas, including a notable uplift in email marketing, digital strategy, and social media.
This is reflective perhaps of a demographic that has not placed as much emphasis on upskilling as those looking to enter within the industry, but a high level of proficiency across many of the skillsets polled in the Digital Skills Benchmark indicates a healthy appetite for knowledge amongst executives.
The areas for concern are most notably content marketing, where proficiency dropped by 1% and by far is the lowest level of skill amongst this demographic, some 30% behind email marketing. There was also a small decline in the level of skill relating to social media and PPC, showing perhaps that digital specialisms have fallen by the wayside as executives focus learning on the core marketing principles.
Manager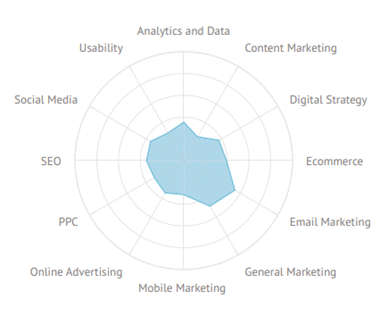 Amongst managers, the highest levels of proficiency remain consistent from 2018 in email and general marketing, with other uplifts in online advertising, usability, and digital strategy. Other areas remain stagnant from 2018, with the only dips in skill being in e-commerce and social media.
It is encouraging to see developments in some areas of digital marketing, after the inaugural benchmark report showed concerning skills gaps in digital at senior levels of marketing. However, content marketing remains the least advanced skill amongst marketing managers and must have renewed focus in the coming years given the rise and dominance of digital content.
We are now looking at a well-rounded skillset at this mid-senior level, however managers must continue to develop their skills in the full digital toolkit to ensure they can deploy tactics that deliver success.
Head of department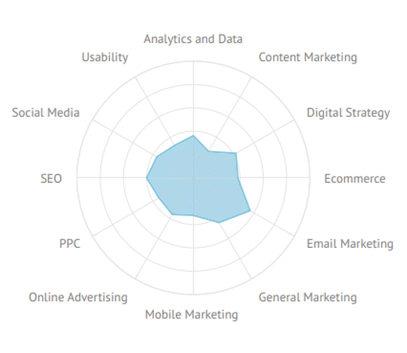 Perhaps the most worrying picture from the Digital Skills Benchmark is the declining skillset amongst heads of departments within marketing, where every topic surveyed showed a decline in proficiency. The most notable dips were in SEO, where skills dropped by 10%, a 6% decline in analytics & data, and 5% drop in both online advertising and PPC.
Whilst it is unrealistic to expect high levels of proficiency across the entire digital toolkit at this strategic level, there was also a worrying decline in digital strategy. This is concerning particularly due to the impact it could have on an organisation's ability to implement and manage any digital strategy effectively; this has become even more important since the survey was conducted. It is clear that this demographic, more than any other surveyed, must invest in learning and development to demonstrate their value.
Director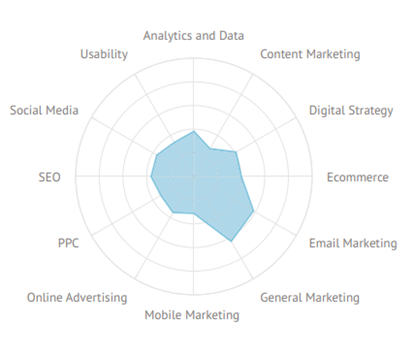 The last Digital Skills Benchmark revealed a concerning lack of digital skills at the most senior level, not only of the full toolkit but of the strategic insights needed to secure buy-in for the deployment of the most effective marketing tools. In 2018, knowledge of some of the most important digital tools was low, with less than 30% of those surveyed showing proficiency in PPC, e-commerce, and content marketing.
However, the picture is more positive in the latest findings. There have been significant increases, not only across core tools such as e-commerce and SEO, but in the previously poorly performing usability and analytics & data categories. Unsurprisingly, this demographic is the most highly skilled in general and email marketing, but still show room for improvement in online advertising and mobile marketing, which need focus for the years ahead as digital continues to dominate the marketing landscape.
This increase in skills at the most senior level is encouraging for marketing departments to be able to implement robust digital strategies, with increasing understanding – and therefore buy-in – in the C-Suite, but this development in just a few short years should be an indicator of our need to keep developing and building momentum to deliver real value.
---
As the digital environment grows, and becomes an ever more crowded space, the Digital Skills Benchmark 2020 can provide added insight, not just on the wider trends in the profession, but on how marketers can upskill effectively in order to advance their career or maximise their returns. The hard lesson is that, whatever your seniority, expanding and honing your digital skillset is a must for 2021 and beyond. Learning must now be embraced as never before.
To develop your own digital skills, view our full suite of varied and diverse training solutions to suit your learning needs. From bitesize weekly sessions to intensive virtual day courses, you can now enjoy 10% off our virtual learning until 31 March, with an extra 15% available for CIM members in addition to this great saving. Find your next course to build your skills and confidence today.