How to secure funding for your training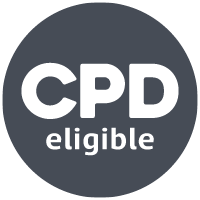 Marketers are increasingly prioritising their professional development, so knowing how to approach your employer for funding is essential. In this article, we reveal what you need to confidently approach your employer and demonstrate how investing in you is an investment in their organisation.
In the best businesses, training is considered an investment rather than a cost.  
The bosses know that upskilling a worker boosts an individual's career prospects and job satisfaction. It means they feel valued, are more productive and less likely to leave. 
When it comes to the Chartered Institute of Marketing qualifications, 60% (source: CIM Alumni Survey) of CIM graduates are more respected at work or are given more responsibility than those without these credentials. 
For anyone keen to study for professionally recognised qualifications, it is crucial they have the backing of their boss and their organisation.  
Yet many marketers who want to progress can struggle to persuade their managers to fund or part-fund their learning and development.   
They often avoid having difficult conversations because they dislike confrontation and negotiation. It can be difficult to find the right time to have a conversation about the benefits of professional study.   
Ultimately, marketers need to feel confident enough to demonstrate why studying a recognised marketing and digital marketing CIM qualification is not only an investment in them, but also an investment in the organisation.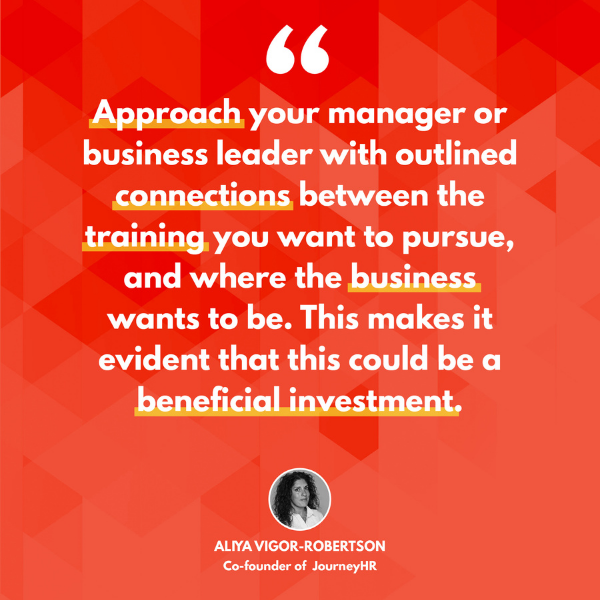 The secret to approaching your employer 
Aliya Vigor-Robertson, co-founder of HR, people and culture specialists JourneyHR, says marketers must not be afraid to have courageous conversations with their employers. 
"When approaching your boss or HR team for training funds you should tackle this with the right mindset to make it a positive and productive conversation," she says. "Once you've narrowed down what training or qualification you want to undertake, it's vital to connect the course and your development goals with where the business vision or ambition is heading."  
She says an employer needs to clearly see that when it invests in you as a marketer, it is also making a positive business decision.  
"Approach your manager or business leader with outlined connections between the training you want to pursue, and where the business wants to be. This makes it evident that this could be a beneficial investment." 
It is also important to anticipate what questions you might get asked. 
For example, will you need some time off work to conduct the training? What obstacles would that time off create in your team? How will you overcome any issues?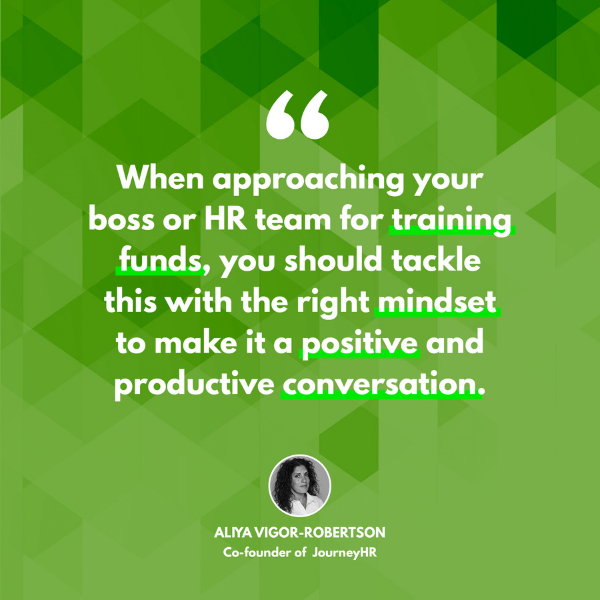 "Be pragmatic and break down how you will be approaching this training, and outline solutions to any challenges that could arise," says Vigor-Robertson. "This will relieve employers of potential headaches and knock down any anxieties that could prevent them from funding the qualification." 
Her other advice includes offering to contribute something towards the training, or to promise to re-pay the cost of a course if you leave the company within an agreed time. This would not be necessary for one-off courses, but it could be a deal breaker if asking to study for a more in-depth marketing qualification. 
"Ultimately the best way to approach a conversation about funds for training is to step back and consider it from multiple angles and the business's point of view," says Vigor-Robertson. "With answers to these challenges and solutions to any worries, you can go into the conversation with confidence and assured you have a strong argument. You can demonstrate you are serious about this training and your work at this organisation." 
Of course, before your employer will agree to fund any marketing qualification, they will ask themselves whether you are worth the investment. That may sound harsh, but it is a question that may be posed to you directly or it could be implied.
The importance of being clear 
Marika Messager, CEO of business coaching company ConsciousLeadership.org, says being able to answer this question means believing in yourself and thinking carefully about the answer during your preparation. 
She says marketers need to appreciate how their own personal development is essential to perform better at work. 
"We all have to grow as people or we rot," she says. "When it comes to professional growth, qualifications and training form an integral part of one's journey towards self-development and leadership."  
She adds: "Make it clear that an investment in you is a demonstration that the company is building a positive culture. Approaching the situation in the right way and replacing anxiousness with self-worth is what makes the difference. Believe in yourself and know that investing in you makes good business sense."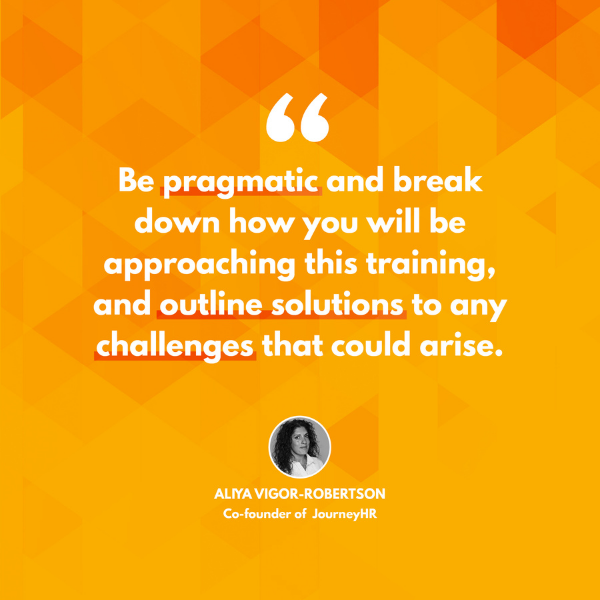 Another person urging marketers to focus more on their own potential when asking for funding to boost their skills is Joanna Howes, founder of coaching business The Change Creators. 
She says it is understandable why people feel vulnerable when asking for money to study for qualifications, but it can help them feel more at ease if they are clear themselves on what the outcome will be. 
"Your employer will also be assessing your level of commitment to the training and looking for the conviction that you will see it through – and want to see how you will implement the new skills you have acquired," she says. 


Ready to prioritise your personal development this year? Visit our CIM qualifications page and find all the information you need, including the perfect level and study method to make your career take off.