Why businesses are investing in CIM qualifications this year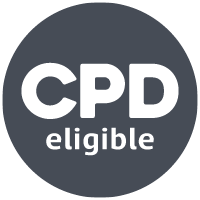 In response to 77% of marketing employers experiencing skills shortages since the start of the pandemic, businesses are now looking to build a stronger team of marketers and positively impact growth. In this article, discover from employers why they're investing in CIM qualifications to bridge the skills gap and gain a commercial advantage this year. 
The skills demanded of marketers are constantly evolving, and in 2022 employers need their teams to have a good knowledge of the latest trends.
Whether marketers are just entering the industry or working in an operational, strategic or management role, the value of up-to-date training and qualifications has never been more important.
In 2022 there will be more demand for good copywriters, SEO and email marketing experts, as well as people who understand the art of building and engaging an audience. 
Whether online or offline, marketers will need to be good storytellers, know how to get a better understanding of their customers and be familiar with how the latest technology, such as artificial intelligence, can influence campaigns.
In response to the ever-changing landscape of skill requirements, the Chartered Institute of Marketing is continually evolving its training and qualifications for businesses large and small. I spoke to some of the business leaders responsible for keeping their marketing teams at the forefront of industry developments, to find out why CIM qualifications are so valuable for their organisations.
Boots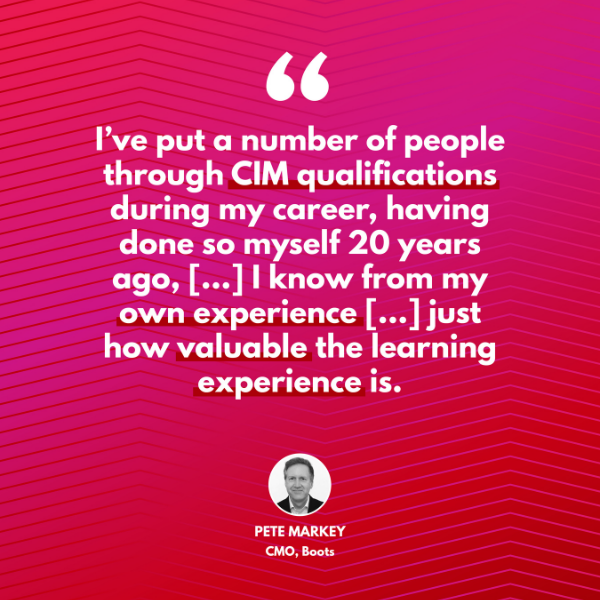 At leading retail chemist Boots, CMO Pete Markey describes CIM qualifications as a great way for people to deepen their marketing expertise. He says they also provide marketers with an opportunity to gain knowledge of the wider principles that underpin effective marketing as a lever to drive business growth.
"I've put a number of people through CIM qualifications during my career, having done so myself 20 years ago," he says. "I know from my own experience and from what I've gleamed from others, just how valuable the learning experience is."
He adds: "Importantly, CIM qualifications give hands-on, practical areas of expertise which you can deploy immediately in your daily role. This adds even more value to your work and the impact marketing has in your organisation." 
We spoke to a number of businesses poised to invest in CIM qualifications in 2022 to ensure their marketers remain up to speed with the latest industry trends and ever-changing consumer behaviours. 
Content+Cloud
At technology services provider Content+Cloud, group marketing director Alex Stone FCIM completed the Diploma in Professional Marketing a few years ago.
She says it boosted her confidence in her abilities and gave her validation that she knew what she was talking about as a marketer.
"It provided a theoretical framework," she says. "Now I look for qualified people when I am recruiting because I know they have gone through the same process that I have, even if it was at a lower level or for a different qualification."
She says the CIM qualification acts as a badge of quality in a fast-changing industry. "I know how rigorous it is and the amount of effort people put in."
Stone adds that studying also demonstrates a long-term commitment to marketing as a career.
"One of my senior team had been working in marketing for seven years and he suddenly said he wanted to get a diploma. I supported him, and as a business, we funded his study because it showed that he wanted to develop as a marketer."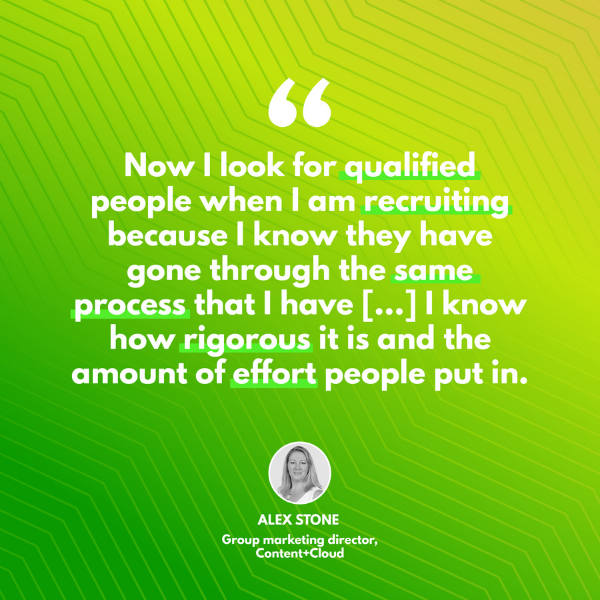 Gingermay PR
Victoria Usher, ceo and founder of award-winning PR firm Gingermay, will put some of her team through the Level 6 Diploma in Professional Marketing in 2022.
She highlights the importance of modules covering innovation in marketing, marketing and digital strategy, and managing brands.
This qualification is ideal for marketing managers and marketers working in operational and supervisory roles who want to progress their strategic and management skills. Learners can choose between two qualifications to suit their own career path: Diploma in Professional Marketing, or Diploma in Professional Digital Marketing.
For Usher, one of the biggest trends marketers need to be on top of in 2022 is how to understand customer behaviours online.
CIM qualifications bring value to the agency, she says. "It enables us to support our employees by balancing ongoing training alongside their day job. Theory-based learning is reinforced on the job because it is applied to daily tasks."
She adds that seeing a CIM qualification on any CV certainly catches her eye when hiring.
"It is also important for potential employees who can see that we are an organisation that will invest in them. Supporting qualifications acts as an incentive because it shows applicants that we are serious about their development."
Once hired, there is an important role for CIM qualifications in developing staff at Gingermay who need to have the latest skills to be ready for promotion and to add more value to clients.
"If your experience to date has not covered a certain area of marketing and you're keen to gain more specific skills, a CIM qualification can help fill in the gaps," says Usher. "A specialist course in certain areas could address a particular knowledge vacuum and help make your understanding of marketing more well-rounded."
Procure Partnerships Framework 
Procure Partnerships Framework helps public sector organisations, and it will continue to put employees through CIM qualifications to improve its service.
Some of its key account managers have recently graduated with a Level 6 Diploma in Professional Digital Marketing, for example.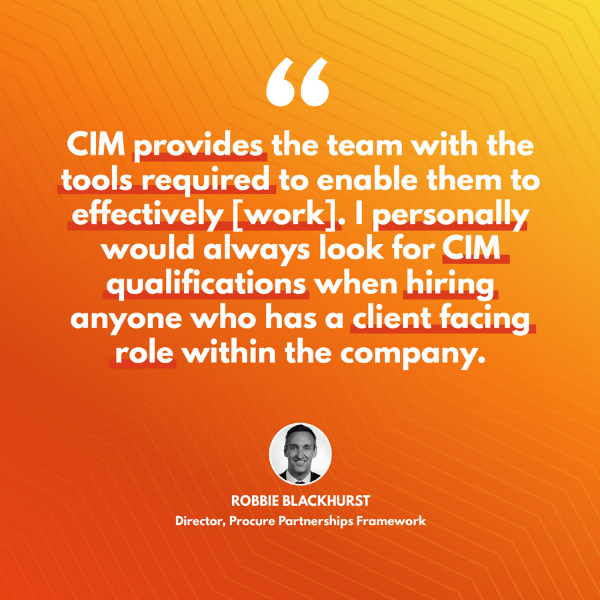 Director Robbie Blackhurst says the business is enthusiastic about marketing qualifications and says opportunities to study are not only open to employees for whom marketing is their primary job.
"The role of marketing has changed over the past 10 years and with the developments in digital marketing it is everyone's responsibility to market the organisation," he says. "CIM provides the team with the tools required to enable them to effectively do this. I personally would always look for CIM qualifications when hiring anyone who has a client-facing role within the company."


Looking to invest in your skills this year? Visit the CIM qualifications page and discover the perfect level, and study method, to develop your marketing skills and become a fully qualified marketer.