A day in the life: Senior designer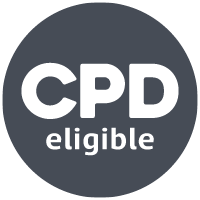 Are you interested in a creative role within marketing? In this article, CIM's senior designer, Fiona Makohon, describes a typical day in the office, creating visual content that forms a vital part of CIM's brand identity.
For as long as I can remember, I have always been creative. At college I studied both Art & Design and Psychology. Whilst I knew I wanted to go down the design path, psychology allowed me to see creativity in a new light, as I gained an understanding of how the combination of text and images can change the way a person thinks and feels.
I then chose to study Visual Communication at university before doing a Master's Degree, specialising in creative thinking and design. During my studies, I entered the DMA breakthrough award, presenting my campaign idea (promoting the Jaguar XJ) to several big London agencies. Winning 1st prize gave me the drive to succeed and confirmed that I was on the right track with my chosen career.
After 4 years in an agency environment, working for brands such as Renault and Legoland, I moved to CIM as an in-house graphic designer. The Creative team works within the Marketing department, in our own studio, with responsibility for a wide variety of tasks, from designing content for our social channels to creating concepts for upcoming campaigns, meaning that no day is ever quite the same.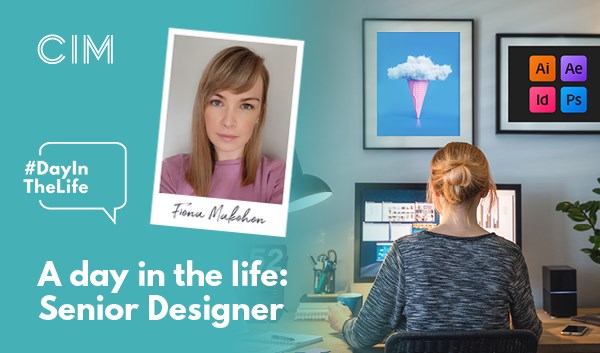 8:30 – Time to get inspired
I often use my mornings to get my creative juices flowing by browsing sites like Creative Review and Ads of the World. I think it's important to keep yourself aware of what else is going on in the world of design and creativity, and it's also a great way to get inspired.
9:00 – Creative Schedule
Every morning we have a short team meeting to go through the workload for the week ahead. It's a time for jobs to be allocated and also a time to discuss any thoughts, ideas, or issues, whilst also taking into consideration our main priorities for the upcoming weeks. Everything is to schedule, so time management is an important consideration for us as a team.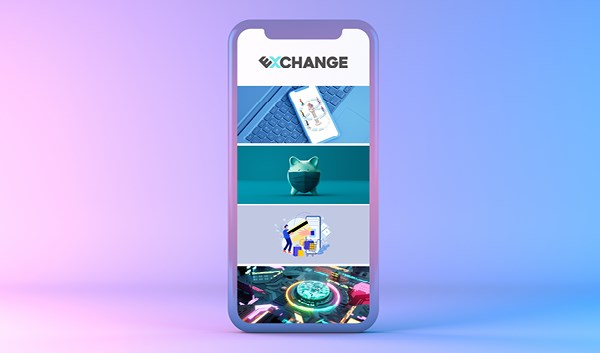 9:15 – Time to get started
I generally start my day with a couple of the smaller tasks to get jobs ticked off the creative schedule. This could be image sourcing to promote a new Exchange article or creating social assets to promote one of our upcoming webinars.
Every image for every feature, even this one, is a collaboration between us and the Content team. The challenge is to gain an understanding of the article or webinar's main subject and then produce ideas for how to represent it visually across multiple channels.
10:00 – Promoting The Pitch
It's then time to focus on the design for one of our annual events – The Pitch, our student competition.
The Pitch has been running for over a decade but, this year, for the first time, it's all virtual. This gives me a chance to refresh the event imagery whilst still keeping the identity of the competition. I put together a presentation to show how last year's event could evolve visually, with some new design solutions. These will be presented to various members of the Marketing team, including the Head of Brand and the Events Manager, for approval.
Pitching ideas is my chance to sell my designs, but it's important to pay attention to the overall objective and stay within brand guidelines. Once we choose a new design, I then have the task of creating all the elements to help bring that design to life. These include a range of social assets, printed posters, and a redesigned website.
11:30 – Working on a campaign
Throughout the year I work on a range of campaigns to promote some of our CIM products. I'm currently working on a campaign to promote our membership benefits to non-members.
Firstly, a call will be set up with various members of the Marketing department where we will go through a creative brief. The brief's main purpose is to outline the objective of the campaign – what it needs to achieve – and the key messaging – what it needs to say.
Once I have all this information, it's time to generate ideas. I tend to look at our past campaigns that performed well and take inspiration from those, whilst also looking at current trends to get inspired. The biggest challenge for any designer is making those key messages come to life, sometimes taking quite corporate ideas and turning them into compelling visual imagery, which could be anything from a static typographical piece to an animation.
Once I have roughly 3-5 concepts, I'll present these back to the stakeholders to get their views. This is an opportunity to explain my thoughts and answer any questions. Once chosen, it's time to produce the design in a range of formats, including outdoor advertising, printed ads and social. It's always great to see your campaigns come to life and see them out in the real world.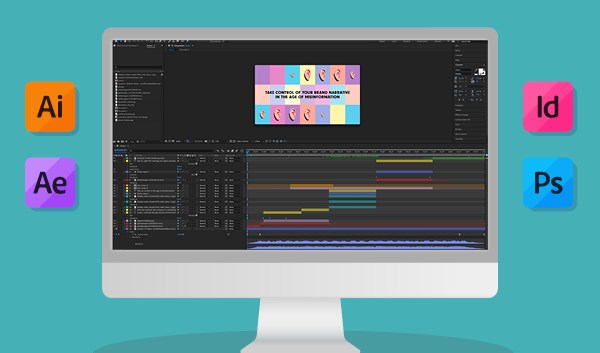 14:00 – Time to animate

One perk of designing is that all tasks are different. For example, I love that I get to experiment with animation in my current role, which I use to create 'mini clips' for our social channels. These could cover anything from promoting one of our podcasts to showcasing an upcoming edition of Catalyst magazine.
The rise of video content on social media means that I also get to work alongside CIM's videographer on larger video projects. This is a great time to collaborate, and it allows us to bounce ideas off one another. For these tasks I tend to focus on any graphic elements, typography and animation that might be needed, whilst the videographer focuses on aspects such as image, sound, and colour correcting.
16:30 – Annual Review
These days the majority of my design work is digital, but there's still times when print is required. I am currently working on the Annual Review which is being produced for both print and online viewing. Understanding print is a key requirement for designers, from knowing the difference between CMYK and RGB, to making sure documents are set up correctly for print. It's a process that requires attention to detail with no room for errors. It's times like this that I work directly with the Print Manager but sometimes I also liaise with printing companies themselves.
Towards the end of my day, I will go through my emails and have one last check that I am on track with everything. It's also a time to check through my calendar so I am prepared for any upcoming meetings I may have the following day.
What does it take to be a graphic designer?
If you're a design enthusiast with a creative mind; someone who enjoys coming up with new ideas that inspire, inform, and captivate consumers, a creative role in marketing could be well suited to you.
Whilst it is a different part of the marketing department, members of Creative teams will share things in common with more traditional Marketing Executives. Attention to detail, an up-to-date knowledge of industry software, and a professional approach to meeting tight deadlines is essential; especially as you are often the last stage of the process before publication. There may also be times when you need to present concepts to a client or in-house team, in which case presentation skills are required, and that mix between collaborative working, keeping stakeholders happy, and getting your head down to meet those deadlines is a crucial skillset for a budding graphic designer.
A passion for the brand you're designing for is also a great asset. I am a CIM member not just for the range of marketing material I have access to, but it helps me to understand the brand DNA. Earlier in my career, in an agency role, I worked across multiple brands at one time, whereas being in-house allows you to embed yourself fully in one brand. If you become a graphic designer, choosing between an in-house or agency role is likely something you'll encounter at some point in your career.
Ultimately, if you have the passion for design and a curiosity for understanding how it helps organisations to succeed, a successful career in graphic design could await you.
Intrigued by a career in marketing but unsure how to get there? Start your search today by visiting our Get into Marketing page to find out the best route for you.