A day in the life: Digital marketing executive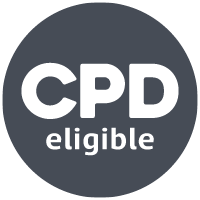 Ever wondered if you've got what it takes to make it in marketing? Find out in this article from Molly, a digital marketing executive in the Channel team at the Chartered Institute of Marketing (CIM). From overseeing digital campaigns to running social media channels, get an exclusive look at what her typical day in the office has in store.
My marketing career started in 2014 when I chose to do an apprenticeship in digital marketing, rather than going to university, as it suited me at the time. I worked for 12 months as a digital marketing apprentice within a small business and I was able to learn many core business skills alongside marketing expertise. As a result, I gained a wealth of practical experience I might not have gotten from a larger company, as well as a formal qualification to aid my future career.
This facilitated a move to become a marketing executive for a global lighting manufacturer, Zumtobel, before moving to the Channel team within Marketing at CIM in 2017. The Channel team work alongside the other key marketing functions to deliver on all things digital and take charge of our social media accounts. In this article, I'll take you through a day at the office so you can find out exactly what that entails!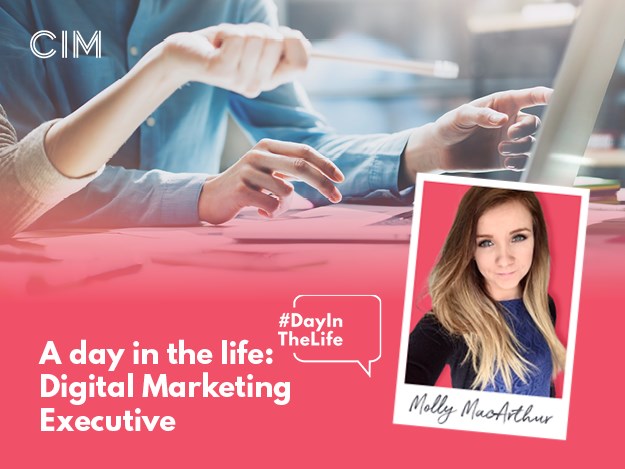 8:30 – Social media monitoring
I'm continuously monitoring social media throughout the day amongst other tasks, but my morning always starts with a thorough search of the key social media channels. I'm looking out for any mention of CIM, any queries that need responding to and any news we might want to be aware of or create social content for. It is important that other teams within marketing, such as Content, Events or Creative, are up to speed on what's happening online so they can be proactive in their activities.
With the world of digital marketing being so fast paced, I try to listen to a marketing related podcast or audiobook during the first half an hour of my day while I'm scrolling through our newsfeeds. Today's was chapter 8 of Digital Darwinism by Tom Goodwin, a really interesting segment on rejecting workplace bureaucracy and 'busy work'.
9:00 – Refreshing Instagram
This morning I'm working on concepts to refresh our Instagram highlight section. We've seen increased follower growth on our Instagram account in recent months, so it's time for a refresh to ensure we're bringing the most relevant content to our new and existing followers. This is particularly important in these strange times, as our followers need information quickly.
I spend some time looking through recent social media reports and Google Analytics to identify what content will add the most value to our followers and is appropriate to that channel. I also have a look through a range of other Instagram pages to get a feel for what others are doing for their communities.
9:30 – Daily team meeting
Usually the daily team meeting would be an informal chat over our morning coffee, but since we've started working from home, we jump on a call together for 15 minutes each day (or longer if needed) to check in with each other. It's a great way to keep the team unified, reflect on progress and share ideas.
10:00 – Analysing campaign performance
This is a big part of the digital marketing executive role for anyone within the Channel team at CIM. For every campaign, we provide a detailed report on its performance. This is vital in understanding elements of campaigns that worked well or not so well and its overall effectiveness against objectives and KPIs. Each aspect of every campaign is meticulously tracked. For example, each variant of any advert is assigned a unique tracked URL for us to monitor.
We're always testing various aspects of campaigns, such as audience, copy, creative or platform, to ensure optimal impact and reporting provides valuable insights for future campaigns.
13:30 – Building an email
This afternoon I'm building our monthly round up email for our Content hub. We use this email as an opportunity to connect with our members and inform them of the latest marketing news.
Email is an important part of our marketing strategy at CIM, as it allows us to improve our reach and visibility and engage with our audience in a personalised manner. Using Microsoft Dynamics as our CRM (Customer Relationship Management) system, we can segment our audiences effectively and tailor our messaging based on customer actions. This ensures our audiences are getting the most impactful information at the most effective times. 
When it comes to digital marketing, there's always something to learn. CIM hosted a webinar on email marketing during the pandemic, and it's good to take these learnings and apply them to our work.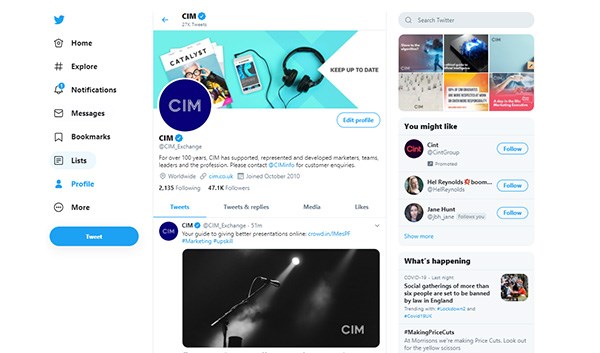 14:30 – Setting up paid social advertising
I move on to setting up a Facebook ad campaign using Facebook ads manager for an upcoming CIM Academy qualifications campaign. Facebook ads manager was chosen because it is, for us, the most cost-effective social media advertising tool and serves as the primary method of engaging outside of our traditional audience; we can reach potentially millions of people at a relatively low cost on a highly targeted functionality.
This involves a lot of cooperation, based on our campaign objectives. We work with our Brand & Communications team to develop messaging and adapt this where possible based on knowledge we already have about what performs well. This means that we will work with the Content team as well for their input. Then we partner with the Creative team to make sure the assets are optimised for social media – for example, does the image stand out? Does it work with the copy? – all before we put anything live.
After all this is done, we have to monitor everything to see if it's working and then make adjustments if necessary, but that's for another day.
16:00 – Performance monitoring
Continuous monitoring of campaigns and social media is really important in ensuring we're quick to react when things aren't performing as expected and need adjustment (which can save a lot of time and effort in the long term!) If a campaign isn't delivering the results we were expecting, we need to figure out why. It could be that our targeting needs adjusting or our copy could be optimised better. Alternatively, it could be that external factors may impact demand or relevance. Sometimes the smallest of tweaks can save a campaign from crashing and burning. 
Equally, if something is performing especially well and ahead of target, this is also something we want to be aware of. Once we pinpoint why it is doing so well, we may want to move more campaign budget to the high-performance area or take learnings for other campaigns.
What does it take to be a digital marketing executive?
The team that I work in touch on all of the marketing activity that CIM does, either through social media or reporting in the aftermath, and every department expects the knowledge we provide to be useful and actionable. This means that anybody working in social media must be inquisitive and not jump to conclusions. Statistics mean nothing without insight, and we must avoid vanity metrics and provide an extra level of detail. For example, if people are spending a lot of time on one particular page of our website, it's tempting to believe that it will be because they are actively engaged, but maybe that particular page isn't user friendly; someone working in digital marketing needs to have that curiosity for deeper insight and be able to communicate that back to a wider team.
Whilst this sometimes involves a lot of time working with just you and the data, social media is principally about communication; either through posting relevant, and entertaining, information to an audience or by reporting back on the findings through meetings with internal staff. There are obviously some people who prefer to work alone - and marketers in smaller companies may be solely responsible social media, rather than working within a team - but it's not a discipline that lends itself to isolation; there will always be a need to communicate and good communicators always make the best social media executives.
It's tempting to think that social media is just about a particular post on a specific platform, but it works across the whole user journey – from promotion to feedback – and, whilst you will have to be comfortable working alone whilst your digging for insight from the data, you will potentially have to interact with multiple departments all looking for your conclusions.
If you have an inquisitive mind that always wants to dig deeper and can communicate your findings, then digital marketing could be the right speciality for you.


Want to get started in marketing? Take the first step and visit our Get into Marketing page now to find the best route for you.