How brands are embedding social distancing into their marketing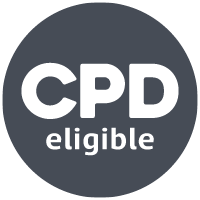 Few times in history can truly be unprecedented, but the situation many brands now find themselves in can only be described as such.

 

While some organisations find themselves in limbo, others have responded to the social distancing movement with creativity and innovation.
For many organisations, brand strategy has given way to survival as government takes substantial action to stop the spread of COVID-19. As businesses of all sizes struggle to adapt to the changing times, some brands have lent some of their trust in order to promote protecting your personal space in a pandemic.
Brands who adapt with agility to new conditions benefit not only from the goodwill of customers who in many ways are more receptive to communications now than ever before, but stand to gain a strong foothold in the much-discussed arena of corporate social responsibility. Discover the most notable executions of these campaigns below.


1. Coca Cola
For a brand founded on bringing people together through their iconic product, Coca Cola chose the now-deserted Times Square for its response to the COVID-19 outbreak. The ad, featuring a distanced logo, reads: 'Staying apart is the best way to stay united'. Few images will sum up quite how much the world has changed as that one, but the copy is as emotive as it gets.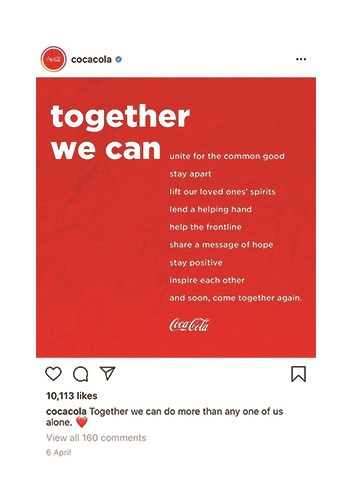 2. Burger King

As some of the first brands to experience the effects of mass lockdown, fast food outlets led the way for many brands when it came to championing social distancing. When Belgium announced that its fast food restaurants should be closed, initially until 3 April but this has now been extended, a local Burger King branch hastily remastered their slogan to become  'Stay home' rather than 'Home of the Whopper'. This clever, concise wordplay helped the move to go viral and keep the brand in the minds of customers during the period of closure.


3. McDonald's
Still, McDonald's would not be outdone by its most high-profile rival. In their Brazilian branches, McDonald's reimagined their logo so that even those ever-combined golden arches observed social distancing, with accompanying copy roughly translating as: 'Separated for a moment to always be together'.
The highly visual image works by itself to get the message across, but the copy adds to it; a demonstration of brand value and effective marketing techniques producing genuine synergy.


4. Nike


Few things capture the imagination and attention of the audience like sport, and it's increasingly becoming inclusive for women too. For many, the idea of turning out for your favourite team on a Saturday afternoon will remain an elusive dream, but Nike's emotive messaging captures hearts and minds with its aspirational messaging focused on solidarity, with reference to their award-winning 'Dream crazy' campaign.

5. Walkers

Walkers have gone one step further to bring customers a taste of what they might be missing in lockdown. In a brand new extension to their Taste Icons range, the snack food giant have teamed up with big name restaurant brands, such as Nando's and GBK, to create flavours such as Peri-Peri Chicken and Classic Cheeseburger. This agile shift in product development is a marketing lesson not only in partnerships but innovation, responding not only to shift in buying behaviour towards store cupboard staples but the social media swell of customers desperate to return to their favourite flavours.

6. Electronic Arts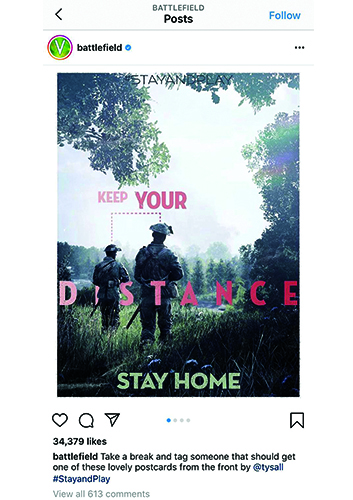 There's an old cliché about the survivors of any crisis being gamers and, with a ready-made hobby that they can do at home whilst still staying connected, the lockdown has indeed led to a gaming boom. Video games draw revenue beyond even the movie industry and Electronic Arts (EA), among others, have taken the opportunity to connect with gamers who now have additional time and inclination to invest in their hobby. EA's #StayandPlay initiative highlights the ability of games to provide a shared space whilst maintaining physical distance.
Many more gaming companies have teamed up with The World Health Organisation (WHO) in their #PlayApartTogether campaign, encouraging gamers to stay at home, with product-based incentives and compelling social media content.
Despite mixed industry reactions, we are a long way from seeing if these brands have been enhanced or damaged by their social distancing efforts. It is unsurprising that these actions will be viewed with a healthy dose of cynicism from eagle-eyed consumers, particularly at a time when brand actions speak louder than words for workers on the front line.  Nonetheless, as we enter a new age, brand equity will undoubtedly shift, but those who have responded to the COVID-19 pandemic with sensitivity and agility will certainly see themselves in a better position to recover and rebuild profitable relationships with customers.


Discover how to supercharge your brand strategy with a variety of training courses to suit your learning needs. Find out more.