How people power businesses today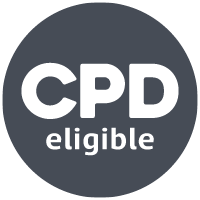 In these unprecedented times, businesses are adapting and evolving to fit with new behaviours and demands. The key to future success is understanding people. By truly understanding both our colleagues and our audiences, we will unlock our potential.
These are extraordinary times. A new Covid economic and business 'normal' is taking shape in the light of current knowns and unknowns. While many companies have scrambled to implement video conferencing technology, or hybrid working models, a bigger strategic opportunity lies ahead.
We can grasp a bigger strategic opportunity. It's time to stop using outdated approaches to leadership, marketing, people and customer relationships. Financial and business discipline are critical, but should not hold back a more fundamental rethink of leadership, customer relationships and crucially, people engagement.
We as businesses know our people are our primary asset and, in these times, it will pay us to value them and listen to them. Armed with a universally shared destination and desire for success, within a disciplined delivery framework, they will drive exponential, sustained profit and growth.
"One of the biggest effects of the pandemic has been to illuminate the utter lack of voice and influence most people have on their workplace." – Anna Stansbury, Harvard University
This is not a one-way change. Covid has made a profound difference to employees' views of what their business does, how they work and their relationship with their colleagues and leadership. Their view of the value of their work and what matters to them has changed, and that is also true of our customers. This change shouldn't be suppressed or ignored, but positively grasped and encouraged.
Talented people expect to influence more than just where or how they work. They want to actively contribute to the mission, vision, innovation and commercial success of their enterprise. Unlocking this potential needs to be the priority, while ensuring that the newly empowered people understand their responsibilities and the business priorities. They will reciprocate with their everyday actions.
If this change of approach is also aligned with digital transformation, AI powered technology in human partnership can act as a liberator, augmenting human capabilities, dynamically personalizing the customer journey, product, or service so that it is relevant and specific to the individual customer and consumer.
The benefits of such a visionary approach will be fundamental.
One will be the attraction, retention and promotion of talent. Better customer service and product innovation will be another.
Businesses will also be aligned with the new 'trust economy' where they can build long term customer relationships by providing transparency and earning the same in response. A human-technology partnership makes it possible for forward thinking businesses to weave their offering into the fabric of how customers now live their lives, responding to what is important to them. Data and hard facts of course, but behavior, people and emotion too.
This new reality can drive a shared language, starting with customers, investors, and talent. What matters most to them? What are the immediate (revenue opportunities and cash flow) and strategic (brand and talent retention) objectives? The leadership team can combine forces with talent to revisit and create a new meaningful business purpose, vision and mission, that they genuinely believe in. More than the usual 'word-crafting'; it should be a crystal-clear vision, north star and direction of travel understood by all, backed by shared operational plans and metrics.
Once this is clear and shared, a business can begin to engage in conversation with customers, knowing they have the entire enterprise behind the promise. This can be done with renewed authenticity, empathy and respect for the situation customers are facing.
If the marketing function and leadership team can align people and in turn, their customers, with the wider societal aims of their business, not only will it serve the short-term commercial aims, but it can also be central to long-term growth. A new marketing priority will be developed, marching in lock step with the rest of the business, rather than in its own silo, with a message, positioning and customer conversation created and delivered by all parts, top to bottom, with no exceptions.
"It is amazing what you can accomplish... if you do not care who gets the credit." – Harry S. Truman
This approach requires the whole leadership team to recognise that people are the most valuable asset and primary source for future success and competitive advantage. They will need the humility, inspiration and empathy to listen and be prepared to change and want to know – good and bad – how their people feel and what they think. The leadership team must then demonstrate that they are keen to prioritise and enact the new ideas.
Understanding people is key. The new way forward and language needs organisation-wide acceptance. It will be the basis for decisions and everyday actions by all. Connecting this understanding to customer insight will also reveal the triggers and barriers that drive purchase decisions in the new world and help prioritise the response. What are the new pain-points and how have the rational and emotional triggers and barriers changed?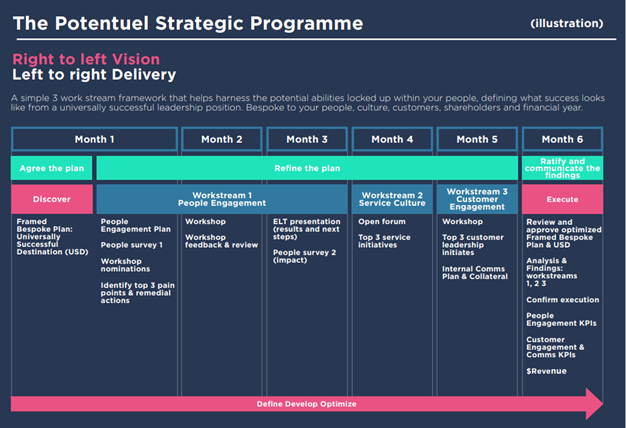 Implementing this vision within a business disciplined framework (as the illustration from Potentuel Management Consultancy above demonstrates) ensures it is not merely a siloed initiative, but one aligned with the financial year, customer needs and a continuous right to left view of the universally successful destination, then talent engagement and unlocking people potential can be the critical driver of long-term business growth in the new Covid world.


If you want to keep up to date with the latest marketing tools and trends, join the conversation and tune into the CIM marketing podcast. Available now wherever you get your podcasts.