Secrets to copywriting success from industry experts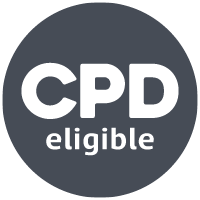 Copywriting is a central component of modern marketing and has a huge part to play in how consumers view your brand. In this article, our handpicked team of experts help you discover

the secrets of writing engaging copy,

levelling up your existing skills

and avoiding

burnout. Keep reading to find out more.
In CIM's new copywriting course, Copywriting - The Complete Guide, we share lots of useful information about how to plan, manage and create web and blog content. However, I thought it would be even more interesting to actually speak to some real-life writers about how they do this on a regular basis - without going mad.
So I picked the brains of four highly experienced and insightful professional writers: Stephanie Boyle, Luke Leighfield, Morag Cuddeford-Jones and Lucy Handley.
The course features video interviews with this talented bunch, quizzing them on everything from content pillars and key messages to working with senior business leaders to convert their wisdom and experience into the most compelling copy.
Here's some more advice from these brilliant writers on how to create high-quality content for your organisation - fast becoming one of the most in-demand skills for marketers.
How to generate copywriting ideas
Stephanie Boyle is a freelance brand and editorial copywriter who spent nearly two years working with Nude, a financial app that helps you do things like save your first house deposit. Stephanie was responsible for copy for the Nude blog and newsletter, Adultish, for which she recently won an award for.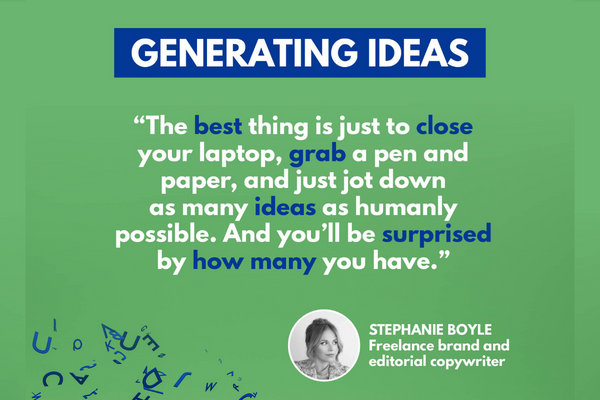 Stephanie shares her perspective on content pillars and key messages, and what role they have played in her work with Nude, as well as blog idea brainstorming, and how she turns that into a logical workflow.
How to use key messages and content pillars
"A lot of the content on Nude and Adultish centres on this idea of getting your life together - not that you have your life together, but that you're in the process of doing so. So Adultish covers things like money and careers, and relationships and wellbeing, as well as buying a home, which is where Nude comes in.
"What was really cool is that getting your life together isn't the same for everyone. It's not even the same for yourself, the different parts of your life. Because you may want to get your life together with buying your home, which is one thing, then save for childcare later on. You may have a pocket in your life where you really want to focus on your wellbeing. So I built on those content pillars just by digging deep into, what are the sub-pillars within this word, the sub-themes we can work with, and that just created just a catalyst for ideas.
"You have to look outside of yourself"
- Stephanie Boyle, freelance brand and editorial copywriter
"The key messages focused on the impact of starting today, because one of the things people are up against when trying to save for their first home is taking that first step, which can be really daunting. We worked with a behavioural scientist who taught us about how our brains engage when we look at rewards, but if we go too far into the future, we can switch off. So we had to think about how we create key messages that talk more about the benefits and the rewards people get, building new habits and celebrating those habits. So these were all key messages that we were weaving into Nude's content. For example, "Seven reasons you should start building your deposit today". There's a lot of encouraging and positive language in there - with the theme, 'here's what you can do to take control'. It's about taking action, regardless of everything else that's going on in your life, to reach your goals."
How to brainstorm and organise your copywriting ideas
"Before it comes to the brainstorming part, there's all the research that goes on beforehand, to understand your audience and your product, as well as competitor analysis and keyword research. Then when it comes to the actual brainstorming, you have such a good baseline from doing all that work. For me, the best thing is just to close your laptop, grab a pen and paper, and just jot down as many ideas as humanly possible. And you'll be surprised by how many that you have from that point. And then afterwards, I like to go and do some more research into what people are looking for - what are the questions our audience is asking?
"Afterwards, it's about organising all of those ideas and whittling them down into some sort of format. So it might be like a spoke and wheel format where smaller topics are feeding into a bigger blog or main blog, or if there's a particular sequence that they need to go through as a funnel, for example. From there, it goes from loads of ideas into smaller ones and organised into a sequence that will give you a framework to start writing anything from analysis to listicles and trends pieces to Q&As. You have to look outside of yourself otherwise your work will just be driven by personal opinion, which doesn't always serve your client."
The power of audience-centric copy
Luke Leighfield is a freelance copywriter and content designer who has worked with brands like Monzo, Volvo, Whereby and many others. Luke shares his thoughts on the value of audience-centric copy.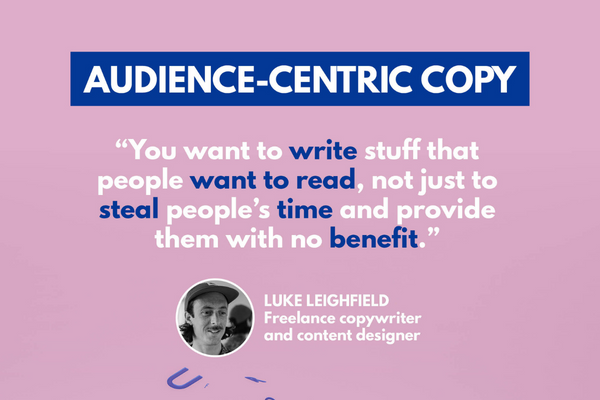 "When I worked with Whereby, a video meeting platform, they were aiming to position themselves more as a brand that is connecting people globally, as a tool for productivity. So all the content we were producing led into all those themes, then gently bringing it back to Whereby. Some content was more [...] editorial, like a piece we wrote on how people used Whereby to connect by playing Dungeons and Dragons virtually during the pandemic. We wanted to illustrate that Whereby could be a nice, more user-friendly alternative to other video meeting platforms.
"But with lots of our content we weren't really hitting people over the head with those messages, it was more about talking about the people that have built their business or done something cool where Whereby was the thing that enabled it, without the super heavy marketing vibe, which is nice because that kind of stuff can get a bit gross, in my opinion. You want to write stuff that people want to read, not just to steal people's time and provide them with no benefit."
How to write thought leadership
Morag Cuddeford-Jones is a journalist, author, broadcaster and ghostwriter, who some of you may know as the editor of the CIM's quarterly magazine, Catalyst. Morag has ghostwritten for companies in the martech; fintech; insuretech and other tech spaces, as well as for branding and marketing consultancies.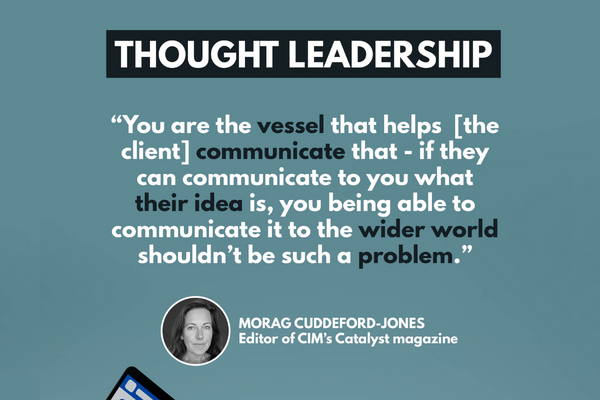 Morag reveals key lessons on the topic of thought leadership - what is it, and what exactly is a copywriter's role in creating it?
"The very first thing you do when someone comes to you and says, 'I want to do a thought leadership piece' is to ascertain what they think a thought leadership piece is. Sometimes what they think is thought leadership is generic nonsense, and what they think it's going to do for them is not going to happen. On the other hand, there are some people who have incredible ideas, and they just need a writer's help to get it out on the page.
"They just need a writer's help to get it on the page."
- Morag Cuddeford-Jones, editor of CIM's Catalyst magazine.
What I would say is, it is not your job to come up with that thought or the unique angle that gives good thought leadership its necessary hook. You can guide them based on your experience. But they're the thought leaders, they need to be the ones with the original ideas and concepts. And if they have them, it shouldn't actually be that hard.
You are the vessel that helps them communicate that - if they can communicate to you what their idea is, you being able to communicate it to the wider world shouldn't be such a problem. It's just exploring the angles and demonstrating to them where they can have an opinion. Once you've shown them where they can have an opinion, they generally don't have a problem expressing that opinion.
"But I've found that when it comes to thought leadership, some of the most work I've had to do with people has been to help them establish what thought leadership actually is, and what they're going to do with it. There can be that issue of someone deciding they need lead generation, they need to put their name out there, they need to get some profile, and not a lot of thought has gone into what that means they need to do. So have they thought about the distribution channel, and have they thought about the investment they're going to have to put behind promoting that thought leadership? That's where you become almost as much a marketer as you are a writer. A lot of the groundwork behind this is where you find you spend a lot of your time."
How to have a positive relationship with clients
Lucy Handley is a writer, journalist and consultant, as well as editor-at-large of Catalyst, CIM's member magazine. Lucy also recently collaborated with the inventor of the invisibobble hair tie, Sophie Trelles-Tvede, to ghostwrite the award-winning book, '100 Million Hair Ties and a Vodka Tonic', telling the story of how she started her business, making her the perfect person to talk about ghostwriting on behalf of senior business leaders.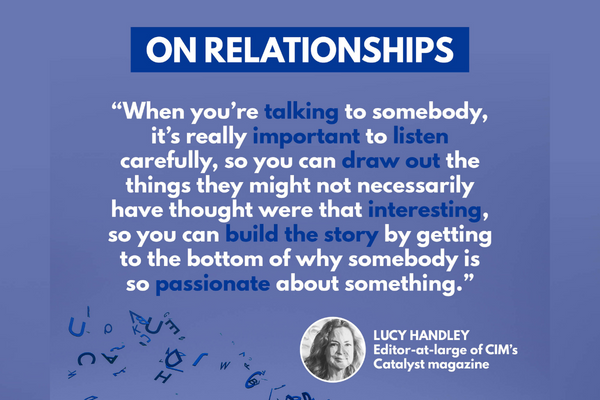 "It's really important to establish your process - agreeing when the feedback is going to come and how much you're going to deliver on by when. And when you're talking to somebody, it's really important to listen carefully, so you can draw out the things they might not necessarily have thought were that interesting, so you can build the story by getting to the bottom of why somebody is so passionate about something. You can start to ask around the topic and get a broader perspective of that person.
"It's important to listen carefully."
- Lucy Handley, writer, journalist, consultant and editor-at-large of CIM's Catalyst magazine.
It's also important to know when it's right to push people a bit, like asking about how they felt at certain moments. Once you know the person, and you have a relationship with them, you know you can push them a bit more. In a corporate environment, that can be difficult because people are bound by business parameters, but still, I would try to push a bit to add that personal colour to the story."
If you're looking to strengthen your copywriting skills, visit our Copywriting – The Complete Guide course page and master the entire range of copywriting skills you need to know and immediately implement them into your work today.