Copywriting 101: The secrets to an effective company blog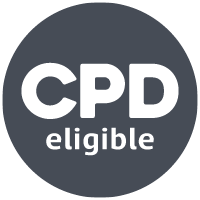 A company blog is now an integral part of marketing and content strategy, and is said to increase lead flow by up to 67% for some businesses. It's likely to then be one of the most common areas for which marketers will be copywriting, or need copywriting support. MaryLou Costa reveals some insider insights on how marketers can run the most effective company blog.
In my 17-year career, I've been a journalist, PR executive, in-house content editor and client-side communications advisor. All of these roles have involved contribution to a company blog, whether it's interviewing, researching and writing directly for it, commissioning and briefing other team members to create posts, or ghost writing posts on behalf of high profile, very busy company and industry leaders.
Effectively managing and writing for a company blog is crucial for most marketing and communications professionals who'll now find this in their remit - and will likely need to either sharpen their copywriting and editorial planning skills, or lean on an experienced copywriter to make this part of the marketing workflow seamless.
Owning a company blog, though, requires a broad skillset where writing is just one piece of the puzzle.
Before putting pen to paper with copywriting for a brand's blog, it's important to understand the engine needed to power it, which comes in the form of planning, structuring and managing.
The content engine behind a blog 
Blog copy planning involves a number of key steps: 
Idea generation

 

Having an idea of content types

 

Knowing who in your business are likely to be regular authors

 

Managing the process: commissioning, deadlines, review, sign off, publishing, sharing

Creating a content calendar to stay on top of confirmed articles and their status

 
Taking a structured, practical and collaborative approach to coming up with blog ideas will ideally lead to you generating pieces that will achieve the most impact for your audience and your brand.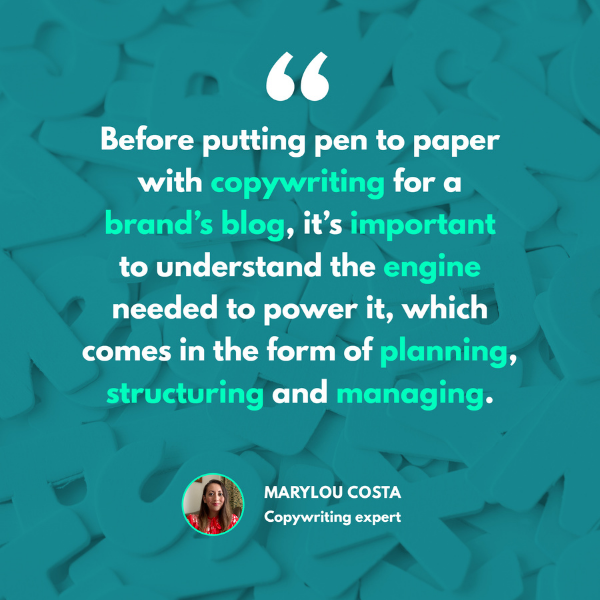 It pays to first frame your blog idea generation in line with your content pillars (the themes you need to align your brand's content with) and key messages (what relevance your organisation has to the topic). This will narrow down your brainstorming to only those ideas that are the most relevant. 
Factoring in upcoming company announcements and events that should be featured on your blog will also help you understand how much other space you'll need to fill with the team copywriting resource that you have. This is where collaboration with other teams, such as sales, product, events, or others, will be essential. 
Calendar events that are relevant to your organisation depending on the nature of your product or service, whether it's Ramadan, International Women's Day, bank holidays, or any event that is regularly occurring, that you can plan ahead for in terms of content, is also worth factoring in. 
You may like to brainstorm and plan blog content quarterly, bi-monthly or monthly, depending on how often you plan to be posting. 
What are some different types of blog content?
Before you start writing for your company blog, you'll need to do some planning. Something that will help you with idea generation is being familiar with different blog post types. 
One blog post format could be a detailed analytical look at a particular issue, or an overview of a new trend. For example, as a writer myself, I recently wrote a blog post for a flexible jobs recruitment website. How the world of work is changing - often known as the future of work - is one of their main content pillars, or key themes they want to align with as a brand. 
The piece for their blog looked at why they think companies need to shift to a new model of working that is based more on an employee's output, rather than the hours they work. This is a huge change with lots of elements to it, but this organisation believes it's better for employees who'll have more control over their work and get a better work-life balance. It's a complicated topic, so first I explained what output-based working is, what the advantages for companies and employees are, and sharing examples of companies that have already made this transition. The key was to make the piece detailed without overwhelming the reader with too much information.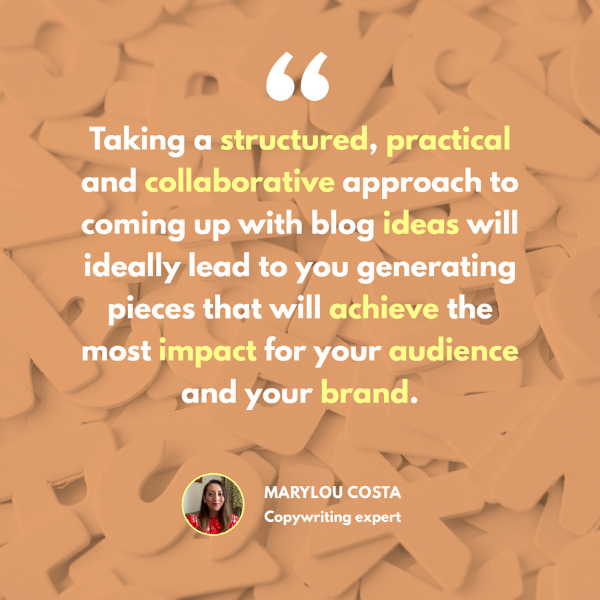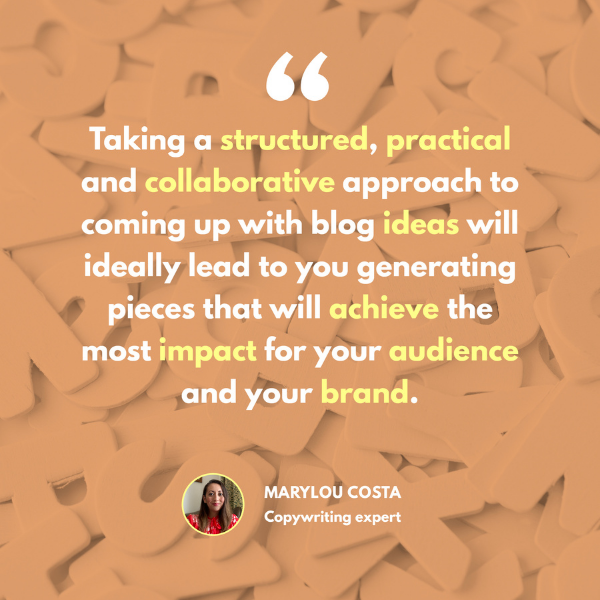 Another blog post format you could tap into could be a punchy list-based piece, a how-to guide or advice piece, or a wrap-up of takeaways and insights from your latest event. This is often known as a 'listicle'. I bet you've read lots of these before, especially if you read Buzzfeed, where you'll see headlines like '50 feel-good movies you need to watch asap', '26 reasons the world needs Instagram', and of course, '20 things only list lovers will understand'. They might sound cheesy, but the thing with listicles is, they work. The reader knows exactly what they're going to get. The writer knows exactly what they're going to write. It's a win all round. 
Other blog post ideas include a first-person piece from a team member sharing relevant learning and experiences, or comments from your senior leadership on a relevant recurring annual event, like International Women's Day. You could even feature interview profiles of relevant people from both within and outside your organisation. 
And further ideas include infographics showcasing data that you talk about in a blog post, company announcements and previews or short videos complemented by written summaries. 
Why not create your own list of possible blog post formats, to help you when brainstorming.
Who will write your blog? 
As someone with copywriting in their remit, you'll more often than not be the person responsible for actually writing and editing copy to be posted on your company blog. 
But the reality is you may not always be the face and name associated with the piece. You may often take on a ghostwriting role for senior leadership, who as a blog manager, you could call on to 'author' different pieces based on their fit with that particular person. It's worth taking a look at the different leaders in your organisation to understand their backgrounds and core strengths to understand who you could collaborate with on blog posts. This also showcases to readers the human side of your organisation, and how diverse it is. 
You may also take blog posts from 'guest writers', which could be people within your organisation who feel passionately about one of your content pillars and would like to lend their voice to it. Your organisation may also have partners whose leaders may end up making ideal blog contributors too.
How do you manage the copywriting process?
Once you've confirmed which blog ideas you're going ahead with for that period, it's time to get the content engine moving. 
A successful content engine typically runs through this cycle: 
Article commissioning

Which means confirming the topic, author and creating an outline so all involved parties understand what the piece is about and what they should contribute This would often be written by the copywriter and signed off by their manager.

 

Setting deadlines

For first review, final review, sign off, publication date. These could also be set by a copywriter and signed off by a manager.

Distribution

Sharing on social channels, in newsletters, with stakeholders and partners if appropriate. A copywriter is likely also to be tasked with writing copy for these platforms to share the piece.

 
It's also worth mentioning the final step - assessing the performance of blog copy, to let company stakeholders know what's working, and to help shape future content ideas and your approach based on what's resonating with your audience.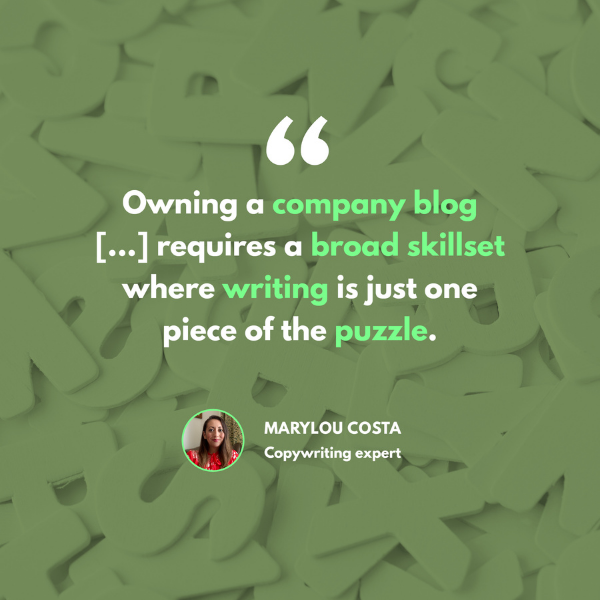 Assessment is usually an ongoing process of understanding how a particular piece of blog copy is received by the audience, from website traffic, social media engagement, newsletter open rates, call to action click throughs, newsletter sign ups, and any other important analytics. 
These numbers and insights may also feature in regular marketing reports to help people across the business understand the impact of copywriting. Being across blog performance is important for understanding the value of the channel. 
Why a content calendar is important 
Taking a piece of blog copy from idea to finished article contains multiple steps. This is why many marketers who are responsible for blogs capture everything in a content calendar. 
There are many sophisticated content marketing platforms that provide a content calendar feature, but a clear, organised spreadsheet, ideally one that multiple people can see at one time, can be just as effective. 
A content calendar at its most basic should cover: 
Blog post headline and summary

 

Content pillars and key messages it relates to

 

CTA

 

Author

 

Deadlines

 
There are several different ways you can structure a content calendar, depending on what information you would like to capture.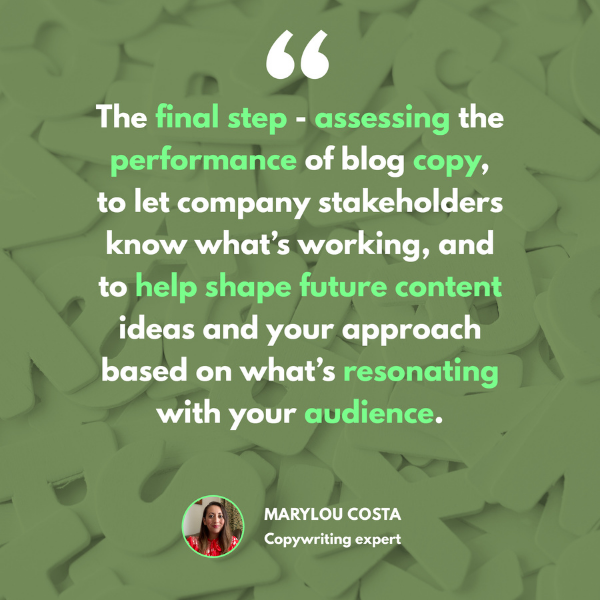 My first suggestion is to take a minimalist approach, like this template shared by the digital marketing company Impact. This spreadsheet outlines basic elements like topic, publication date and author in clear columns. It also uses a colour code, explained in a key at the top, to identify at what part of the process a particular piece of copy is at, from commissioning, to drafting to sign off and publication. Blog posts are planned out month by month in individual tabs. 
Secondly, you could go for something a bit more detailed if you feel you need more information at a glance. This template by fellow digital marketing company Web Ascender takes a week-by-week approach, tracking each post's connection to a particular campaign and audience persona. It also includes a place to capture social post copy across multiple platforms. It's really comprehensive without being overwhelming. 
If you've got a big content engine that needs fuelling, you could try a day-to-day content calendar. This template by Web FX shows how you can plan your content on a day-by-day basis. It also uses the content calendar spreadsheet to capture ideas, tips and other helpful resources to link blog posts to. 
Now you've got your blog planning sorted - it's time to start writing! 


Copywriting is a core marketing skill, and surprisingly, 59% of marketers don't feel this is common in their sector. If you'd like to produce targeted and versatile copy that drives results, enhance your skills, confidence and credibility with our Copywriting – The Complete Guide training course.