The marketer's guide to ghostwriting: Copywriting tips, tricks and treats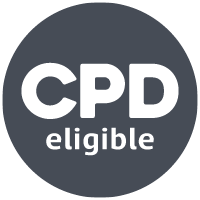 Ghostwriters are a valuable resource for senior business leaders who often have little time to spare. However, being responsible for coherently capturing someone's unique thoughts and mindset can feel daunting, especially when your subject is a well-respected figure within their field. CIM's Laura Bracher, course director and experienced freelance writer, provides a comprehensive view of how to approach the process.
Ghostwriting is common practice in professional writing, and most copywriters will find themselves doing it at some point, but what exactly is it?  
While most business leaders are experts in their field, busy schedules or a lack of experience in writing means they may have to rely on additional resources to help them get their thoughts onto paper, and that's where ghostwriters come in. A ghostwriter creates content credited to someone else, including thought leadership articles, speeches, emails, books, blogs, social media posts, and more.  
Contrary to the name, there's nothing spooky about ghostwriting. However, it can certainly be daunting, especially when it comes to knowing whether you're doing your subject and their ideas justice.  
As someone who spends much time ghostwriting, I believe that taking the fear out of it comes down to knowing when to use your subject's voice and your own. For example, if you rely too much on your subject, you risk lacking structure and cohesiveness, but if you're writing too much like yourself, you're simply writing, not ghostwriting.   
To succeed in ghostwriting, not only do you need to impress with your literary skills, but you must also have some basic understanding of the subject along with a streamlined and straightforward approach to the task at hand. So, let's look at how a ghostwriter might approach a byline.   
Choosing the right leader  
If you're responsible for your organisation's content strategy, you may need to consider which leader is most suitable for this particular piece.  
For example, if you work for an advertising company, you might be tasked with writing a byline about tackling the 'taboos' around women's health. If your CEO is a man, then they may not be the most suitable person to align that byline with. However, if they have a background working for a feminine care brand, for example, or are known for empowering women in business, they might be able to support you with this piece.  
Of course, you may not always have a say in this, especially if someone has commissioned you to work on a one-off freelance project where the brief has already been predetermined.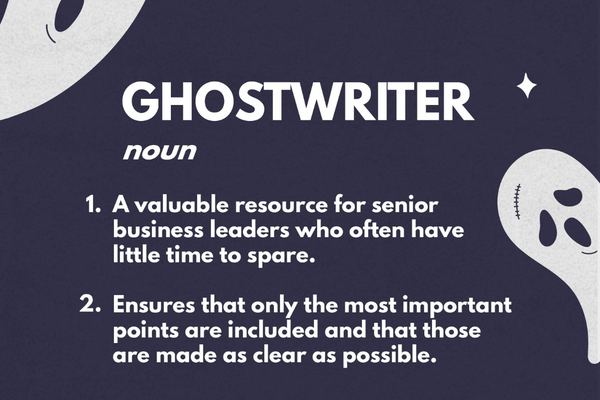 Developing a streamlined copywriting process  
While every business leader will have their own preferred ways of working, one thing they usually have in common is that they are busy. This is why the ghostwriting process must remain simple, ensuring the final piece is created quickly, even if most of the hard work comes from managing it.  
First, you should always research the individual you plan on writing for, especially if it's someone you don't know or rarely speak with. Thanks to platforms like LinkedIn, it's become relatively easy to learn about someone's background. Understanding their personal and professional experience will help you know what to discuss and can be drawn upon when you eventually get to writing.  
Sending over a brief and interview questions  
The easiest way to capture a senior leader's thoughts is usually through a one-to-one interview. However, this will probably be limited to 30-60 minutes, so sharing a brief beforehand ensures that they are suitably prepared and able to answer your questions you have within the allocated timeslot.  
Your brief should outline the proposed title, a short synopsis and the final deadline. It is also important to ensure that the senior leader is aware of where the piece will;  be placed. You may also want to include its purpose – for example, if it's a blog post, how will it align with the company vision and values? Perhaps you're a sustainable coffee company, and this piece seeks to educate consumers on how certain agricultural practices can make growing coffee beans carbon negative. Are there any key messages you intend to include, and will this piece be a part of a series? Being upfront with this information ensures the interviewee is as comfortable as possible with what needs to be achieved and will (hopefully) speed up the editing and approval process. Of course, you should also include the questions you plan on asking.  
Thinking about narrative and structure  
When you're interviewing, it's important to consider your piece's wider narrative and structure.  
Even though a brief allows the subject to come prepared with ideas, it's natural to digress from the original discussion points. Therefore, as the writer, you are responsible for taking those unfiltered thoughts and using them to identify key themes, interesting quotes, and potential narratives for when you come to write later on.
Understanding tone of voice   
Ghostwriters are a valuable asset in supporting senior leaders, helping them capture their viewpoints and knowledge in a way that aligns with the wider organisation's brand guidelines and business goals. While it's human nature for everyone to have their own unique voice, it'll be expected that the individual you are writing for has views and ideas that marry up with the company's, which is why sharing that initial brief is so important.   
Interviewing the person, you're ghostwriting for will naturally help you get a feel for their tone of voice. However, you may also want to read their social media posts and other published works to better understand how they write. This is especially useful for identifying signature words and phrases they might use regularly and seeing how their character comes through. For example, do they come across as very matter-of-fact, or perhaps they like to include lots of humour?  
It's also important to remember that the content should always be determined by that individual, not your personal views. After all, this is their own words and opinions, not yours. If an idea comes to mind before or during the interview, feel free to bring it to the table, but refrain from adding anything on your own accord.   
Knowing when to use your own voice and expertise  
As a writer, while your subject's ideas should always be at the heart of the piece, it's your responsibility to organise their thoughts logically and effectively.  
Are there any stand-out points that would make a great introduction to the piece? What arguments did they make, and how can you present them in a way that flows best? Were there any brilliant phrases mentioned that would make a solid closing point?  
Finally, it's just as important to know when not to use someone's points. Some business leaders are so experienced that their points may come across as confusing to someone who is not an expert in their field.  As a writer, it's your job to think about the piece from the reader's point of view, ensuring that only the most important points are included and that those are made as clear as possible. 


Build your confidence and skills with our Copywriting – The complete guide course and start developing strong, targeted, and versatile copy for your business.
All ACIM, MCIM, and FCIM members can access this high-quality course for free through their MyCIM.