The dominance of video on marketing in 2023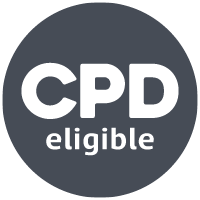 Video has become essential within our marketing. But how can marketers and brands make sense of this increasingly fragmented landscape to reach audiences with their campaigns? Head of marketing at Thinkbox, Chris Dunne, shares how you can take advantage of what video has to offer and effectively reach your audience. 
Though The Buggles' 1979 prophecy that video would kill the radio star didn't quite come into reality, it's fair to say that in 2023, video is the dominant force in how we spend our media time. With that in mind, we reached out to Thinkbox to discover more and learn how as marketers we can most effectively reach audiences with advertising
Video's impact on advertising
The video world has seen more change in the last 10 years than the last 50. The explosion of streaming, the maturity of YouTube, the birth of TikTok, more video on Facebook and Instagram, the increased sophistication of the smartphone camera, and the near-death of the good old DVD.
All this has had a profound impact on the video advertising options available to us. Not long ago, our only option for a video ad was TV and cinema, but then along came the internet. When finally unleashed through decent broadband speed, this opened the door to a whole new set of players in the video ad space.
As marketers, whilst we know that AV advertising is one of the most potent tools we have in our toolbox, all the different choices around us have led to more complexity, more decisions, and are making our lives harder and harder.
So, what is really happening in the world of video, and how can marketers make sense of this increasingly fragmented landscape to reach audiences with their campaigns and take advantage of what video has to offer brands in 2023?
Remaining market-oriented and customer-focused
It's important to start with one statement of fact (and please don't take offence): you're not normal.
Yes, you.
People who work in marketing and advertising are very different from the wider population. These differences impact your media consumption and mean that you're very different from the average person. As such, it's important to remain market-oriented and customer-focused in our media planning.
Our Adnormal Behaviour research shows that we marketers over-index on viewing to subscription video-on-demand (SVOD) services like Netflix, Amazon Prime Video and Disney+, with 99% of 'Ad people' accessing SVODs versus 72% of 'Normal people'.
This highlights a potential weak spot in our thinking for the newer platforms and how, perhaps because of a lack of robust data being circulated, we lean more on our own behaviour to guide our estimates. It reinforces the point that we need to look at the actual numbers and not our own consumption for the true picture.
What the data shows
Let's start with video viewing. It's certainly been a rollercoaster few years, and we're not watching it the way we used to. Technology has continuously enhanced our viewing experience. Think high definition, big screens, and video-on-demand. We have more choice and control over what we watch than ever before.
The quality of shows on our screens is at an all-time high. In the UK, we have more spend on original content per person than any other country in the world.
In the chart below we can see the average amount of time that adults in the UK spent watching different types of video per day over the past eight years.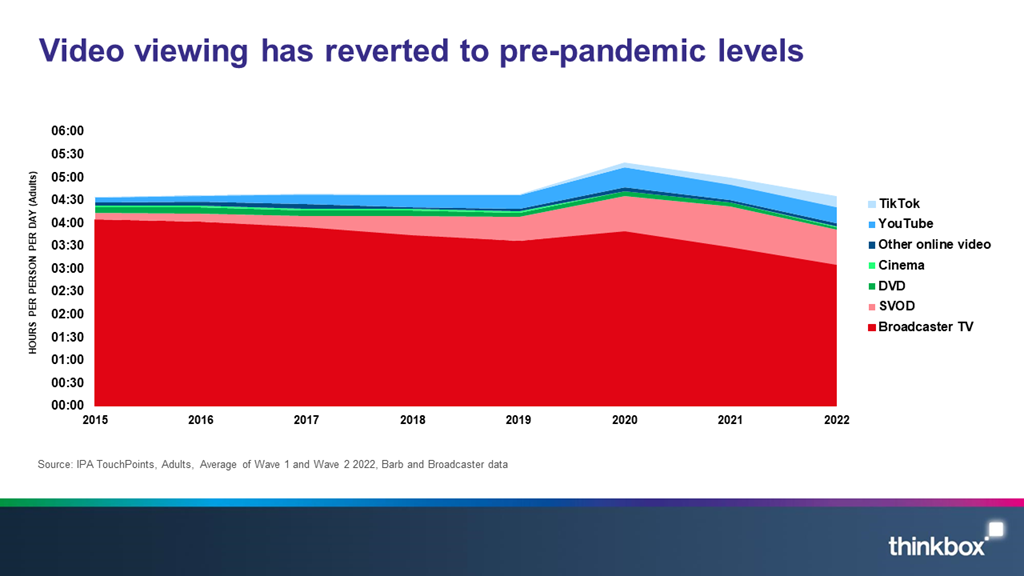 In 2015, broadcaster TV accounted for 4hrs 5mins of viewing per person per day. In 2022, this had reduced to 3hr 6mins. However, if we draw a line from 2015 across to 2022, we can see that the total amount of video we watched in 2022 is almost exactly the same as before the pandemic.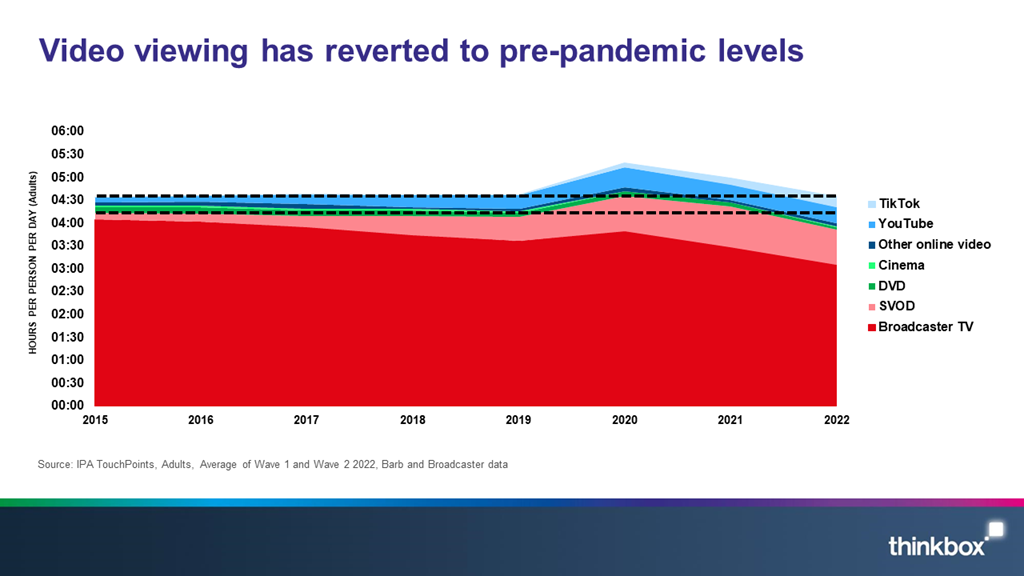 The total amount viewed is the same, but the makeup of that viewing has changed. There's now evidence to suggest that we're entering a period of stability in terms of viewing shifts. 
What the data also shows is that viewing to the SVOD services declined for the first time, dropping from 53mins per day in 2021 to 45mins in 2022 for the average person. The impact of unnaturally high TV viewing in lockdown coupled with a cost-of-living crisis, where SVOD subscriptions are under pressure, is likely to be the reason.
Of the 3hrs 6mins of broadcaster TV we watch every day, 79% is to live TV, 11% is watched via playback - recorded onto our set-top box - and 10% is broadcaster VOD, which is catch-up TV and box sets. This breakdown is often surprising to many marketers, but it clearly shows how important live TV remains.
However, having a good grasp on viewing is all very well, but what marketers are really interested in when it comes to video are the opportunities to reach audiences with advertising. 
Our analysis shows that the average person in 2022 spent 17 minutes every day watching AV advertising across all screens, and a massive 83.6% of that was the ads on broadcaster TV.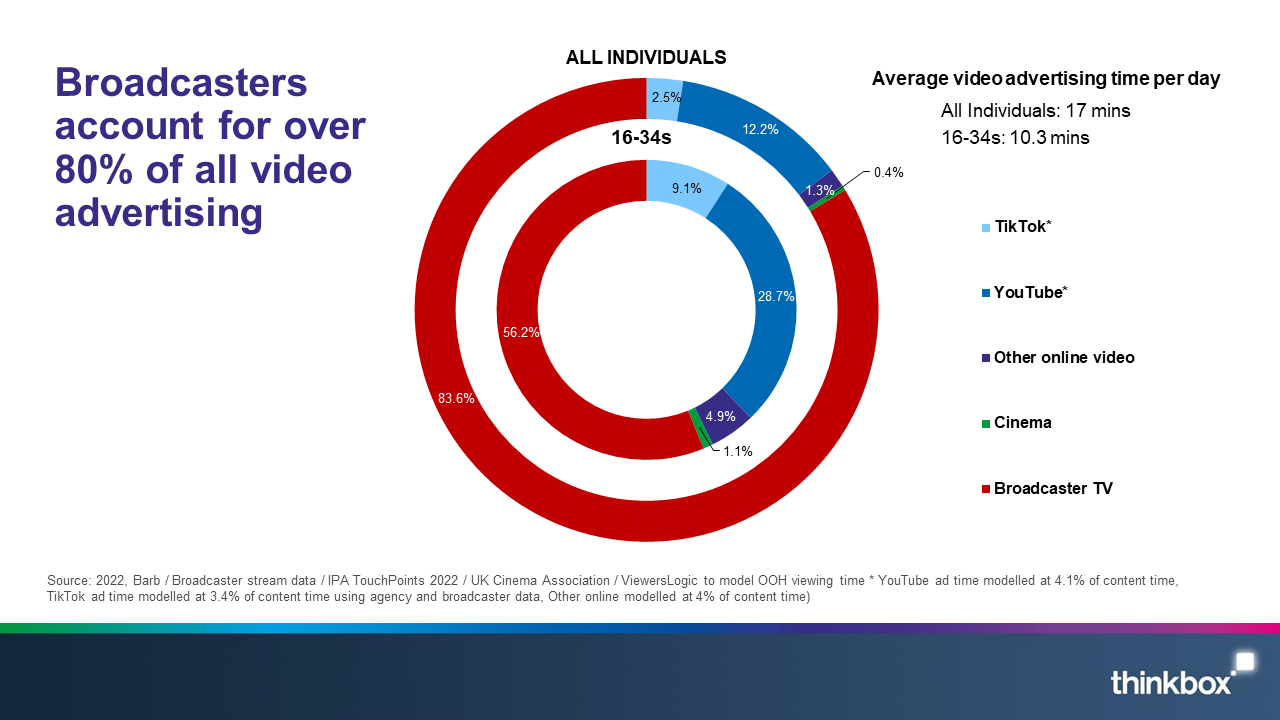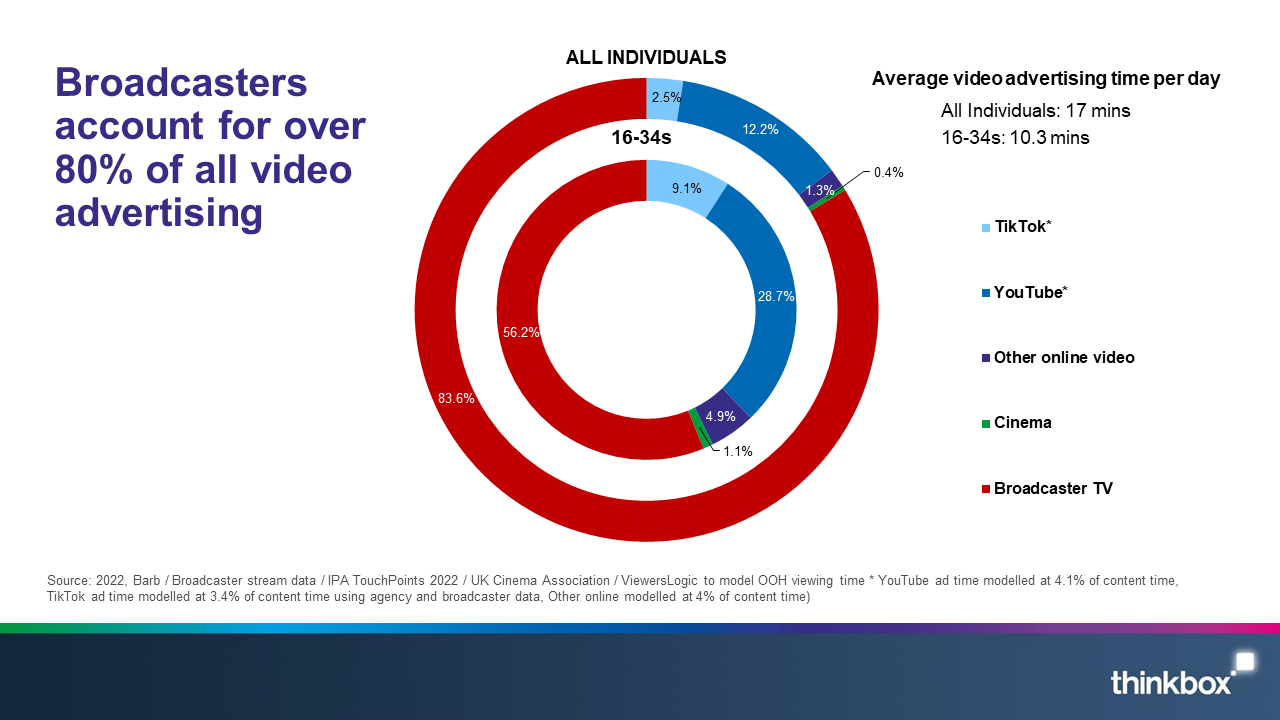 This includes ads that are watched live, on-demand or via playback if watched within seven days and at normal speed. It's important to note that where anyone fast-forwards through an ad, this viewing isn't counted in the official measurement. Advertisers don't pay for ads that are fast-forwarded. 
One of the reasons that TV is so dominant in this space is because of the value exchange. People are willing to watch the ads in exchange for high-quality content. The British Film Institute (BFI), which has partnered with The Chartered Institute of Marketing (CIM), developed specialist courses for marketers to fortify their video skills. 
"Storytelling helps us to see the world differently, and video and moving image is the most impactful and effective driver for awareness and engagement on social media in particular. Video has become an essential part of the marketing mix with its power to captivate, engage and connect. Great content that is authentic but immediate and inclusive is a must for brands to engage meaningfully with their audiences."
- Nyree Jillings, head of campaigns, British Film Institute
So as marketers, the TV opportunity is clear – and more and more new advertisers are taking advantage. 
Technological innovations
In 2022, 959 brands used TV for the first time, or returned after 5+ years away, demonstrating the appeal of TV advertising to businesses of all shapes and sizes. And TV is not just for advertisers with deep pockets. In 2022, 763 advertisers spent less than £50k, 339 spent less than £10k, and 208 spent less than £5k. 
Technological innovations have helped smaller businesses get onto TV with these modest budgets. Through addressable TV, we're able to show different adverts to different households, while they watch the same content. You can now tightly target particular regions or even postcodes, use your first-party data to target repeat purchases or exclude existing customers, and advertise around some of the biggest shows that wouldn't be accessible on linear TV. 
New categories too are switching on to the power of TV, such as the B2B sector, which is growing steadily every year according to Nielsen's data. Since 2018 it has more than doubled to reach £108 million in 2022. 
Also, online-born businesses are now the biggest category of advertiser on TV, accounting for 20% of all TV ad spend. They see the instant impact TV gives them, not least the dramatic effect it has on online search. Plus, it helps them drive trust and credibility in the absence of brick-and-mortar stores – the "as seen on TV" effect. 
Final thoughts
Keeping up with all these trends and developments can feel like a full-time job (it is mine, after all). That's why we created a free online training course, TV Masters, to help marketers educate themselves and their teams on the ever-shifting world of video and TV. 
The next ten years will undoubtedly bring more change, and as our job as marketers gets more complex, our best chance for success lies in keeping informed, being led by the data, and embracing the exciting opportunities that this transforming world of video offers us.
Develop your essential filmmaking skills with the BFI's courses delivered in partnership with CIM. For more information and to book, please visit CIM's training course page.
Fortify your Filmmaking Storytelling Fundamentals
Boost your Filmmaking and Video Production skills for marketers