The surprising truth about what Gen Z wants from social media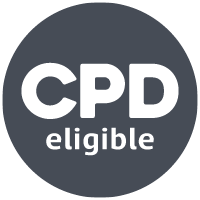 You could argue that Generation Z – people born between 1997 and 2012 – have rather a love-hate relationship with social media right now, and they want brands to step up. Going against the tide will be key for marketers, according to a new survey as Lucy Handley investigates. 
Social media has been around for almost two decades (Facebook was founded in 2004) and while it has been revolutionary for creators and marketers alike, consumers' pessimism around some platforms has grown. So how should brands respond? I spoke to Lore Oxford, global head of cultural insights at We Are Social, about the agency's Think Forward study that has identified key social trends for the year. 
"For a long time, we've been quite distrusting of social, and that's been a kind of running narrative. 
And then the pandemic forced everyone to spend even more time on social when actually, the year before we'd seen loads of people trying to reduce their screen time," Oxford says. 
"As we've come out of that phase, there's been a real renegotiation of what we can do online, what we can do offline and which kind of formats are best for that. I think specifically with Gen Z, what we're seeing is that they do this really deftly and really effectively," she adds.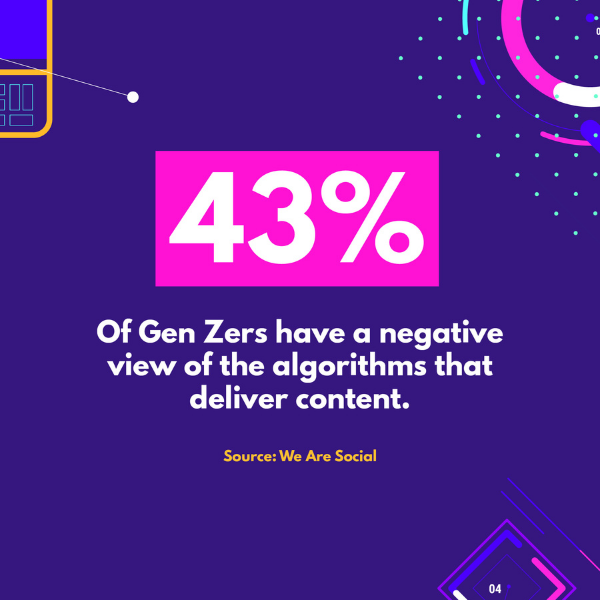 Social Cynicism 
Indeed, it seems that people are switching platforms: Facebook's daily user numbers fell for the first time ever in its most recent quarter, with founder Mark Zuckerberg noting competition from the likes of TikTok in an investor call earlier this month.
A third of Gen Zers who are on social platforms have bought digital clothing to show off on the likes of Instagram, according to the Think Forward study, but 43% have a negative view of the algorithms that deliver content. The survey polled 3,000 daily social media users internationally, asking them about platforms including TikTok, YouTube, Instagram, Facebook and Fortnite. 
Social Cynicism, a trend identified by the research, suggests that people are becoming somewhat frustrated with social media, especially when it comes to being served familiar content by algorithms. For example, if someone follows beautiful people on Instagram, the platform is likely to suggest similar accounts to follow. 
"It's like this kind of endless cycle. And so, brands think, oh, people are engaging with beautiful people. And so, they put pictures of beautiful people on their [own] accounts," Oxford states.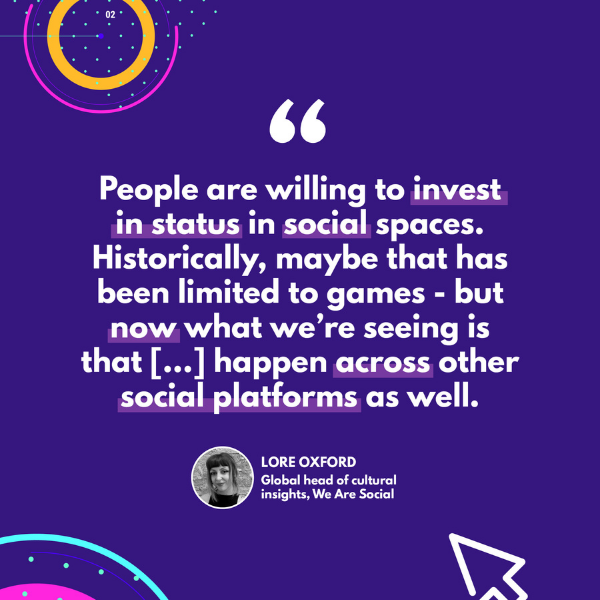 But marketers would do well to think outside the box, and Oxford suggests looking at forums such as Reddit to better understand what consumers want. In the beauty category, popular communities include the MakeupAddiction and SkincareAddiction threads. "You look at their highest performing posts, and it's not totally out of reach beauty ideals like you may see on Instagram. Many are completely normal people… In a self-policing community, beauty content is far more democratised. It's a real championing of the 'every person'," Oxford states. 
We Are Social's report also notes a trend for creators to mock the inspirational mantras that are popular on Instagram, with accounts such as @afffirmations sending up the wellness industry. "Brands need to exercise the same cynicism about social as anyone else does," Oxford suggests. 
The 'new materialists'
She gives the example of Calvin Klein, famous for its black-and-white billboards showing models in their underwear, which let comedian Pete Davidson and rapper Machine Gun Kelly take over its Instagram page in December. The resulting live video was very different to the stylized photographs the fashion brand is known for. "It's almost like taking an anti-brand approach to how you behave online," Oxford says. 
Another trend Oxford highlights is one the agency dubs the New Materialist, a person who buys digital goods such as 'skins' on gaming platform Fortnite, or non-fungible tokens (NFTs), a digital asset stored on the blockchain. Gen Z grew up used to customizing their characters via games such as The Sims and Animal Crossing, and Lore says digital clothing is a natural extension of this. 
"People are willing to invest in status in social spaces… Historically, maybe that has been limited to games - but now what we're seeing is that increasingly, we'll see that kind of happen across other social platforms as well," Oxford states. 
Social media renaissance 
However, most people in the agency's survey (85%) don't know what an NFT is – the figure is across all age-groups - so Oxford suggests taking consumers on a "journey" to help them understand the unfamiliar. And she acknowledges the risk that marketers themselves might feel overwhelmed. "If you don't get it, it's like 'Are we too old?' and there is a kind of shame attached to not knowing the full picture… and it's quite easy to [feel] overwhelmed and not engage [with new trends]." 
Perhaps the answer for marketers is to have an open mind, take a deep breath, and try something different on social media. "We're on the brink of a renaissance in creativity on social, in which brands and creators alike are going to have to work harder and better to make us laugh, move us, and connect us," Oxford says. 

If you're looking to create enticing content, supercharge your skills with our Social Media Planning course and learn how to develop and implement your strategy on this virtual one-day course. Sign up now.