When is the right time to rebrand?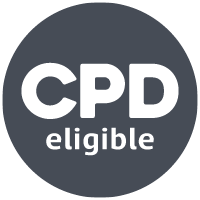 What's in a name? A surprising amount, says Morag Cuddeford-Jones, which is why brands should think long and hard before changing it. If and when to rebrand is always a tricky question for companies but it's also an important step if they're to stay relevant in customers' minds. Find out why from Currys' brand and marketing director on their recent rebrand.
I am a Scorpio and, if you believe in that sort of thing, we're supposed to hate change. I must admit, I regularly fall into the 'but it was fine as it was' school of thought.
Whether it's someone changing the cut of my previously favourite pair of trousers, introducing a new character into a much-loved TV series - worse, a different actor playing the same character, or mucking about with the formula of fizzy drinks (I'm looking at you, Irn Bru), I would very much rather you left well alone, please and thank you.
Sometimes change is inevitable. It is in the nature of companies to grow, and there comes a point when it becomes difficult – with a few notable exceptions – to do it all themselves. Wallets are loosened and acquisitions or mergers made.
Then comes the gnarly question of which brand takes precedence. In some cases, it's the one with the deepest pockets or most positive brand recognition. But sometimes there's just too much equity in both to countenance jettisoning one of them.
Some combined companies continue, on the face of it, as if nothing has changed, both brands serving customers the same way they always have. Some become multi-hyphenates, as if in a very modern marriage.
That was the way with the Currys, Dixons, PC World, Carphone Warehouse 'blended family'. The old-style Dixons became variously Currys Digital and Dixons Carphone, Currys and PC World smushed themselves together while Carphone Warehouse (despite the Dixons Carphone name also existing) soldiered on as a standalone retailer until April 2020. Some sold white goods, some phones, some computers, some TVs, some all of the above. It's all quite… complicated.
To smooth out the complication caused by all the mergers, acquisitions and name changes, the decision was taken to bring all the entities under a single brand name – Currys being deemed the best option of all the varieties on the table. In October 2021, the new, single company was unleashed on the consumer.
In the latest issue of CIM's member-only magazine, Catalyst (Issue 4, 2021), Dan Rubel, Currys' brand and marketing director, takes us through the steps the company went through to rebrand, why it was important and the learnings he can share from the process.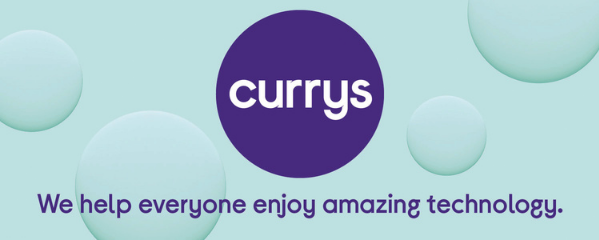 Image credit: Currys
"A true rebrand is an evolution, rather than a reincarnation."
His most important take is not to go into a rebrand half-heartedly. It is much more than redesigning a logo or finding a snappy new name. For many staff, for example, their identities will have been tied up with the old, now discarded brand. What does this say about them and their role in the new company?
Because it is a new company. A rebrand is stating a new intention. Whether that's to become the last – and definitive – large-scale omnichannel tech specialist as Rubel suggests, or perhaps turn a provincial building society into part of a pan-European full-service bank such as Santander, for example, a true rebrand is an evolution, rather than a reincarnation.
And so, it is also a chance to bring out all the innovations and initiatives you've been wanting to launch for some time. As Rubel says, the whole is greater than the sum of its parts, with each new initiative amplifying the next in the context of the brand launch. Note however, it is not the chance to throw every rejected idea or hunch into the mix to hope it sticks. This is about taking the opportunity to make the necessary bigger leaps, such as transforming customer experience, that might have seemed out of sync before.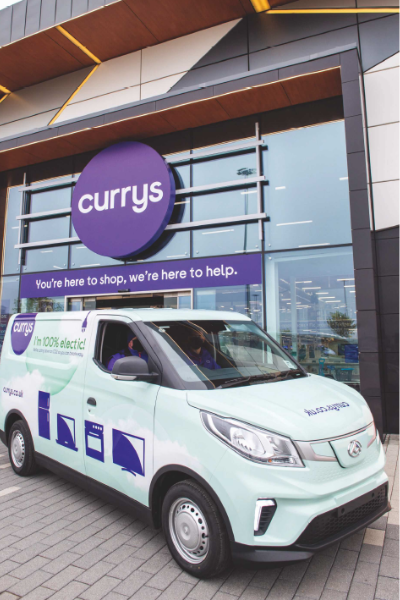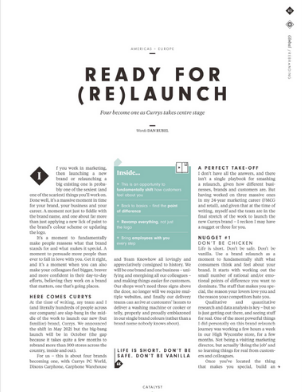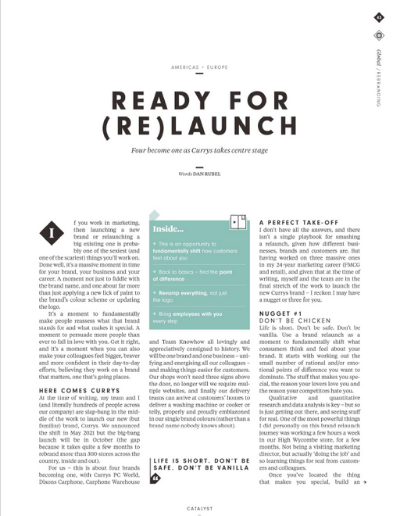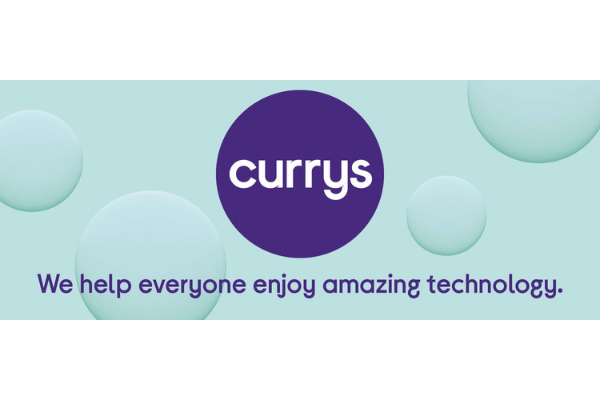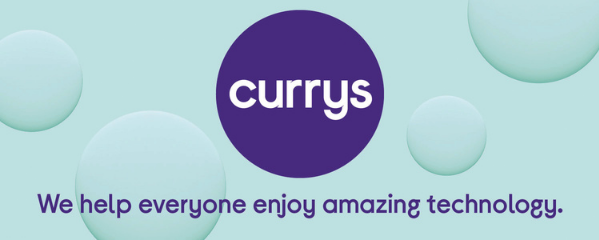 "A rebrand is stating a new intention."
Above all, a brand relaunch should be a fun, energising experience. Partly because of the shock of the new and partly because of their rarity. True brand relaunches don't come along very often, one could argue there's something going fundamentally awry. When they do happen, they should be transformative, bringing the whole company together working towards a single goal. It's the chance to express fresh ideas and take bolder steps than are feasible in the everyday.
Having read the Currys rebrand case study in Issue 4, our final issue of 2021, I found myself longing for a bit of a change, a chance to shake things up. Don't worry, Catalyst isn't about to have a complete personality transplant! But I was inspired to try new things, approach my day with a new routine and even attempt a new skill or two (the pandemic sourdough craze somewhat passed me by I'm afraid).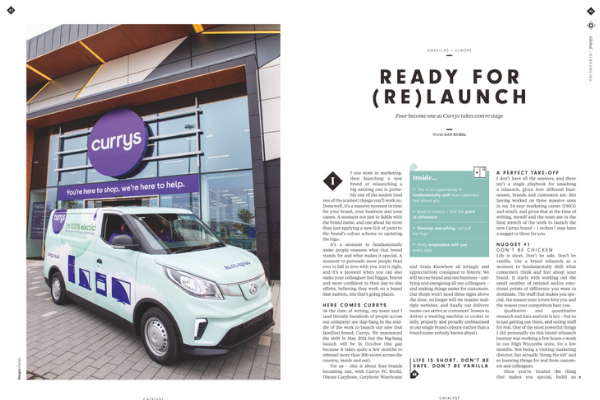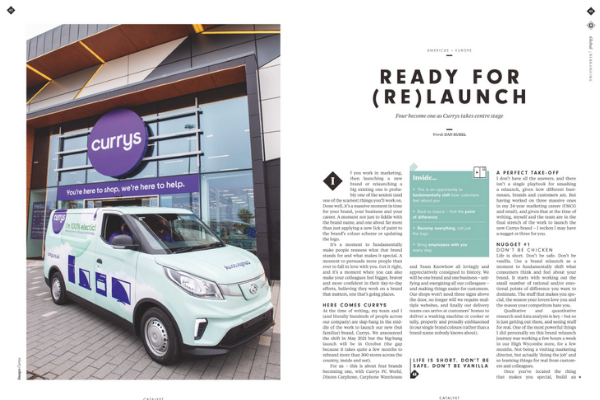 Even if our employers are content with a successful status quo, we all have it in our power to take a bit of a fresh look at life. And so, my end of year take is that you don't need to wait for New Year to make those resolutions.
Would you look at that. Maybe I'm not such a change-averse Scorpio after all…

If you want to find out more about branding or learn how to develop a strategy, sign up to CIM's Marketing and Brand Strategy course. This online course is available on-demand and covers 16 topics including brand strategy and management and innovation strategies. Unlock your online access today.