A day in the life: Marketing executive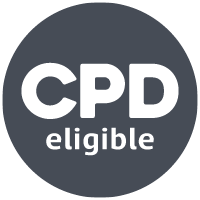 Marketing teams rely on knowledgeable, trained executives capable of drawing from a wide range of disciplines. CIM's own marketing executive, Adnan Jamil, talks us through his typical day at work, and why his own journey into the profession covered a variety of roles.
My own marketing career started with a Business Management degree, but I opted for entirely marketing modules from the second year onwards. Bizarrely, it was my part-time job in a supermarket that helped me see marketing in action: how canny placement and colour schemes influence consumer behaviour, or how promotions sway buying patterns. In the week I was learning the theory, and at the weekends I was seeing it in practice. That's when it clicked for me as a career choice.
After university, I worked in sales initially, but I always knew that I wanted to move across to marketing. My break came when I joined AVIS Budget Group, a car rental company, as a B2C marketing executive. My manager was always pushing my own personal development, advising me of what I needed to do to develop not just my skills for the role, but for any positions I may have in the future. I still use the advice that Rachel gave me in my day-to-day job, and I try to support others when they start, because I remember what it was like being a new starter and, as a marketer, you can always learn from new people.
After one stop at Microsoft, I found myself at the Chartered Institute of Marketing (CIM), as a channel marketing executive in the Digital team, which appealed to me for two main reasons. Firstly, it was a chance to work with CIM's product portfolio, but mostly, because it was a hands-on role where I could grow my confidence with digital tools. I had relied on agencies and other internal teams in previous roles, so the idea of building emails, running social media accounts, and creating digital campaigns really appealed to me. Suddenly, I was the one sharing best practice, advising on copy, managing budget, and posting to our followers.
"I try to support others when they start, because I remember what it was like being a new starter and, as a marketer, you can always learn from new people."
Then an opportunity became available in the Brands and Communications team at CIM, setting the strategy to promote our product range. Here, I'll take you through a day in my working life and how my past experiences help me in my new role as a marketing executive.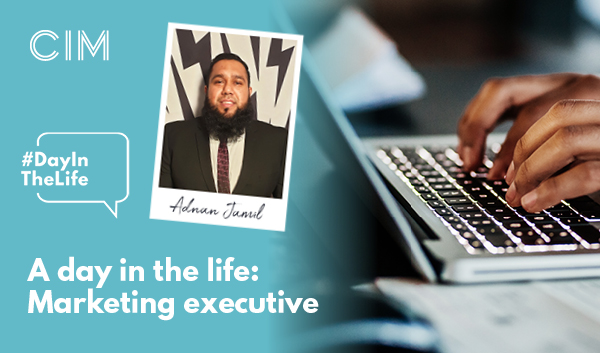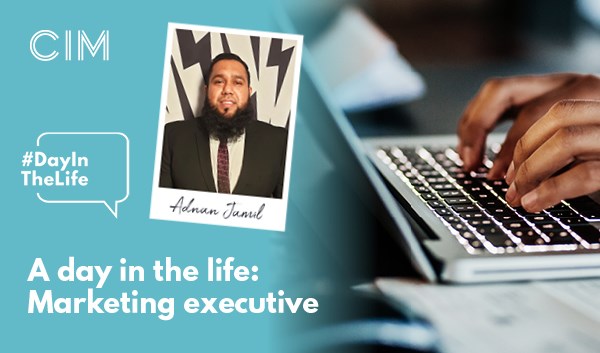 09:00 – 09:30
My first task in the morning is to check my Microsoft planner and review my tasks for the day.
For each activity, I write down the overall objective, the actions needed to achieve that, and the deadline. From this, I can create a shortlist of what I will be working on each day. As a marketing executive, you need to be organised, as several projects run concurrently, and you don't have the luxury of finishing one before starting another!
10:00 – 11:30
I recently ran a small campaign promoting our member-only mentoring programme. We know, from our surveys, that marketers crave advice from fellow professionals, so we are trying to raise awareness of this as a valuable member benefit. Knowing this, I thought back to the AIDA (Awareness-Interest-Desire-Action) model I used at university as my starting point for the campaign. It's great when you can use academic theories and apply them to real-life scenarios.
So, I worked with the Content team to run an article on the myths of mentoring, and we also hosted a podcast with two prominent marketers talking about their mentoring experiences. My job now is to see how these activities performed and identify more opportunities to leverage them to help our organisational goals.
12:00 – 12:30
We have just launched MyDevelopment, an online member benefit full of interactive tools and e-learning content to help members achieve their professional goals. It was my first big project in the B&C team as I coordinated it, from inception to launch…and beyond.
This was where having digital skills space really helped. Yes, I could create a strategy for launch, but I also knew more about consumer behaviour online because of my experience, which helped to guide how the dashboard should look, what features we could use, and how it should link back to other CIM benefits.
Now that it's live, I need to make sure it's working at optimum capacity and identify room for improvements.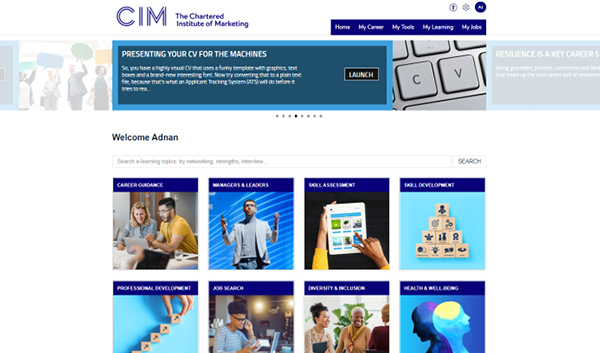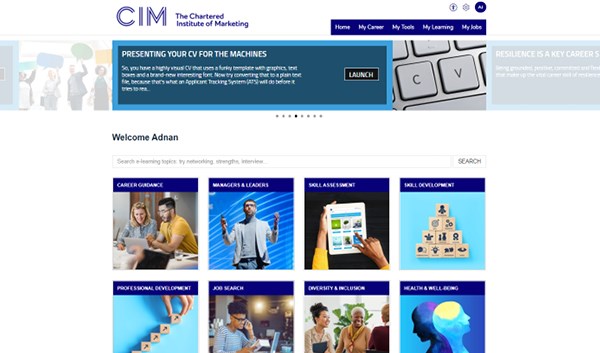 14:00 – 15:00
We have a reporting and planning session with the Sales team. Today, we are looking at how campaigns have performed and what we need to do in the future, as well as customer trends the Sales team are seeing.
If I didn't have the insight from when I worked in the digital team, I wouldn't necessarily know what data I am looking for. Now, if I ever need to ask someone for relevant data, I can be very particular about what I am looking for, which speeds up the process.
15:30 – 16:30
In the afternoon, I usually focus on activities that aid my campaigns. The next campaign to promote our training courses has been sent to the Creative team for imagery, it's time to start thinking about copy for our web pages, emails, and social media posts.
It's important to give time to creative tasks, but I've refined the process of copywriting over the years so that what I do write is more effective. If I'm stuck, I ask myself, 'Who is the customer?', 'What are we trying to say?' and 'What do we want people to do?' For this campaign, we want customers to purchase a training course, and this copy will incentivise them to do that. The AIDA model I mentioned earlier often comes in handy here too.
16:45 – 17:00
As part of my job, I have to do a lot of research, consuming content to help me understand best practice and emerging trends. I'm finishing today by researching video content, because it's developing very quickly and is often a more effective way to capture, and keep, attention.
Whilst creating videos falls to our Creative team, you should never stop learning as a marketer, and having enhanced knowledge helps you to leverage new tools and techniques.
What does it take to become a marketing executive?
In my role, you need to be organised. Most marketing executives will never have a linear workflow; you are working on a lot of things at once, and you need to be able to balance tasks and pick up where you left off.
"My other piece of advice to those trying to get into marketing is to think about the customer."
As a marketer, I have learnt two main things from my own journey. My own career in marketing started when someone took a chance on me; they trusted me over more experienced candidates because they knew that I was willing to learn. Now that I have a little more experience, I try and help junior colleagues where I can, because it's important that knowledge circulates throughout the profession. Marketing is teamwork, and you have to be ready to learn and pass that knowledge on.
My other piece of advice to those trying to get into marketing is to think about the customer. Ever since my first job at Sainsbury's, I have seen how marketing tactics can influence consumer behaviour. Before I plan any activity, I always think about how that action benefits the customer. If your action doesn't benefit the customer, why should you do it? You have to take a big-picture view – what is the contribution and impact of your action to the customer, and to the organisation?
I have experienced several roles in marketing, and it's only now that I have found my preferred discipline in strategy. Yet, everything I have learnt still comes into play. Thanks to be previous roles, I can interpret data and use digital tools, manage stakeholders effectively, and communicate my ideas. Even in a part-time retail job, I learnt the dynamics of the customer journey.
There is often a lot of pressure to specialise early on in this industry – and that's alright for some – but, for me, general marketing skills can go a long way, because they'll make you better when you find your niche. Every bit of knowledge you gain can help you later and make you a better, more well-rounded marketer.

Does Adnan's journey into marketing make you want to start your own? Take the first step by visiting our Get into Marketing page today.