A day in the life: PR executive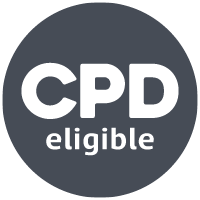 Want to know more about Public Relations and how it interacts with the traditional marketing department? This article from our PR executive, Corinne, will take you through a typical day at the office.
My journey into PR started back in 2013 when I decided to study a BA (Hons) Journalism and Media Studies at university. It was specifically in my final year of my degree, in which I undertook a press and public relations unit, where I first came across PR as a potential career.
The unit involved learning about the fundamentals of public relations which includes the ability to maintain a professional and positive relationship between an organisation and the media. I learnt how to plan and write press releases, as well as producing a media pack on behalf of the university's radio station to encourage prospective students to sign up. Combined with the traditional media studies portions of my degree – where I learnt about the news cycle – I knew that PR was the career for me.
After I graduated, I did an internship, where I gained some practical experience of the profession. I started at CIM as a PR executive in 2017, where a standard day always means a bit of everything that this diverse organisation has to offer.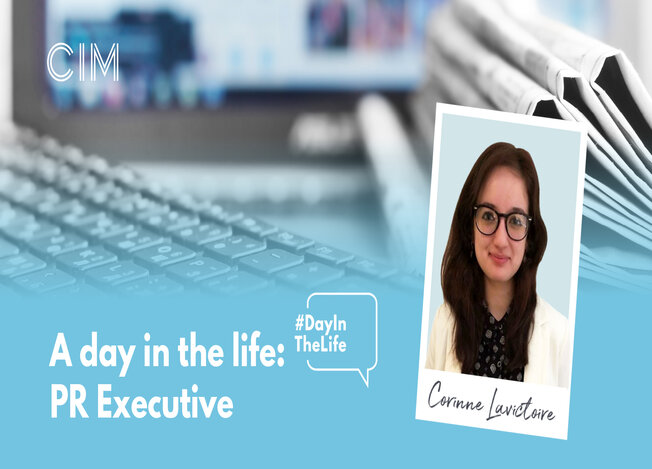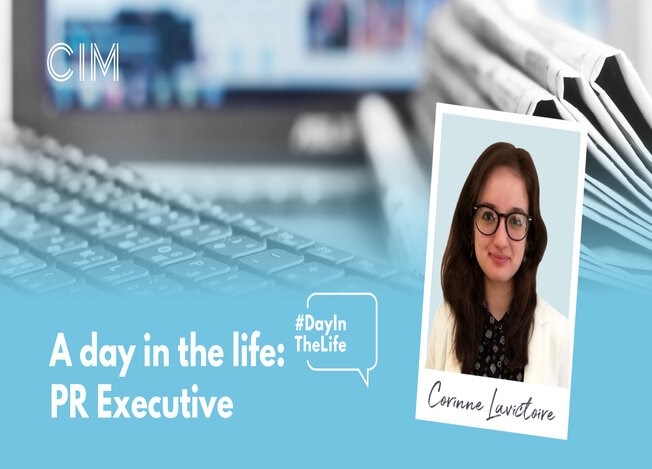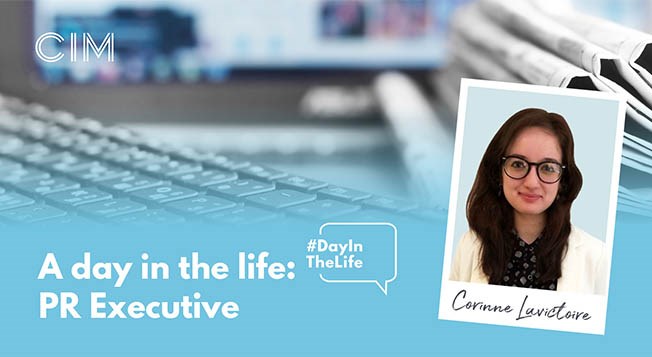 09:00 – Monitoring the news
My working day normally starts with having a look at the key news stories of the day to determine whether there is an angle that CIM can comment on. For example, with news focusing on rising redundancies and decreasing footfalls in retail due to the impact of COVID-19, we are developing commentary around how marketing has a pivotal role to play in rebuilding the regional UK economy post-pandemic.
If we spot a story for CIM, it's all hands to the pump. We create quotes with our senior executives and then pitch them to the press. Thirty minutes later, it can be included on the websites of national newspapers.    
09:30 – Daily catch up meeting
Myself and my manager have a catch up to run through the tasks for the week, as well as checking in with each other; vital if we're both working from home. These catch ups are also a chance to share ideas, reflect on the progress of our PR campaigns and monitor coverage levels at a national, regional and sector level. We often have multiple campaigns running at any one time, so it's important to closely monitor these.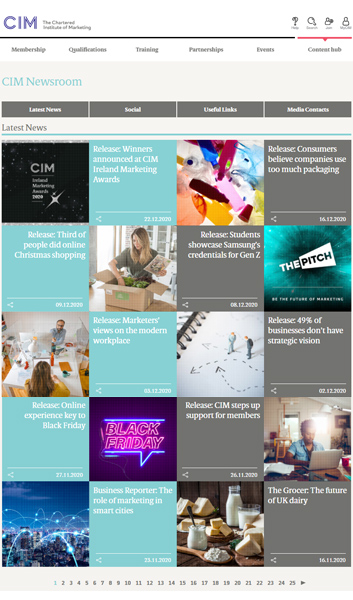 10:00 – Pitching to journalists
Most mornings, I develop an email pitch to journalists to share comments and articles from CIM's spokespeople on newsworthy topics. One of the pitches that I sent out was to the Arabian Business magazine on thought-leadership comment around mental health and the support available for UAE businesses as they navigate challenging times. As a result, I secured the comment opportunity with the Arabian Business for our local ambassador in the UAE – which I will ghost write for him.
We recently wrote press releases announcing the launch of over 75 new virtual live training courses in countries such as Sri Lanka, UAE and Hong Kong, with the news featured in a key international title such as Lanka Business Online. Last week, I secured a large byline article with a major Arabian business title for our local ambassador in the UAE, which I will ghost write with him. CIM has an international reach and opportunities like this reinforce our global reputation.
11:00 – Finding news opportunities for our regional networks and sector interest groups
I always try to set time aside after pitching to find opportunities for our regional and sector spokespeople. This morning, I found a by-line article opportunity in PBC Today magazine for CIM's construction sector representative, on marketing's role in the construction industry's post-COVID-19 recovery.
Once I've confirmed that the spokesperson is available, I work with them to develop the content or comment and manage the relationship with the relevant publication.
13:00 – Working with our external PR agencies
At CIM, we have two external PR agencies. One agency helps us develop and run CIM's PR campaigns in the national press and the other agency helps us take those national campaigns and filter them down to the regional and sector press. A key part of my job, therefore, is stakeholder management between these two agencies.
Today, I'm liaising with our regional and sector PR agency to help us develop a press release based on our brand-new research report on the impact of marketing. We work together to identify relevant angles for specific titles, and they begin to draft the release for my review.
14:00 – Reporting on our progress
This afternoon, I'm helping my manager build our quarterly report which shows the PR activity to date and results generated. Our PR activity ranges from collaborating with CIM's internal teams to promote our products and services to running brand awareness campaigns on key topics affecting marketers.
For example, we recently focused on the launch of CIM's flagship student event, The Pitch,  which received coverage in the likes of Marketing Week and The Scotsman. We monitor and analyse our activities to compare our share of voice, reach, and sentiment against other competitors in the market. Ultimately, we have to make sure that CIM is speaking to marketers in the areas where they'll be listening.
16:00 – Gathering news coverage
During the last hour of the day, I gather any news coverage that CIM receives from our PR activity. For example, we recently undertook a survey of current UK marketing priorities of our members, which revealed that brand reputation remains a top priority for them in coping with COVID-19. As a result, I drafted a press release revealing the findings of the survey, which received coverage in leading marketing titles such as The Drum. Identifying when our content is finally published helps us to report back to the business and the relevant spokespeople who may be quoted, to promote and share the coverage.
What does it take to be a PR executive?
Having a role in PR requires a diverse set of skills, from having an interest in current affairs through to communications skills and relationship building. Ultimately, the PR team is responsible for building a positive reputation for their organisation in the eyes of the media, which is no small task.
At CIM, I collaborate with the wider marketing team on social media outreach, content and events to maximise our PR activities. Collaboration is really important, so PR executives must be team players.
Above anything else, it's an exciting role to have, with things in the news changing all the time. I've helped launch products and run events in the House of Commons; two days are rarely the same. If you like variety in your day, enjoy writing and communicating with different people and keeping up with the news, a career in PR may be for you.
Does this article stimulate your interest in a marketing career? Then take the first step and visit our Get into Marketing page now to find the best route for you.