Can marketers finally close the gender pay gap in 2022?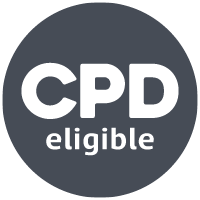 With an overall gender pay gap of 23%, marketing has a lot of work to do to level the playing field. But what role can marketers take to push for change across their wider business? MaryLou Costa speaks to two marketers who have found their voices as gender equality advocates.
When their employer released its gender pay gap audit in March last year, marketers Charlotte Kennett and Nina Michell were saddened to find such a large disparity caused by a lack of women in senior leadership roles. 
As key members of the Women in RPA cross-industry advocacy group set up by business automation company Blue Prism around four years ago, Kennett and Michell felt it was time to leverage the momentum the group had established to push for tangible change, off the back of the publication of the business' gender pay gap report. 
Internally, Women in RPA members like Kennett and Michell were in a position to open up conversations as to what change should look like. They were able to champion and support initiatives that HR had begun working on to help see those brought to life.
These include salary benchmarking and transparency, which is known to create consistency in evaluation and compensation across genders and roles; embracing flexible working which can help parents of all genders balance work and family life; and a new diversity and inclusion lead, to keep diversity at the heart of recruitment as well as upward mobility across the organisation. 
Workshop to help identify barriers
Kennett, Blue Prism's director for global customer marketing and community programmes, and Michell, its former global corporate event manager (and now a senior field events manager at Cloudflare, a corporate cloud network company), then received backing from Blue Prism to run a gender pay gap workshop for over 50 people at the Women of Silicon Roundabout conference in London in November last year. 
In the workshop, they helped participants identify the barriers driving gender pay gaps at their companies, and in response, developed an action plan in the form of this infographic which is publicly available via the Women in RPA page on Blue Prism's website. 
On top of the initiatives already mentioned, it also includes offering more business support for female life stages such as pregnancy and menopause, and creating new vehicles for proactively searching for diverse talent.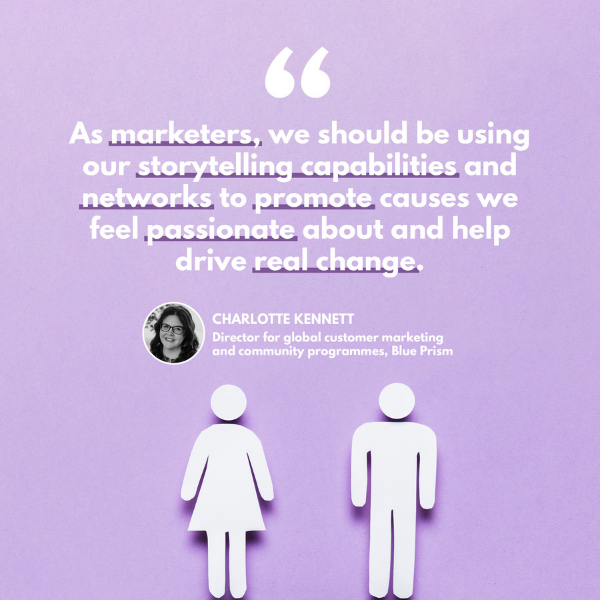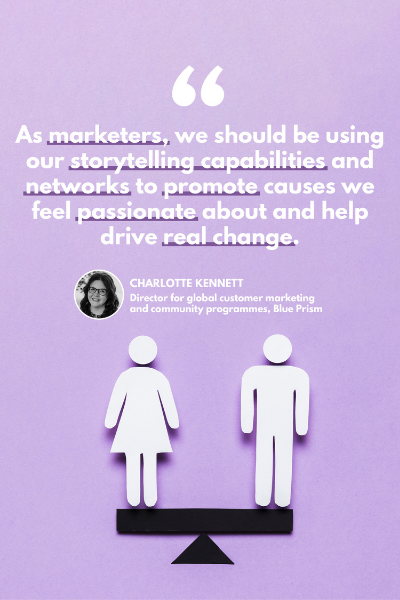 As marketers, both Kennett and Michell feel compelled to push this message and be part of change within their respective organisations, particularly with marketing being an industry still tarnished by an overall gender pay gap of 23% - the chasm at its widest at the top level of business. 
"It was very important for me to own my gender and own my position in my family, and not be penalised for it. It's being around women that advocate for other women and for gender equality (like Women in RPA co-founder and Blue Prism VP customer experience Xina Seaton) that has encouraged me to be involved and have a voice," says Kennett. 
"Sometimes these initiatives can come across as just marketing ploys that companies can just gloss over, but as marketers, we should be using our storytelling capabilities and networks to promote causes we feel passionate about and help drive real change." 
Flexible working as an equality driver is particularly important to Kennett, who has a young child. 
"I'm such an advocate of flexible working - it makes my life so much easier to not feel guilty about taking a couple of hours here and there. It's life-changing, which is why I encourage it within my team," she says.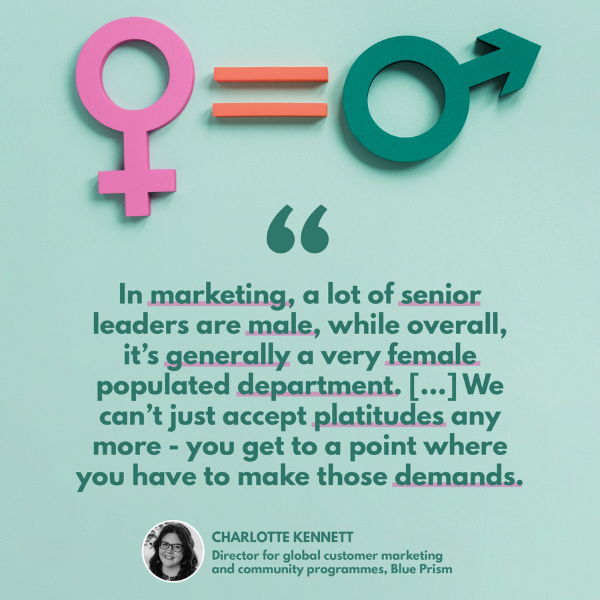 "As long as the work is done, and you're there when you need to be there, I don't care when you work. I think you get the best out of a team this way." 
Why all the secrecy?
For Michell, salary consistency and transparency is something she sees as game-changing practice that more companies should adopt. 
"People need to be able to talk about what they earn and need to be able to see what a salary bracket is on a job spec. Employers need to start being more open and honest, and employees need to feel that they can discuss salaries. The Equal Pay Act says people have to be paid the same by law, so why all the secrecy?" Michell questions. 
"In marketing, a lot of senior leaders are male, while overall, it's generally a very female-populated department. So we have got to the stage where we can't just accept platitudes anymore - you get to a point where you have to make those demands."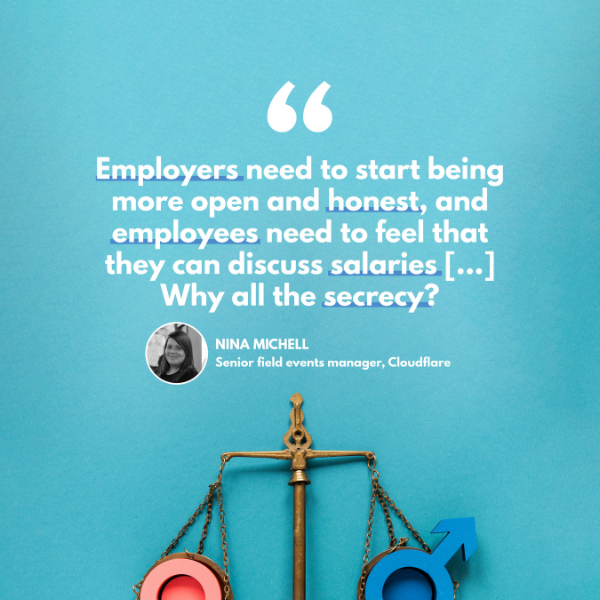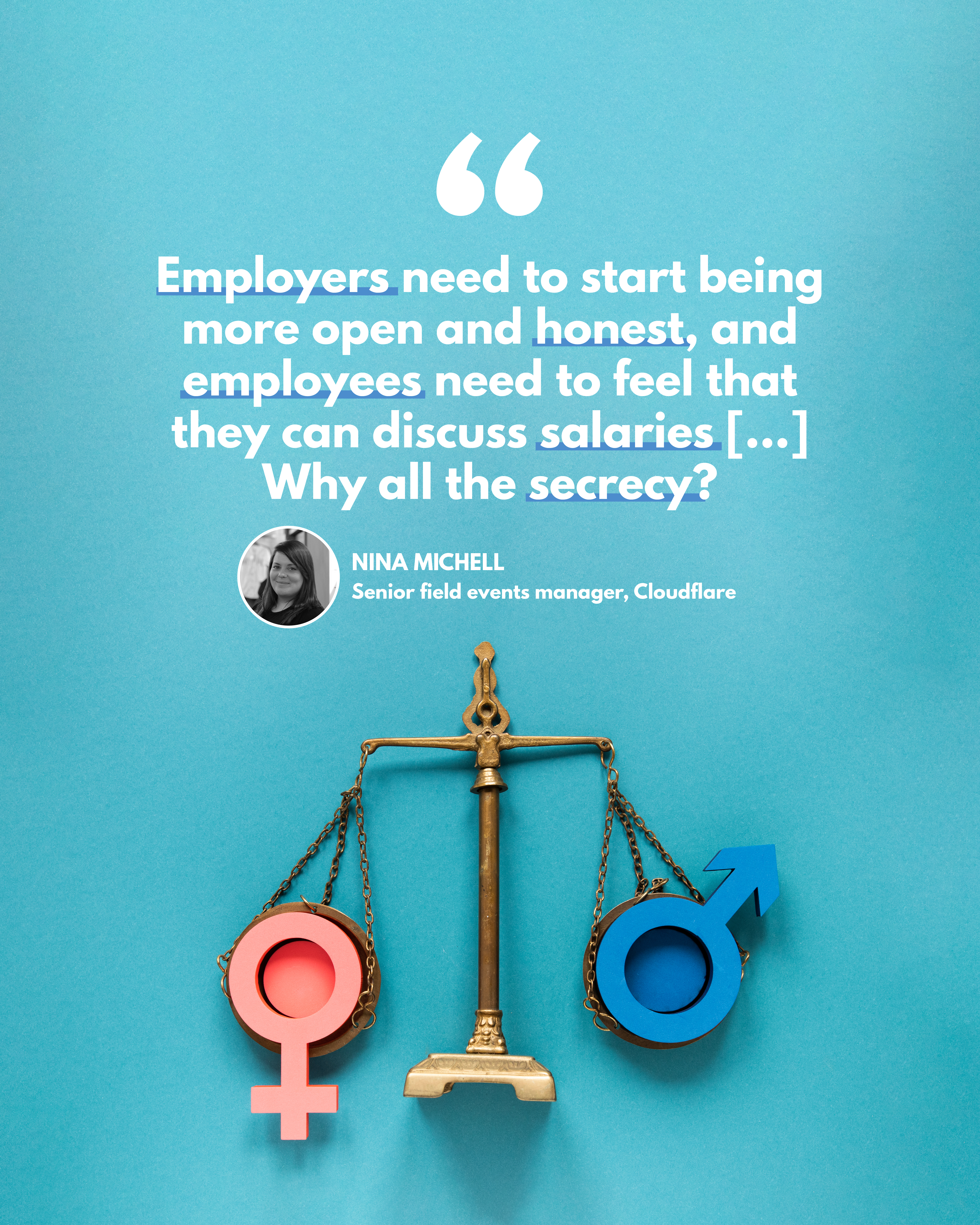 Running the gender pay gap workshop at the Women of Silicon Roundabout event, Kennett believes, has helped build the confidence of more women across more businesses to feel they should contribute to the gender pay gap conversation. A number of participants, for example, have felt equipped to present potential solutions back to their employers, armed with a communications strategy. 
"It can be complicated to articulate, "it's unfair that women as a whole don't get paid the same amount" - but how can you wordsmith that in a way that is more impactful?" Kennett explains. 
"There are lots of people within marketing who are used to having really difficult conversations, and are used to being outspoken," adds Michell. 
"The more we talk as a collective, the more we're going to make change." 
Next, Michell and Kennett would like to see more male allies join the conversation. 
"We need more men to come along to events like the Women of Silicon Roundabout conference, to take an interest, because we need them to help us change this. If they don't know about the issues that we're facing, they're not going to get it and they're not going to make the changes that are needed," Michell argues. 
 
Looking for a community that will help you achieve your goals, overcome daily challenges and become adaptable to change? Visit the CIM membership page, where you get support at every stage of your marketing career.