How to plan and pull off the perfect podcast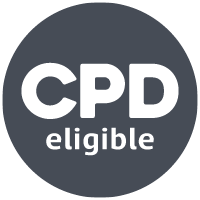 Want to start a podcast? Our content marketing executive Sophie Peterson is here to guide you through the process of planning, promoting and pulling off the perfect podcast.
Podcasts have become hugely popular over the past couple of years, and it doesn't look like this is going to change anytime soon.
There are currently 21.2 million podcast listeners in the UK, with the majority being aged 26-35.
The top three reasons why people listen to podcasts in the UK in 2022, according to a study by Statista, are for entertainment reasons (57%), to learn something new or improve understanding (48%), and to relax (39%).
Learn exactly how to plan, produce, launch, grow and monetise your own show and - if you are already creating a show - how to make it even more impactful with CIM's brand-new Podcast Strategy and Production training course
Why start a podcast?
Podcasts are a great way for brands to talk directly to their target audience and build a loyal following. It is common for listeners to regularly tune into a podcast, as they would a TV series, so they can keep up with the latest updates. This is also a great way to find strong advocates for your brand.
If you're thinking about starting a podcast for your business or personal brand, you'll need to follow each of these steps:
Keep reading for a look at each of these steps in more detail.
Planning a podcast 
Topic
No podcast would be a success without an interesting concept. You'll first need to decide upon a topic/genre for your podcast. Do some research into which topics are most popular in your sector.
Think about your audience: what kind of people do you want to be listening to your podcast? If you're a business, you'll want to think about the kinds of people who would be interested in your brand or product.
You could use tools such as Answer The Public to see what people are searching for. For example, looking at the below image, we can see that when searching for marketing podcasts, the most popular topics seem to be:
Marketing podcasts for beginners
Marketing psychology podcasts
Free marketing podcasts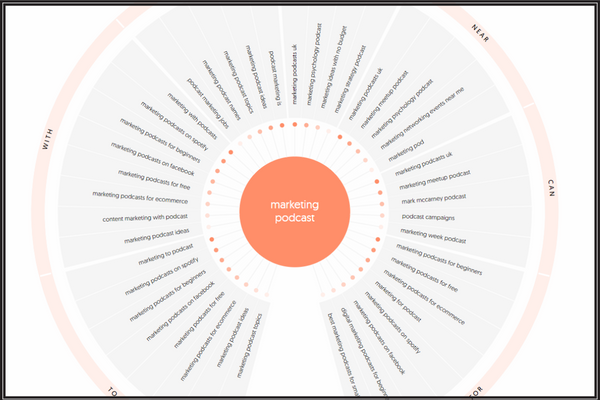 (Example results page on AnswerThePublic.com)
Once you have decided on a topic and tone for your podcast, you then need to think about aims and goals.
Aims
What is it that you want your podcast to achieve? Do you want to encourage someone to buy your product or subscribe to your services? Are you looking to teach or inform your listeners? Are you just looking to start it for entertainment purposes to build rapport and trust with your audience?
Start by setting yourself some SMART objectives so that you are able to easily track your podcast's success. For example:
In six months' time, I want my podcast to have gained 1000 followers on Spotify and have an average episode consumption rate [how much of an episode is consumed by listeners, on average] of 60%. 
Recording a podcast
Equipment 
You don't necessarily need a soundproofed room with expensive equipment to record a podcast. But a high-quality microphone will improve the overall look and professionalism of your series. And the less background noise, the better.
You could look into buying a good-quality table mic to ensure that all of your recordings run smoothly.
You will also need to consider whether all of your episodes are going to be recorded in person or virtually, and how often. If you want to have external guests from all over the world appearing on your podcast, you may need to look into virtual recording software.
If you plan on just having internal guests from your business or local businesses, then it may be better to record in person. This way is it easier to get content such as clips and images that you can use to promote your podcast.
Or, if you are feeling particularly brave, you could follow in Gymshark's CEO Ben Francis' trainers and try recording your podcast in the metaverse.
Guests
Another important consideration when you are planning your podcast is the guests and host. Who would you like to appear on your podcast? Are you going to have a regular host and invite different special guests on each episode, or are you going to have the same group of people discussing the topics each time?
Steven Bartlett's podcast The Diary of a CEO has seen huge success, and is one of the most famous business podcasts out there. It recently was announced as Apple's most followed, most downloaded show and the most downloadable episode of 2022.  Having a regular host, like Steven Bartlett, allows your listeners to connect with that person, and it helps to have an image in your head of the person you are listening to.
While you may not be able to secure The Diary of a CEO calibre of guests such as Stephen Fry, Peter Crouch or Lewis Capaldi, having big names within your industry can be a useful way to put your podcast on the map. And a mix of guests with a variety of skills and stories to tell is a good tool to keep your series interesting and diverse.
Editing
So you've recorded your podcast in the metaverse with Stephen Fry, now comes the fun part of editing your recording.
Based on a sample of 10 million episodes, the mean length of a podcast episode is 38 minutes and 42 seconds. So it would be good to make sure you edit your recording down to around this length so your average listen time doesn't drop off.
Editing can be time-consuming, so make sure to use good editing software, especially if you are planning on releasing episodes regularly. Depending on your level and budget, some of the best podcast editing programmes you may want to look into include:
Depending on your target audience and subject matter, you may want to consider how refined and clean-cut you want your podcast to be. Do you want to create a sense of professionalism and precision? In which case you will want to edit out any false starts, silences, interruptions and other spoken word faults.
Or do you want your podcast to have a more casual, chatty feel? In which case it may be best to leave editing the content to a minimum, and let the conversation flow naturally: faults, swear words, mind blanks and all.
** Please note** If your podcast does contain swear words or other explicit content, please remember to add a content rating.
Promoting a podcast
You should also consider setting up a social media page for your podcast to help spread the word. Here you will be able to post updates about upcoming episodes, quotes, video clips and guest announcements. You could also consider starting a TikTok account depending on your target demographic.
It's important to post regularly and keep your accounts up to date with the latest news and episodes, this way you are more likely to gain regular subscribers. If you ask your guests to share their appearance too, you can increase your reach.
So there you have it - you've planned, pulled off and perfected your podcast. Remember to keep on top of your goals and regularly track your data. Both Spotify and Apple will allow you to track your analytics so you can keep an eye on your top-performing episodes and follower count. And don't forget to add links like this whenever you talk about your podcast online!


If you're looking to learn more about starting a podcast or perfecting an existing one, you can sign up to our How to Deliver Engaging Podcasts training course today!
Or if you're just looking for some inspiration, check out the CIM Marketing Podcast on your platform of choice.