Lovehoney's CCO on using customer data respectfully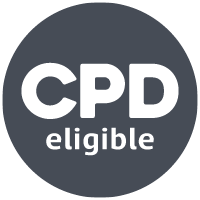 30% of online adult store Lovehoney's customers shop anonymously, and its ability to advertise via social media and Google Adwords is limited. It's frustrating for chief commercial officer Debbie Bond, who looks after the brand's marketing and digital activities, but she takes her responsibility to use consumer data sparingly, seriously, as she tells MaryLou Costa.  
Sex toy sales have gone through the roof during the pandemic - yet more customers and sales means more data that brands like Lovehoney must treat sensitively. 
Respecting customers who want to shop for sex toys discreetly while being under pressure to leverage their data to perfect their online experience is a fine balance the brand's chief commercial officer Debbie Bond is constantly walking. 
The e-commerce veteran has had to think beyond the parameters she's become an expert in during her career, which saw her spearhead flagship digital initiatives for brands like Moss Bros, Harrods and Tesco. With 30% of Lovehoney's customers preferring to shop anonymously, and its paid social media activity limited by the brand's classification as "adult", Bond has had to be both sophisticated and conservative when it comes to customer engagement. 
With a broad customer base in terms of age and familiarity with the category - and a product range to match - segmentation is high on Bond's priority list to offer a personalised approach that leads to both a fast conversion and lifetime value. 
Handling with care  
Using technology, she and her team analyse survey and market data to glean behavioural and attitudinal information behind why a customer is motivated to interact with Lovehoney, and where they sit on the scale of "newbie" to "expert". They can then inject real-time content into their journey based on whether they came from a VIP-targeted email or a simple Google search. But in her world, this all must be handled with caution, Bond notes.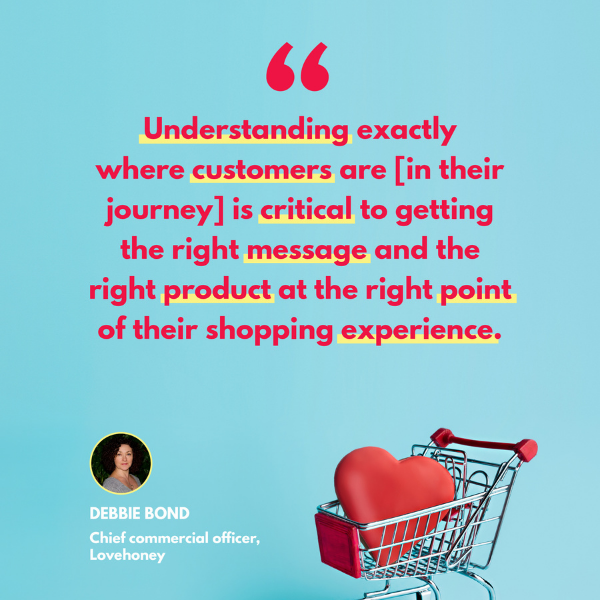 "We pride ourselves on discretion - it's the number one ask of our customers to us, given our category. We have to optimise our shopping journeys carefully. For example, with our 'Happy Couples', who are looking for sex toys to add some adventure to their sex lives, if we give them the wrong messaging, it'd be super easy to frighten a customer off for life," says Bond, who took on the role in 2018 after two and a half years spent at the helm of the digital transformation of the Moss Bros menswear brand. 
"We wouldn't want to frighten off a customer who was brand new to our category and was looking for support and was just interested to have a little look around, versus someone that's coming in to see what's the new cool thing that they want to add to their toolbox at home. Understanding exactly where customers are is critical to getting the right message and the right product at the right point of their shopping experience." 
"It's dangerous to pigeonhole our customers" 
Providing customers with a relevant experience, while valuing their privacy and recognising that their browsing actions don't always reflect their purchasing intent, is challenging but crucial, Bond adds.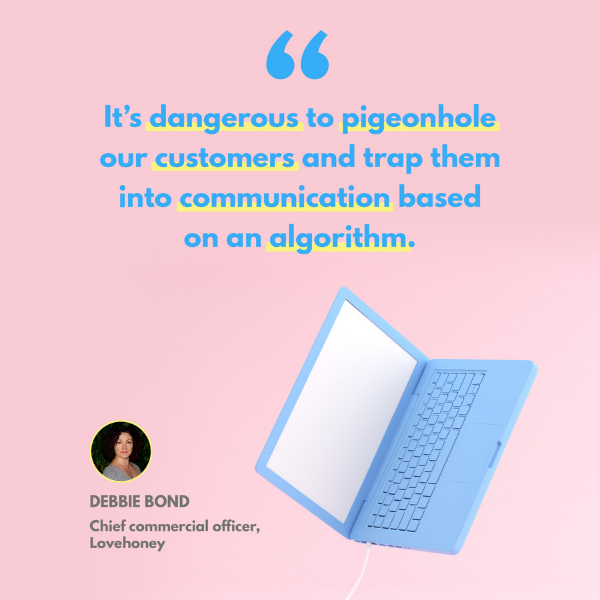 "We have a lot of people that come to the site and they spend quality time looking at things that are fun, but perhaps would never consider using. If I build all of that into our data, and our personalised journeys, there would be some quite unusual activity shown to customers, that would have very low conversion rates," she says. 
"It's dangerous to pigeonhole our customers and trap them into communication-based on an algorithm. So we're always trying to inject some generic content to make sure our customers try something new, and give them that confidence that we're respecting their trust in us as a retailer. It's a very fine balance to get right in a category that has a level of sensitivity around it that perhaps a fashion retailer wouldn't experience." 
"Constantly moving goalposts" 
Pivoting against the "constantly moving goalposts" that Bond describes the advertising policies for Google and social media platforms is also an occupational hazard that she and her team must think cleverly about to keep reaching audiences. 
"It's hard work. Our category's classified as "adult", and as such, main channel owners like Google, YouTube, and Instagram have blocked us from participating in a lot of advertising activity, that would be normal (for other brands). Google has just launched a policy around extra restrictions on sexual content, and I don't even know what that means until we execute and see if any of our adverts get blocked. It's an ever-changing field and the team has to be on it. The devil's in the detail to make sure that we don't accidentally trip ourselves up," says Bond.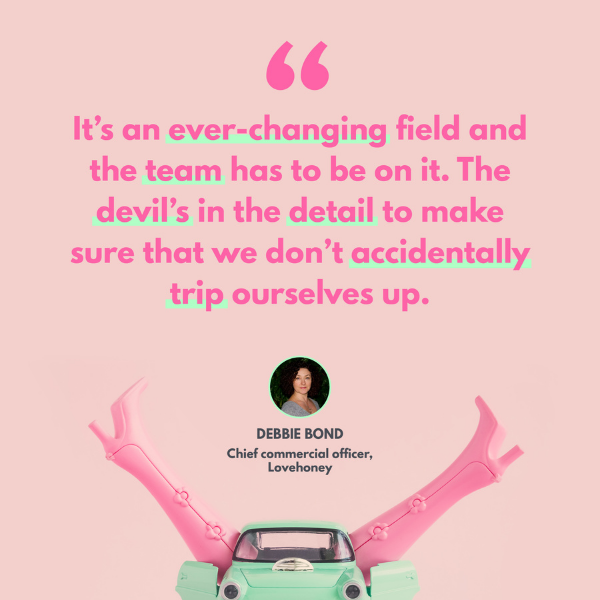 "The frustrating thing is many advertisers selling alcohol, betting or payday loans are completely free to advertise and retarget, so it does feel a little unfair, if I'm honest. It absolutely pains me that we're lumped in with porn, rather than sexual wellness, which is where we are actually operating, and the shift in attitudes and positive links with mental health and sexual wellness. I'm hoping policymakers will pause to review our category much more inclusively, but I'm not holding my breath." 
Leveraging PR, loyalty programmes, and community engagement 
But Bond has been able to compensate with some "innovative and novel" PR campaigns, such as Lovehoney's "Sex Map", which reveals the sexiest town in the country, as well as the most popular adult toys in a particular area. 
With restricted customer acquisition opportunities, maximising the potential of loyalty programmes is key, to "get that all-important second, third, and fourth purchase", Bond adds.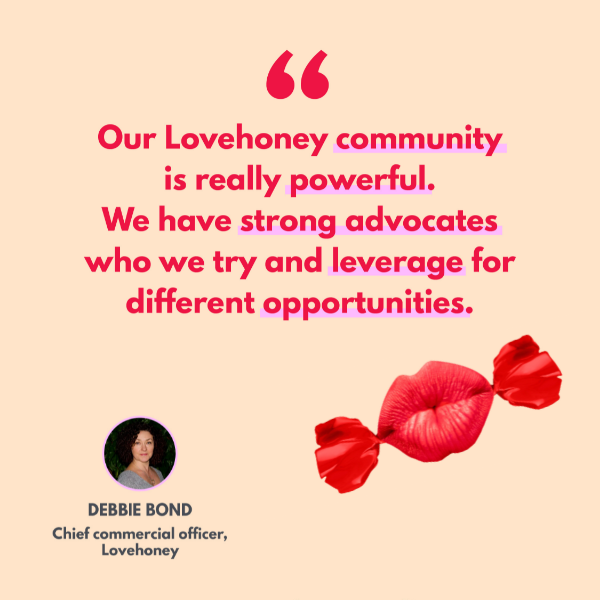 "We've done a lot of work to make sure that we are taking people on the journey from being a new customer through to an expert with us, if that's where they'd like to go. Or if they just want to come and have a little look at content like 'position of the week' on a Saturday, that's great, too - we've got a special journey for them," she continues. 
"Our Lovehoney community is really powerful. We have strong advocates who we try and leverage for different opportunities." 
"An exciting challenge ahead" 
As Bond continues to navigate the blockers on the Lovehoney brand, so too will she and her team continue to face up to ever-demanding customer expectations as more data becomes available. 
"The expectation is that we've got all these wonderful systems that work in harmony. Then when we get it wrong, people are disappointed. That's also against the backdrop of potentially a sea change in how people feel about their privacy, and the trust that they give us with their data," she reflects. 
"When privacy and trust has been breached, that is very damaging, but it is part of our changing landscape. It just adds another dimension to an exciting challenge ahead." 

Do you want to ensure you're getting maximum value from customer data whilst still maintaining high levels of customer privacy and data security? Supercharge your skills with CIM's GDPR for the Marketer online course and ensure that your use of customer data meets all relevant legal requirements. Sign up to get started today.