The reality of marketing planning: Your questions answered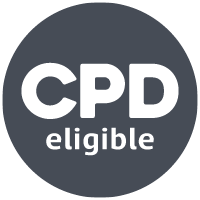 In our recent member-exclusive webinar "The Reality of Marketing Planning", CIM course director Richard Mayer highlighted the planning pitfalls to avoid and provided tools to help marketers streamline the planning process. In this article, Richard answers your questions on the must-haves and the common mistakes to avoid. 
If you'd like to learn more practical ways to improve your marketing planning processes, book a place on our How to Write a Marketing Plan training course. 
How do you decide what to prioritise in your marketing plan? 
Effective prioritisation is critical when it comes to a successful marketing plan. Your precise methodology isn't necessarily important, but you definitely need to formulate a process that allows you to determine what and where is critical to focus strategic and tactical attention.  
At a strategic level, a useful framework is the Immediacy/Impact matrix where market trends and developments are identified and then plotted onto the matrix. Those factors that appear in the high immediacy/high impact quadrants are then evaluated in terms of the following: level of opportunity or threat to the business, current readiness, and current market position. Those factors that appear in the low immediacy, high impact quadrant are then evaluated in terms of the degree to which a strategic response is in place or being planned.   
At a tactical level, there are several methodologies and techniques available to assist in prioritising tasks. Many of these derive from project management thinking and involve assessing a range of options against criteria such as risk, cost, time and impact to determine the best options to select.
Can you share experiences of customisations needed for marketing plans specifically? Often it becomes just product and sales.
In my experience, customisation of plans is determined by the situation and context in which plans are being developed. If your organisation is structured with product managers and a sales team, then clearly their focus will be on product and sales planning.  However, if your organisation is pursuing a broader strategy for growth a marketing plan will include customer acquisition, and customer retention strategies targeting existing/new markets and existing products.  
The details will potentially include; go-to-market strategies, demand generation, account-based marketing, customer experience or customer journey management, depending on the context. Such plans will likely require a marketing communications/digital marketing campaign plan. In all instances, the plans should be integrated with sales and operations plans.
If a company that is very financially driven hasn't considered a marketing plan, how would you bring the marketing factors into their radar? 
This should start by understanding and demonstrating how marketing is contributing to business value. This requires a more comprehensive view of the business value that marketing creates and should include identification of marketing's contribution to areas such as growth enablers, innovation, customer centricity, new capabilities, and the corporate brand.  
Also, you can demonstrate how marketing creates business value beyond its function by collaborating with other functions to advance the company strategy and meets the CEO's/C suite agenda. By highlighting marketing's impact on financial performance using campaign metrics that are focused on ROI, this can also demonstrate how marketing for your business contributes to financial outcomes. Constantly provide visibility to show how marketing investments (not spend) are aligned with business strategies and key priorities. 
Can you please provide clear definitions to differentiate a marketing strategy from a marketing plan? 
The most quoted framework for a marketing plan is PR Smith's SOSTAC® model. This highlights that a marketing plan consists of a marketing audit (situation), objectives, strategy, tactics, actions and control. All these elements form part of the marketing plan.  
The strategy is part of the plan that at its broadest level will outline the marketing strategies being adopted for growth and for supporting brand development and positioning. There will then be more detail outlining specific strategies for customer acquisition, customer retention/growth, new product launches and go-to-market strategies.  
The strategy should also include a clear identification of the market segments/personas to be targeted and your value propositions for each.  The strategy essentially explains the direction you have chosen to follow, selected (after a process of evaluation) from a range of alternative options outlining the best means to achieve your marketing objectives.   
How can you help business directors focus on their objectives? Particularly when you have multiple directors needing marketing support. 
It is important at the outset to gain a consensus view of the strategic issues and priorities that are shared by all the business directors, and these should be set out and communicated clearly in the corporate/business plan. Each director is then required to translate these priorities into business objectives which are then communicated down to their teams.  
Marketing, sales and operations objectives and strategies can then be aligned with these priorities. A framework that can help in the alignment of objectives and strategies across the different functions is the strategy map which is derived from the Balanced Scorecard approach to setting objectives. This process will help and guide business directors to stay focused on the agreed business objectives.
"I am a marketing director with one other marketer working for me in an SME. What is a rough percentage of time I should be allowing for planning vs doing?" 
Ideally, 20% of your working time, which represents one day a week, should be set aside for planning. This covers all the requirements for strategic and tactical planning from completing your audit, insight work, developing the plan, getting sign-off on the plan and determining any key initiatives and preparation of the campaign plans. It should also involve aligning with sales and operations plans and be developed in conjunction with (not as an add-on) the development of the business plan. The planning cycle should cover six to nine months, not just one month of the year.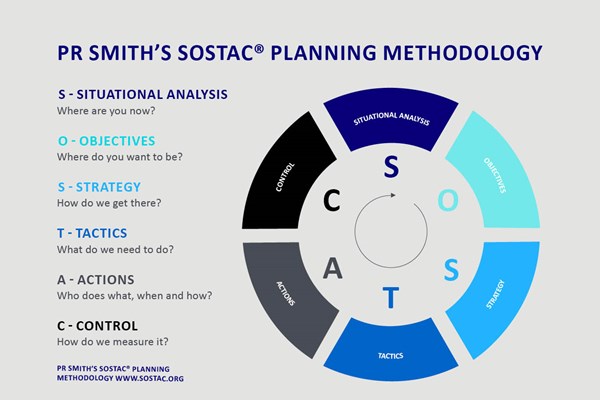 PR Smith's SOSTAC® Planning methodology  www.sostac.org
Have you got a key starting point for smaller businesses? 
As a starting point, you should focus on no more than two business priorities and develop a plan that is within your span of control. This could initially cover a duration of three to four months and only focus on objectives, tactics, actions and metrics for that period.  
This could be for instance your digital marketing plan, improving customer experience, customer journeys or a new product launch plan. As you become more familiar with this process, you can then broaden the focus, extend the time frame and develop more detailed and integrated strategic and tactical plans.
What do we do when some key stakeholders aren't interested in joining the planning process and claim they prefer to be 'agile' and 'flexible'?
This is a common problem and ideally requires leadership from the top to set the directives, responsibilities, discipline and requirements that all key internal stakeholders are to comply with. If there is a laissez-faire or selective approach to planning, then getting all stakeholders aligned is unlikely to occur.
Agile planning is ideal for specific types of projects [and] initiatives where outcomes are not certain, and timescales are short. Agile planning can sit within an overall marketing planning cycle, but these stakeholders need to be involved, contribute and support this central planning process.
What's the best way to communicate the strategy and get teams and key players on board quickly?
The starting point is that the company vision and strategy should be clearly communicated. This can range from holding a conference or company meetings utilising a range of online and offline internal communication channels. All teams and key players should have bought into the company-wide vision. From this starting point, and utilising regular meetings and effective use of internal communications, the marketing strategy is aligned with the company vision and strategy can then be shared and the buy-in you seek is achieved.   
Once the company vision and strategy are communicated, make it part of everyday working, maintain visibility of the progress you are making and how the strategy is being implemented and encourage feedback and discussion. This will assist in maintaining the motivation of the team and enhance the chances of buy-in for the next phase of planning.
How do you overcome the need for more information from the top down, in order to implement a more aligned marketing plan?
Top-down communication should be the cornerstone of any internal communications strategy. Unfortunately, it is one of the most common pain points that employees experience.  Closing this communication gap is the only way to resolve this disconnect. This should involve two-way communication and information flow being initiated.  
It is critical that cross-functionally management teams work together on this to highlight the challenges created through a lack of clarity and transparency on company goals and strategies and the impact that information roadblocks currently have on business performance.
How much/often should you adapt your plan while it's underway?
At a tactical level, your plans can be constantly adapted or modified based on performance and changing situations. You should have in place a process for monitoring campaigns and competitor activity etc to enable appropriate adjustments to be made. At a strategic level, it's generally not advised to change your marketing strategy unless it's clearly identified as wrong or the situation in which the strategy was set has substantially changed. 
On the basis that investment decisions, resources and possibly organisational structural change will have been made, changing a strategy can lead to numerous problems. However, it is unlikely that your strategy will go exactly to plan, therefore a degree of latitude should be allowed. It is important in this case to be able to adjust elements of the strategy to take account of unexpected market conditions and to build in some contingency.
If a plan isn't working for your business, should you stop, start and continue?
If reasons for the tactical implementation of the plan not working can be identified, then appropriate actions can be taken to bring the plan back on track.  It may well be poor execution that is the cause. Where it's identified that a plan is not delivering the required outcomes then it's important to revisit and either stop or adjust the plan. This might involve changing key elements of the plan, re-budgeting, and re-resourcing.   
It's also sensible to have a plan B that can be put in place if it's determined this is required and/or contingency plans for unexpected events are available. At a strategic level, stopping a plan has far more significant consequences.  
Sometimes it can take courage and a strong conviction to support a strategy that is not delivering the expected performance within a planned timeframe.  It's recommended that in such circumstances maintaining a strategy is the best decision with adjustments over time until a new strategy can be evolved.  
If you'd like to learn more practical ways to improve your marketing planning processes, book a place on our How to Write a Marketing Plan training course. 
CIM Members can now watch the 'The Reality of Marketing Planning' webinar on demand. 
If you're not yet a CIM Member, visit our Membership page to see what members are saying and discover how it can benefit you during your career.