Unmissable moments: Highlights from CIM's Sustainability Summit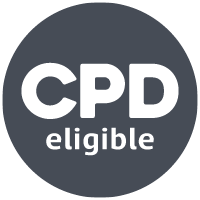 CIM's Sustainability Summit brought together marketers and businesses from across the industry to learn, share experiences and work towards a better world for people and planet. In this article, catch up with the most important insights and speaker highlights from the day, handpicked by the CIM team.  
James George, PYREXA Global: Why the circular economy is such an important solution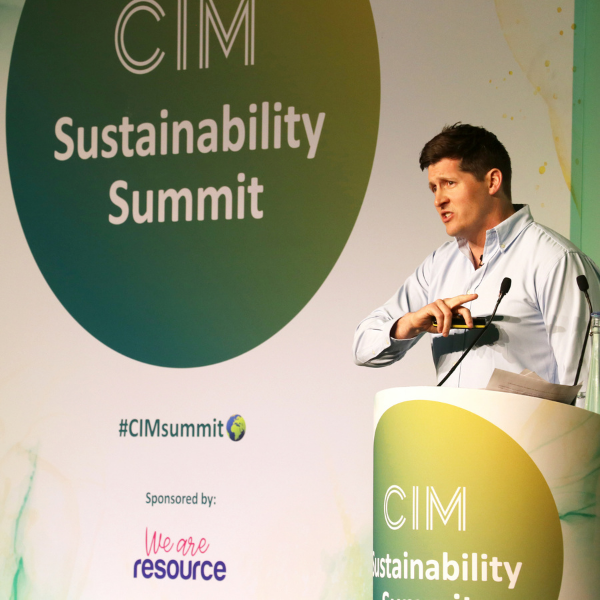 For me, perhaps the biggest moment of clarity was when James George, strategic advisor at Pyxera, said to delegates: "This shouldn't be an anti-growth agenda, but it should be an agenda that looks at the right kind of growth. Growth that's restorative, growth that's regenerative, rather than consumptive and extractive." 
So many businesses still see sustainability as the enemy of profit and sales. What George proved was that growth is possible, but marketers and businesses have to fundamentally rethink how they approach it, and the narratives they tell their organisations about how their brand is growing. 
- Ally Cook, former content and engagement manager 
James George's presentation on the circular economy proved that with careful consideration of the lifecycle of a product, and by incorporating sustainability into the DNA of your business, it is possible to almost completely negate the impact of production, distribution, and consumption on the environment. With the rapid advancement of technologies (including completely bioinert, biodegradable, edible plastic packaging) this is becoming more and more possible.  
- Bryndley Walker, marketing coordinator 
Emilie Stephenson, Innocent UK: Learning from your mistakes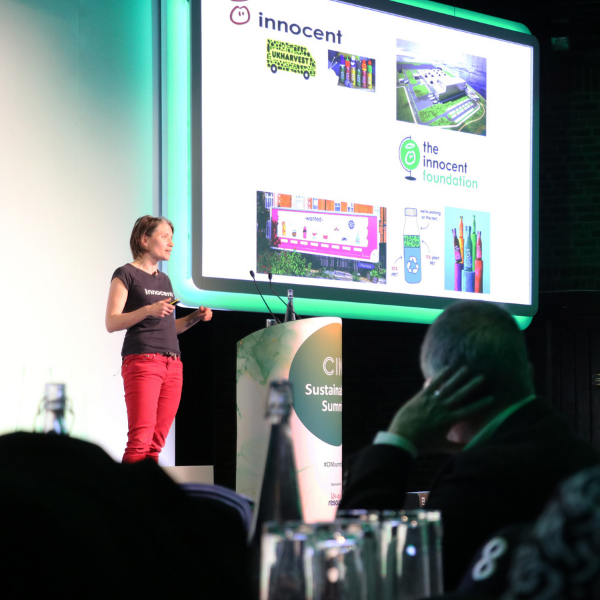 Innocent provided a humble view of the highs and lows of the sustainability agenda, giving an often-missing insight into the times when it hasn't gone to plan. Emilie Stephenson, head of Force for Good UK at Innocent, was candid about the recent ASA ban of Innocent's TV campaign on the grounds of greenwashing and gave a glimpse into the drinks brand's ambitious future plans to keep people and planet firmly at the centre of their operation. 
- Ally Cook, former content and engagement manager 
Something I think we can all relate to is making mistakes when we're starting out or making a change. Emilie Stephenson, head of Force for Good UK from Innocent drinks, shared a glimpse into some of the mistakes they had made in their sustainability and B-Corp journey and crucially, how they had learned and grown from the experiences.  
Mistakes are a sign that your business is trying, and each misstep reveals one way not to do it and is a step closer to achieving the end goal. Emilie provided valuable insight into how the organisation developed its B-Corp strategy, and that incorporating this ethos as part of its core purpose made it central in everything they do. This includes having more than a transactional relationship with your supply chain and how this ensures it is not something left on your to-do list. The presentation was incredibly inspiring and showed that making a start doesn't mean you have to be perfect in your sustainability journey. 
- Laura Scott, content and engagement executive 
Emilie Stephenson discussed the importance of businesses finding their purpose and how they can stick to it throughout their journey. During the presentation, we are taken back in time through Innocent's beginning and shown how even years later, when the world has drastically changed, their brand's values and purpose haven't. I admired Emilie's bravery and honesty; she wasn't afraid to admit mistakes and misjudgements as she spoke about the recent accusations of greenwash Innocent has faced. Instead, she used this to show how they overcame it, learnt from their mistakes and continue to move forward on their sustainability journey. I think this is a lesson that many brands will have been both comforted and inspired by. 
- Sophie Peterson, content and engagement executive 
Emily Laws and Liz Buchanan, Lucky Saint: The journey to B-Corp is just the beginning
A large portion of the speakers focused on their journey to B-Corp, and perhaps the most inspiring of those discussing this issue on the day were no-alcohol brewer Lucky Saint. As a start-up who have just applied for B-Corp status, their dedication to ensuring sustainability is at the heart of their organisation provides a tangible roadmap for all organisations looking to do the same. Liz Buchanan, supply and organisations director, shared an inspirational insight into their due diligence and commitment throughout Lucky Saint's global supply chain.  
- Ally Cook, former content and engagement manager 
Something which at first was touched upon by Liz Buchanan and Emily Laws from Lucky Saint was the idea of balance, and this word kept cropping up throughout the day. In the context of Lucky Saint, balance referred to their customers, who Emily shared were generally not teetotalers as you would expect with a non-alcoholic beer but rather moderators, seeking balance in a pressurised world. They want to be able to enjoy the social aspect of having a pint at the pub but also live an active lifestyle, and Lucky Saint facilitates this.  
I think this theme goes deeper than just applying to the low/no movement, I think it applies to marketing as a discipline. Finding the balance between the wants and needs of our stakeholders and customers, and the environmental impact that our businesses are having upon the planet, is really at the heart of the sustainability challenge we face.  
- Bryndley Walker, marketing coordinator
I felt empowered listening to Emily Laws and Liz Buchanan because they were two strong, successful women in marketing talking about beer. Their presentation explored how purpose should be at the heart of your brand, and by focusing on what your audience really wants and what you truly believe in, you can find success but also make a difference. I think their talk inspired many of the brands in attendance to start their B-Corp journey, and with it focus on both the customer experience and employee experience. 
- Sophie Peterson, content and engagement executive
Sue Fennessey and Rio Ferdinand, WeAre8: Purpose-driven solutions for brands and people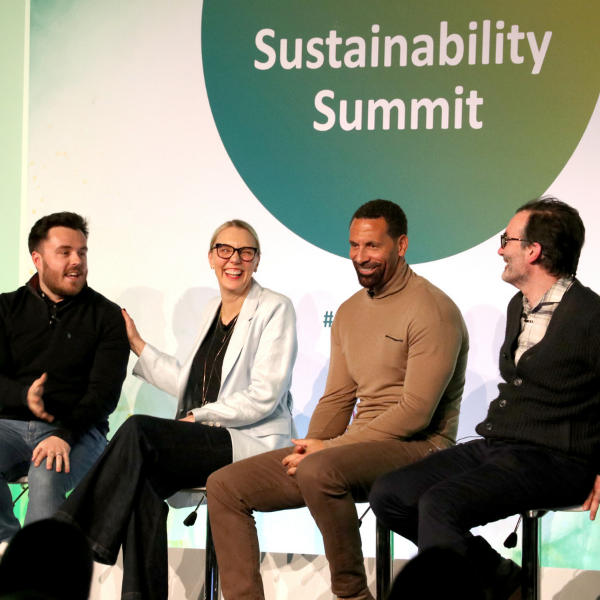 Disruption is a powerful tool. WeAre8 have completely inverted the traditional advertising model in favour of one that puts the consumer at the very centre. What really stuck with me from CEO and founder Sue Fennessy and partner at WeAre8 Rio Ferdinand was this: phrase - "You have value." and that "you have power". When it comes to sustainability, the only way we are going to see real change is if everyone wakes up to the power they possess as individuals and realise that together, we are the ones who are capable of changing the status quo. It starts with all of us making small changes in our everyday lives. 
- Bryndley Walker, marketing coordinator 
The closing presentation by Sue Fennessey and Rio Ferdinand packed a punch, revealing how WeAre8 is a platform created to benefit its citizens (not users), creators, and the planet by rewarding the most powerful untapped resource online – us. Rio spoke about how having good values results in positive outcomes and Sue said, "If they want to change the world, they have to make a stand.", which stuck with me long after the event.  
Both Sue and Rio were passionate to convey that it's about "helping those people understand that they have value" and producing a "domino effect" in positive change. As I scribbled away in my notebook, I underlined the following words as they spoke, "To be successful you have to be brave (and) Step out from the crowd at times.".  
- Laura Scott, content and engagement executive 
The talk from WeAre8 was the perfect way to end the panel discussions from the day. As the first brand that puts money back into their user's pockets, WeAre8 really felt like something different and something that was already making changes to the world for the better. Rio and Sue made doing the right thing or doing something for the planet seem like a no brainer, which let's be honest, it is. I remember when they revealed that if every one of Rio's Instagram followers downloaded and used their app, by watching two minutes of ads per day, they could make £15 million in a month for charity.  
- Sophie Peterson, content and engagement executive

CIM's Sustainability Summit marked a true step change in the environmental agenda for marketers today. From inspiring widescale change to putting a spotlight on the latest channels that can aid the triple bottom line, there was an incredible amount of value on offer to delegates.  
One takeaway that was sure to have struck every marketer who attended the event is that not every business is perfect, and there is no real 'right way' to go about being sustainable or saving the planet. It's OK to make mistakes and ask for help because everyone has to start somewhere. Whether you are struck down with singing otters (you really had to be there for that one) or incorrectly labelled products, what's important is how you learn from your mistake and keep moving and making changes. As long as your brand has the right core values and is willing to learn and adapt, then you're already on your way. 
 
If you're looking to improve your confidence and capabilities when working on sustainability campaigns, visit our Sustainability Transformation Hub and start making a positive impact through sustainable marketing today.