What does period poverty mean for marketers?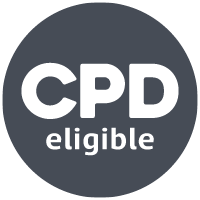 It's something that exists globally and it's a huge issue for a large amount of the population, but period poverty is still a difficult subject for many. In this article we will look at how this important subject can affect businesses from the inside out. 
How can companies involved in the production of sanitary products, and companies who want to push for more inclusion, face the issue of period poverty head on? We've explored the landscape to see what other companies in the market are doing. Read on to learn more about a subject that's ever-increasing in the news.
If you'd like more information on how you can encourage more inclusivity in your organisation, you can delve into our Equity, Diversity and Inclusion course.
What is period poverty?
The pandemic made it harder for people who menstruate to manage their periods all around the world, with 1 in 10 girls in Africa missing school because they don't have access to a safe and clean toilet or sanitary products. But the issue is far closer to home than some may realise.
Period poverty means people who have periods can't afford sanitary products and might not have access to clean, safe toilets. Research from The Homeless Period shows that 40% of girls in the UK have used toilet roll as they couldn't afford to buy period products.
According to research by Bodyform, over 350,000 girls in the UK were reported to have missed school on at least one occasion because of their period. This is a small representation of what some people face worldwide.
Along with the shame and stigma that can come along with menstruating, there can be a knock-on effect on the education and wellbeing of people who have periods and also the information passed onto the people who don't have periods.  
What are some examples of period product marketing globally?
In India, it was as recent as 1993 that period pad brand Whisper was allowed to show a sanitary pad in a commercial. Along with this, Whisper was the first to mention the word 'period' on Indian television.
The Blood Report, ran by Rio Pads who launched the first ever heavy flow sanitary pad in India, said that 79% of 3500 menstruators are introduced to periods by their mothers. In the report it was mentioned by nearly half of menstruators that boys weren't fully informed and educated about periods in Indian schools.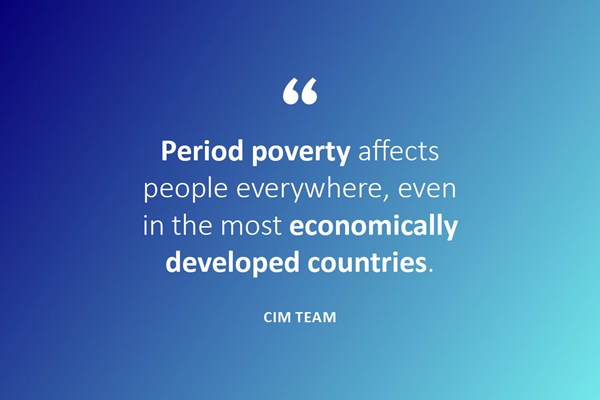 Global p

eriod poverty during the pandemic
Rose Caldwell, chief executive of Plan International UK said: "Periods don't stop for a pandemic, and whether we're talking about girls in the UK, Rwanda, Australia or Nepal, the coronavirus crisis is making it harder for girls and young women to manage their periods safely and with dignity."
In other countries with no hygiene products, no toilets or private areas to change and often no access to sanitary products, some people wouldn't be able to have normal school or working days.
Period poverty affects people everywhere, even in the most economically developed countries. In the US, nearly 1 in 5 girls have missed school because they weren't able to access to period products.
How are businesses tackling period poverty within their own organisations?
60% of office workers don't speak to colleagues or managers about issues to do with their periods.
85% of people with periods have started their period unexpectedly at work, with 62% having no access to sanitary products if they run out. Having access to free period products can boost morale and make your employees feel more respected and valued. It could also save embarrassing conversations and unneeded stress.
Independent UK business, Grace & Green, is an entirely female-led company making organic, plastic-free, biodegradable, non-toxic period products. Founder and CEO, Frances Lucraft, started the company after having witnessed first-hand the huge environmental impact these products have on our waterways around the world.
Sarah Milne, Partnerships Director of Grace & Green added "Joining the Grace & Green Workplace Initiative isn't just about giving your employees and guests free period products. It's about being part of a movement towards inclusivity, equality and corporate social responsibility in the workplace".
The "normalizing of [periods] is kind of a relief in some ways" according to Sharra Vostral, associate professor of history at Purdue University and author of Under Wraps: A History of Menstrual Hygiene Technology.
However, CIM course director for ED&I, David Hare, notes that there is still a lot of "ignorance in the workplace" around menstruation and providing period products. "People still find it a difficult subject to talk to their colleagues and management about, even though it might be having a huge impact on them. In particular, there's very little literature aimed at educating men about period poverty or indeed about menstruation in general. While ignorance prevails, stigma cannot be tackled, so traditionally 'taboo topics' remain in the shadows."
Although there are more people discussing issues around menstruation, in the workplace more than a third of people have started their periods and left work to go home to access their own products. "That's money walking out the door" says Claire Coder, founder and CEO of Aunt Flow, a company that supplies businesses and educational institutions with period products. Coder calls businesses providing period products an "inexpensive employee benefit".
How are governments tackling period poverty?
There is a period product scheme which is available to all state-maintained schools and 16 to 19 education organisations in England. It provides free period products to people with periods who need them in their place of study. The scheme is available for organisations until July 2024.
Reducing the stigma facing people with periods is an important factor in providing period products to all who need them, when they need them. Education is key for everyone and not having access to period products shouldn't impact people in a negative way.  
What are some current solutions?
The Period Products (Free Provision) (Scotland) Bill puts a legal duty on local authorities to ensure that period products are available for free.
Scotland's 32 councils can decide what practical arrangements are put in place, but they must give "anyone who needs them" access to different types of period products "reasonably easily" and with "reasonable dignity".
In January 2020, free period products were rolled out in all primary and secondary schools in England. The UK government has its own period poverty aims looking at tackling stigma and education around periods.
There is a minority of US states that have passed laws mandating free period products be provided in schools.
Education can lead the way
Education is a key factor that keeps cropping up, giving people insight, options and more power to help end period poverty. Making these essential items accessible for everyone can help make a more equal and safer world for everyone.
Where is the future for period poverty?
Perhaps with innovations like the period kit, invented by an ex-Napier University student for when there is no access to a toilet or handwashing facilities, we can look to develop different types or levels of kit which make having a period easier to manage. The market is open for people to create safe products which will help to give people more dignity.
The successful rollout of free products could pave the way for more period and sanitary product companies to be part of this movement to end period poverty. The government has facilitated a contract with educational organisations, this could lead to great opportunities for period product companies to strike up partnerships with organisations. Partnerships which will look to the marketing world for exposure and creative ways to let people know what they are providing.
If you'd like more information on how you can encourage more inclusivity in your organisation, you can delve into our Equity, Diversity and Inclusion course.