Zoom, haircuts and live streams: Data trends emerging from coronavirus outbreak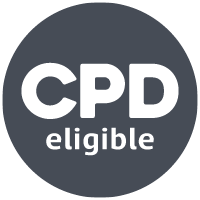 Let's start with a fact - your business has changed! With all the events of the last 30 days (or 70+ in some cases), it's no longer business as usual. Using data effectively can help you to understand how your customer's behaviour is changing as a result of the coronavirus outbreak, and how to keep up with rapid shifts in trends. 
Change is a constant state at times like this, so learning to be agile is essential to respond to this new state of "business as unusual", to quote Anita Roddick's biography. In this article, discover tools you can use to track what your audience is searching for and how their demands change in the coming months. In times of widespread economic uncertainty, these new demands from customers may open up new business opportunities for you and your business, and the marketing department will be crucial to identifying and capitalising on these.


Coronavirus searches in 2020
Let's start with the cause for all this change: coronavirus.


This became a search term worldwide on 21 January 2020, with searches led by China, Canada, Singapore and the Philippines.

February searches dropped back and the search interest shifted to Italy, Switzerland, Ireland and Spain (Singapore still featuring).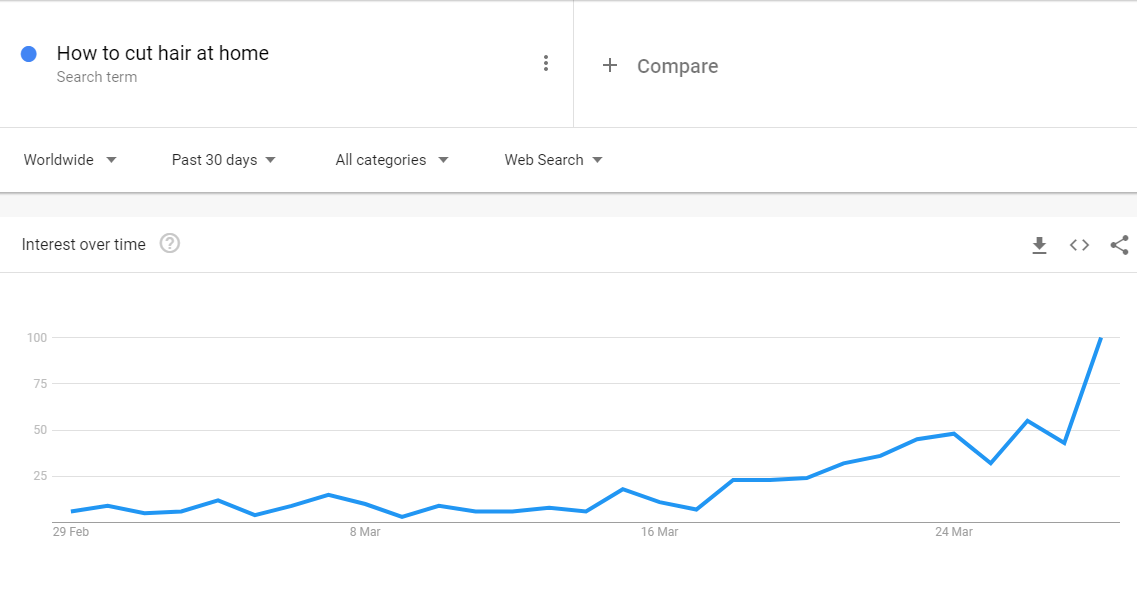 Now in March, we see the current peak and again the countries have shifted as people scramble to learn more about the topic with France and the UK joining the top 5.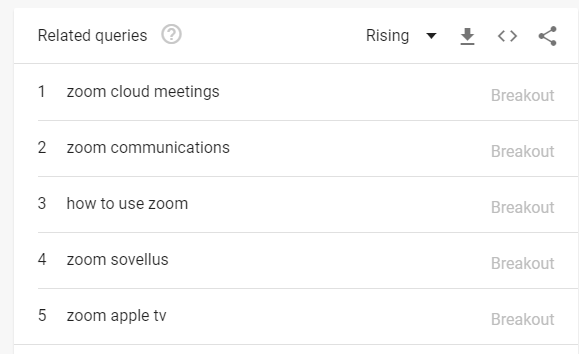 But this article isn't about the pandemic. Rather, we will be considering the tool used to show these changing behaviours: Google Trends. As businesses and their customers scramble to adapt to transformative times, data can be a powerful tool to understanding the difference between what customers say and what they do, to drive better business decisions. 


Emerging technologies
I have personally used this for my clients and trained people in this tool for over 10 years but due to the rapid changes, this tool has a new special place in the marketer's toolbox today. Let's begin with a look at some of the products that have changed in the last 30 days.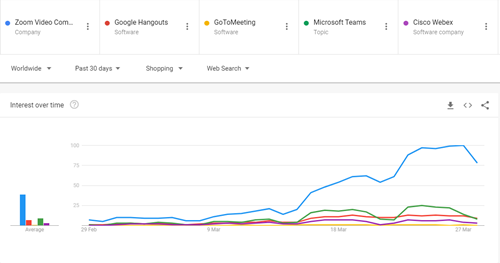 Zoom is obviously the real winner over the last 30 days, with 5+ times the searches of other systems. Unsurprisingly, this aligns with the share price to an extent of this stock over the last 30 days.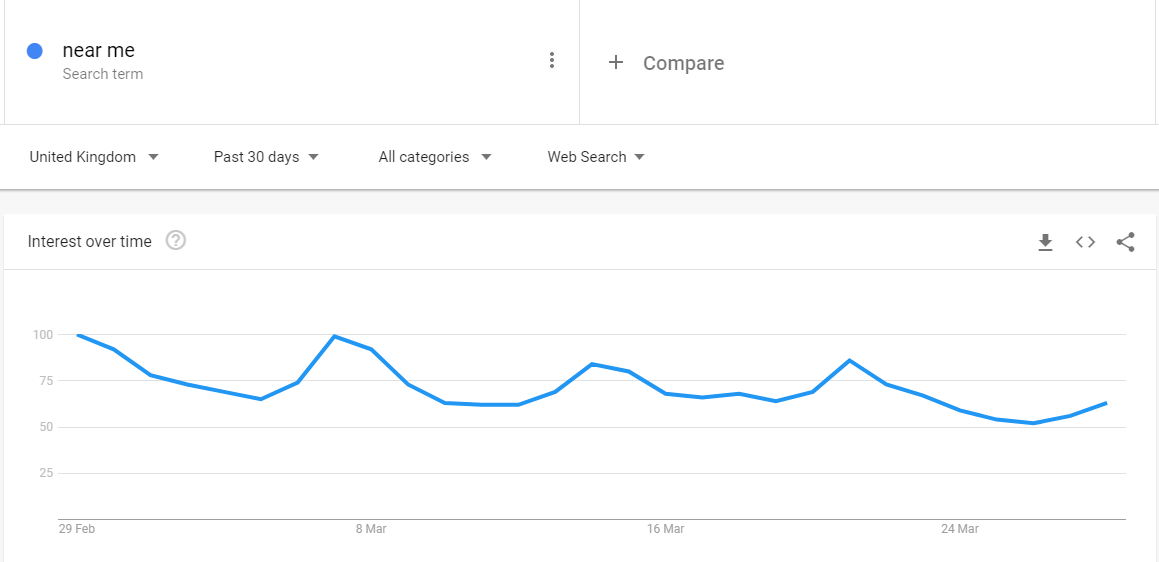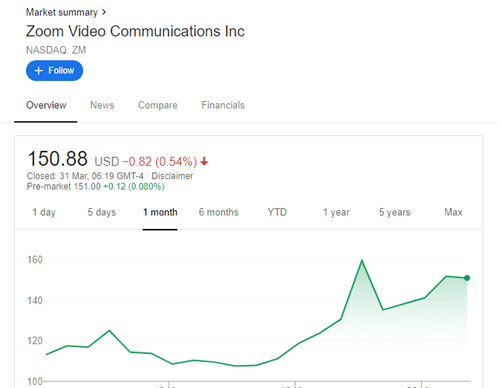 People are obviously new to Zoom, with some of the breakout (fastest-growing from a negligible base) being: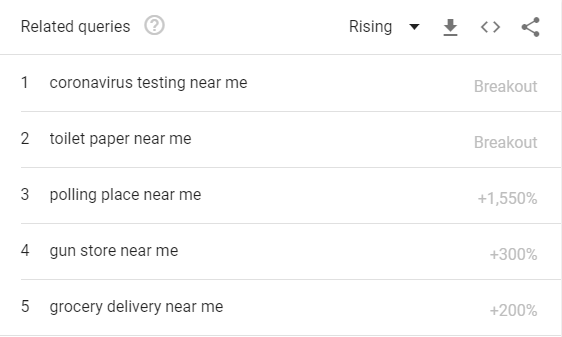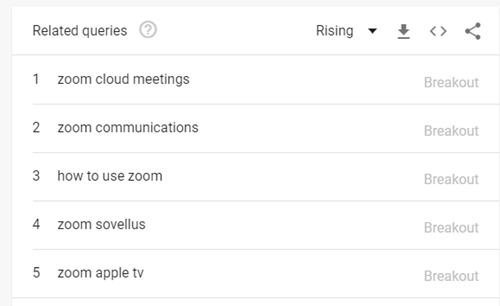 As you can see, "zoom cloud meetings" and "how to use zoom" show the race to learn how to use this new piece of essential tech. These are worldwide searches and the term "sovellus" is Finnish for "app" or "application", which is one of the new growth markets.
For marketers, there are undoubtedly content opportunities around helping your customers (consumers or businesses) adapt to the new technologies. There are now hundreds of thousands of 'Top tips for using Zoom' blogs, videos and more, but if you niche them to your specific audience (e.g. accountants, teachers, hairdressers) then they will resonate strongly and give you a valuable slice of this large audience.

The influence of remote working
With this rapid shift to home working, new hardware is also required. Here are searches for "webcam" in the UK in the category 'Shopping':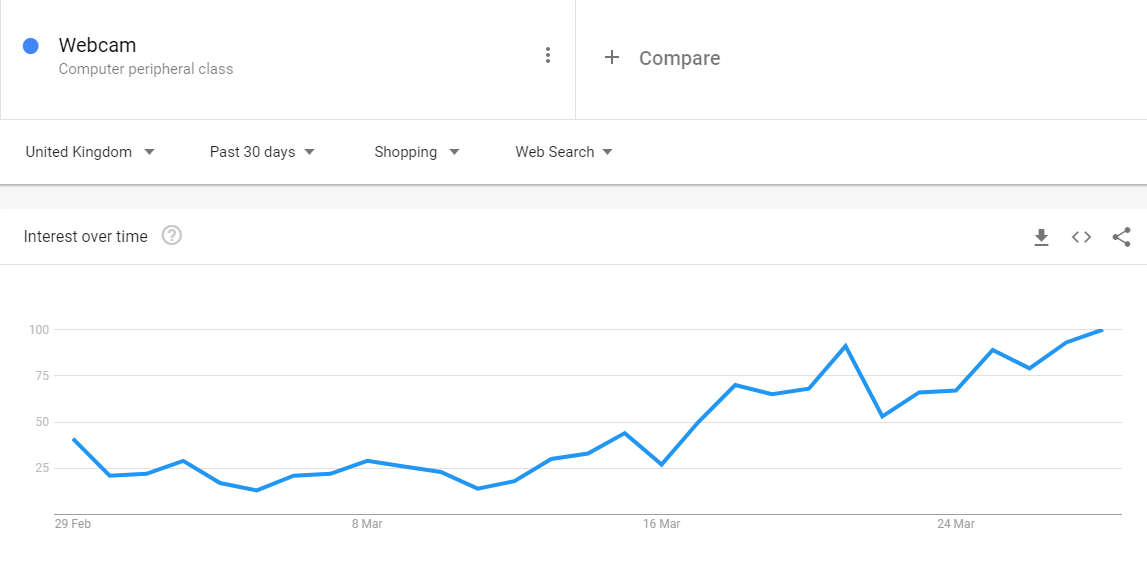 The most popular related topic is a Logitech camera model.

And when you look on Amazon, it's out of stock. If your eCommerce site has a stock of webcams, now is the time to push these through search, social and display.
However, if you move out of the shopping category for webcams, you see a direct impact of the lockdown with breakout terms for people looking for webcams of places: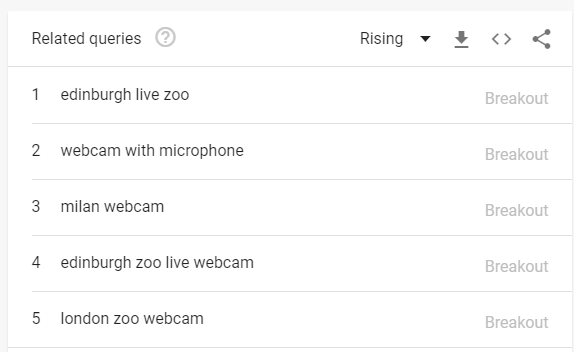 If you are a destination which has closed due to social distancing, you can keep your organisation in the mind of your audience by setting up interesting webcams around your site, which can be promoted via your normal customer channels (newsletters, social media, website) to get people to follow the live feeds. This should naturally translate into good physical visitor numbers when users are released from lockdown. Equally, content marketers can seek to help their customers present their best look on webcams by summarising the tips on lighting, positioning and dressing for this new format.


Utilising "near me"
The "near me" phrase is one which had been growing for a while, largely due to mobile phones being used to create searches on the go. It has become shorthand for "where I am", which of course your device already knows.
Here in the UK, these searches have dropped nearly 50% from the end of February as people have stopped going out: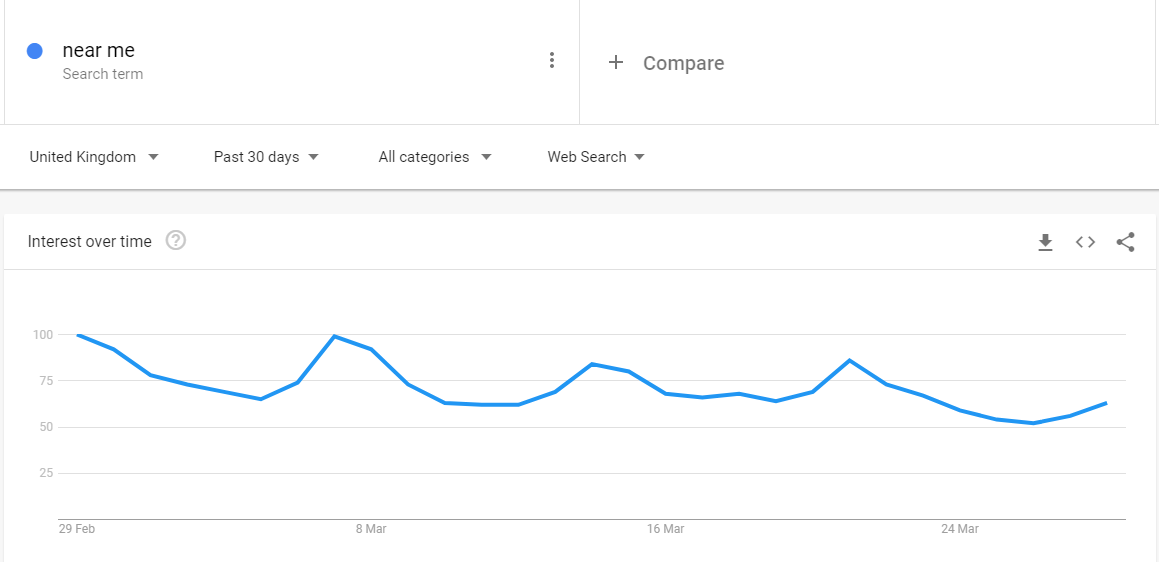 However, the rising searches show the shift in demand, with coronavirus, jobs and supermarket times featuring: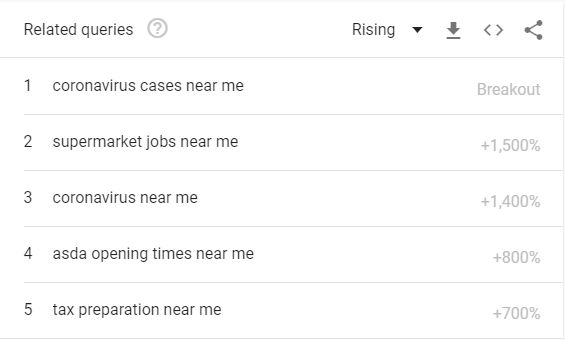 Interestingly if we look worldwide we see some cultural differences, with the US elections and the run on gun stores showing up: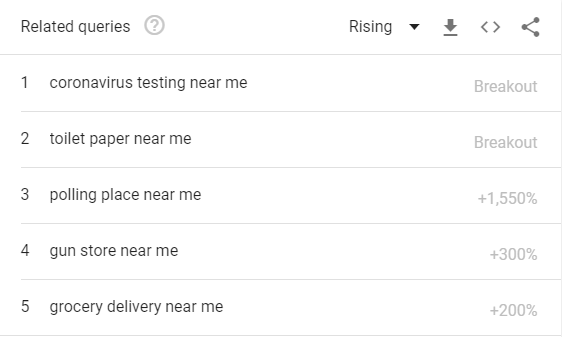 The brand opportunity might seem a little less obvious here, and is of course dependent on your organisation and location, but clearly people are looking for local assistance. If your brand has a local community element, use it. For example, gather data from other local community resources and share it with your local customers. Using your social media, newsletter and local landing pages to signpost resources is both useful and community-supporting.


New trends 
Finally, here is a search term that I believe will continue to grow - quite literally - every day!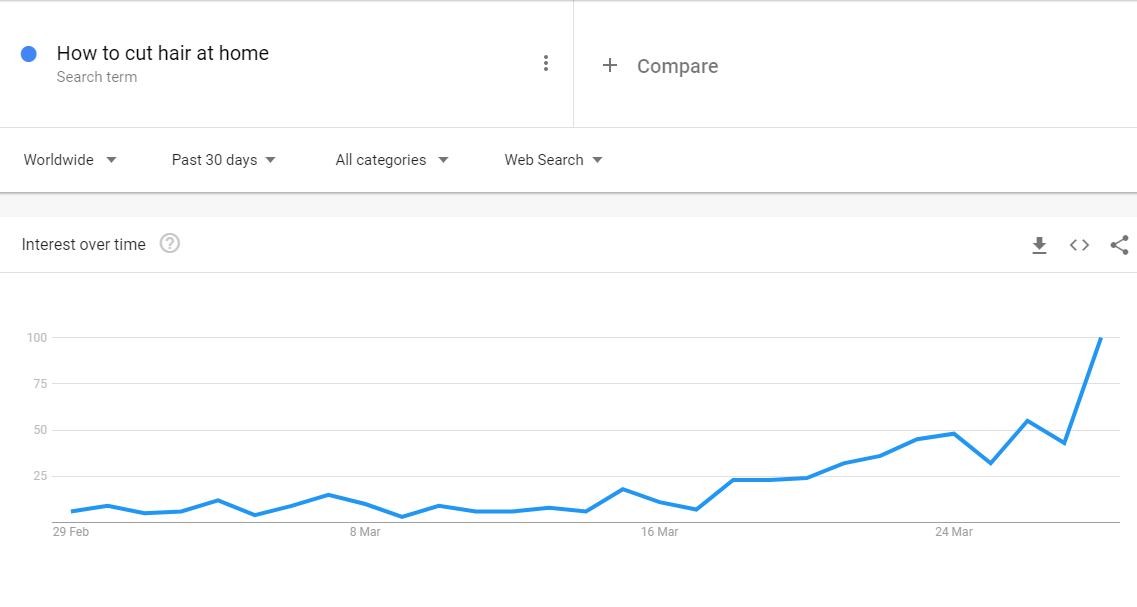 If you are a hairdresser or barber, this shows great potential for keeping close to your customer's demand. Many high street names are now using newsletters, YouTube, Facebook and Instagram to show clients how to maintain their hair until they are able to return to store, thereby keeping their brand in mind.
For businesses such as this, managing recovery will be key and these trends hint at just how popular these services will be when the pandemic eases. It will be important, amongst the chaos of change, to have a plan for how your organisation will manage a return to business as usual when it comes, such as extra staff or longer opening hours.
If you do not work in this sector, don't miss an opportunity by believing this is irrelevant to you. For example, if you sell hats, it might be a great idea to show which styles work best for video conferencing. As the weeks pass and the video conferencing continues, expect more searches for "bad hair day" and "how to turn off Zoom video camera"! 
We'll be keeping you up to date with the emerging data trends from the coronavirus crisis right here on Exchange, so keep an eye on CIM's Twitter feed for new articles. 


To discover more about making effective use of data to drive better business decisions, find the training course that's right for you here. Graham's one-day courses in PPC, SEO, Search Engine Marketing (SEM) and Google Analytics are now available via virtual delivery.