The most impactful ads emerging from brand recovery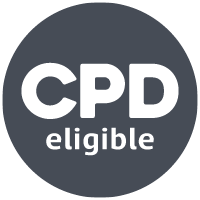 Brands are starting to emerge from lockdown and looking to reconnect with consumers. In this article, discover four businesses that are taking distinctive approaches to re-announcing themselves onto the scene.
Mini
Much-loved British car brand Mini restarted operations at its Oxford production plant recently. It announced this to the world with a slick digital ad.
"It's an almost cinematic approach they've taken," says CIM's Ally Lee-Boone. "In the digital space, quality is a relatively low bar, so this is a differentiator. The quality of the ad's production feels like a reflection of the QA that goes into making a car, and this is somehow reassuring. In terms of execution, I think they've nailed it."
Despite the widespread new pressure on marketing budgets, early signs are that digital is the one channel in which ad spend is holding up, so it's not going to get any quieter in there – quality could indeed be a USP for any brand looking to cut through the noise. With the focus of this ad on Mini's electric cars, "It's also a nice hit on the environment issue that will likely have been a point of reflection for consumers during quarantine," says Lee-Boone.
It's ticking a lot of boxes, then, but is it suffering from the problem that seems to afflict so many car ads these days? "There's a real lack of differentiation between campaigns within this sector," says CIM's Adam Pyle. "This is an agile response that's tailored to a unique moment, but is there anything in here that is distinctive to Mini and not to any of its rivals?" Audiences will find out as its fellow manufacturers emerge from their own enforced breaks.
KFC
The nation's largest fried-chicken chain has been well covered in these parts. It announced its return as a delivery service with a suitably high degree of irreverence.
"It's exactly the re-entry you'd expect from KFC," says Lee-Boone. "Its use of user-generated content is so on brand and – unlike Mini, perhaps – really sets it apart. It is embedded in a conversation with its customers like almost no other food chain. It gets astonishing rates of engagement on social media and it's not hard to see why."
The message is on point too. "KFC's message is about community and togetherness, which is of course important right now," says Lee-Boone. "It's adjusted this to the moment to make its ad relevant, but there's still empathy. This feels like a company that's getting involved in the right way and not overstepping the mark."
Irreverence comes with a risk at any time, but in the midst of a crisis, there's a higher chance that tongue-in-cheek will end up as foot-in-mouth. "There's no doubt this ad is bold," says Pyle, "but it was clearly the right thing to do. At a point when no one can be all that certain about the future, there's a certain risk in trying anything. KFC has stuck to doing what it does best and that's worked."
Daunt Books
From a multinational corporation to a small, independent bookseller. Flying in the face of statistics about a drop-off in ad spend across all channels except digital, plucky Daunt Books plumped for a radio spot and highlighted the power of literature to remind us of crises long since past. You can listen to the two radio ads in full here. 
"Radio is intimate and personal," says Lee-Boone, "and with so many people listening and working at home right now, it's a great channel to be exploring."
With marketing budgets likely to decrease in the face of economic uncertainty, brands – especially smaller ones – will need to get maximum mileage out of any creative execution. "It'll be interesting to see if Daunt utilises this campaign across any other channels and how it develops the campaign," says Lee-Boone.
The only question mark around this one is around the strength of the brand presence. "Could this also have been an Audible ad, for example?" Asks Pyle. "Perhaps this is just because Daunt is a smaller business, so it's simply not as well established, but maybe there was an opportunity to emerge from its niche with something even braver or independent-minded to say."
Durex
Finally, the nation's leading condom brand. "There's always been a playful element to Durex ads," recalls Pyle, "and this one goes even further."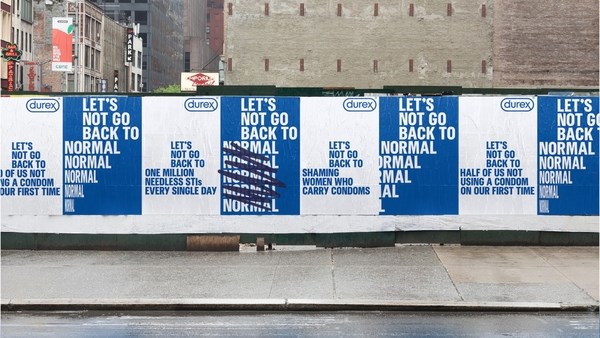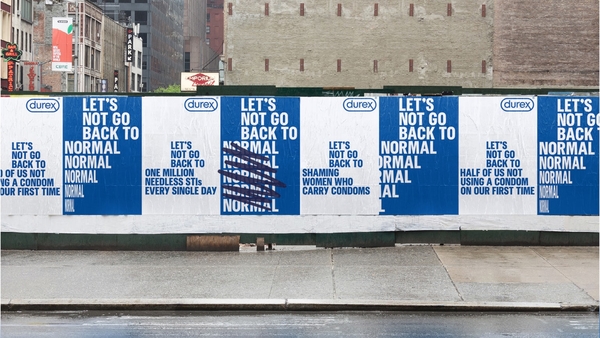 In contrast to Daunt, say, has this one gone too political? "With so much in flux already, there's possibly a risk in putting another issue into the mix," says Lee-Boone. "But this is aligned with Durex's brand and positioning, so it works."
The choice of channel is interesting too. To jump into the previously buoyant out-of-home channel at a time just when lockdown means everyone else is leaving it is brave, but there's a robust rationale, according to Lee-Boone. "People want to be outdoors right now. We are enjoying – and noticing – our surroundings much more than we would be if we had just lived the last couple of months as normal. On my regular lockdown walk, I noticed three local billboards that went completely unchanged throughout. That feels like a missed opportunity." Though some small businesses – such as Emily Crisps – were quick to adapt billboard creative to reflect the dramatic drop in footfall.
For Durex specifically, "This unexpected delivery is matched to some nice brand alignment and they've made the current moment relevant to them. This is a daring success," concludes Lee-Boone.
As brands continue to emerge from lockdown, there will be new challenges, especially as the full economic impact of the coronavirus pandemic is felt. In the face of those challenges, it's important for organisations to remember that it's not which channel they use right now, it's how their strategy can unify their marketing communications so that, in a time of stretched budgets and resources, marketers can get maximum value from their efforts.


Develop and execute a clear brand strategy with our brand-new, on demand online training course, Marketing & Brand Strategy. Discover how to anticipate and overcome future challenges and create a robust strategy for success. Sign up now.