The most inspiring brand innovations during lockdown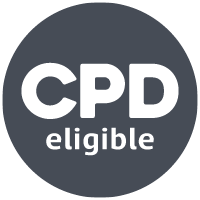 As the coronavirus pandemic endures, more businesses are recognising that they must adapt to survive, but are these changes here to stay? Discover five firms whose adaptations hint at possible future directions for their sectors…
Currys PC World
In the middle of the UK's full lockdown, electrical retailer Currys PC World launched ShopLive, a video service that links stuck-at-home customers to clued-up staff members who can guide them to the right product. Such personal shopping services have traditionally been a preserve of high-end fashion groups, but CIM's Ally Lee-Boone says it's a "natural extension of what we expect from Currys". That's because the initiative focuses on "delivering expertise in what can often feel like an inaccessible world of tech, which we've seen at the heart of their marketing strategy since their inception."
However, Currys is not especially renowned for the quality of its customer service. Just last week, it attracted unwanted attention when a dyslexic customer complained about his treatment in-store. Is Shop Live a step in the right direction? "There now looks to be a large shopper base that never returns to stores post-lockdown," says Lee-Boone, "so this is one way to service those customers. But Shop Live also confronts a wider issue of accessibility. Implemented correctly, it will help Currys and its customers by supplementing its occasionally underwhelming in-store experience. That need to expand and improve access pre-dates the pandemic and therefore I would see this as part of a long-term strategy that other retailers could learn from."
Patty & Bun Sidechick
Over in the food retail market, a couple of hip young burger chains have dipped their toes into the chicken space. First, Honest Burgers launched Honest Chicken, which it said had been in the pipeline for a while, out of its King's Cross branch. Then Patty & Bun chose its central kitchen in Hackney to launch Sidechick, which does half and whole roast chickens in a variety of sauces.
On the face of it, Patty & Bun's move is hardly surprising: a restaurant chain is expanding its takeaway and delivery offer at a time when takeaway and delivery are unprecedentedly popular options. "This is a crowded market where brand loyalty is hard-won," says Lee-Boone. "Patty & Bun has largely left their branding behind, which means it needs to tell potential customers a new brand story. There's clearly a big opportunity in food takeaway and delivery, but anyone looking to fill the gap will need to find a way to stand out. Price is one way to compete, but that doesn't look to be part of Patty & Bun's plan. Right now, it's got a well-presented website, but that's just the start if they're planning to build something for the long term."
Asahi Beer Pronto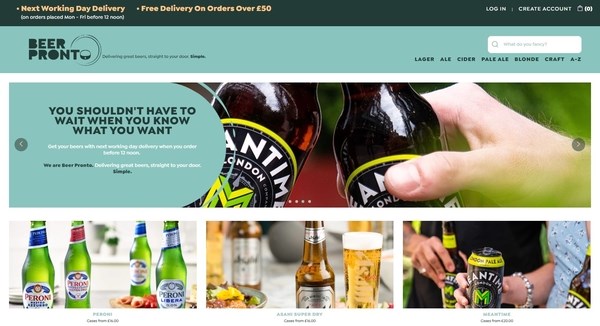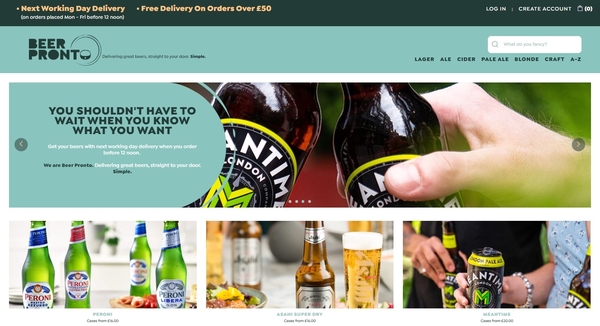 Large drinks brands have not failed to notice the pandemic-induced e-commerce surge. Nimblest among them is probably Asahi, which has launched Beer Pronto, an online shop offering next-day delivery of the group's premium brands, including Asahi, Peroni and Meantime. "They've clearly learnt from Amazon in prioritising the speed of delivery," says Lee-Boone, "and, at a time when it can be hard to get delivery slots elsewhere, this kind of service certainly has a place right now."
But is this one for the longer term? That remains to be seen, says Pyle. "The quality of the brand is in its favour – Asahi isn't always something you can just pick up from the corner shop. However, like lots of local businesses in lockdown, corner shops have re-established themselves as pillars of communities. If those sorts of SMEs can find ways to retain the customers they've picked up recently, a big brand like Asahi will need to add another element to its offer beyond quick delivery – especially once the fight for delivery slots elsewhere recedes."
British Gas X
After years of losing customers to niftier young competitors offering cheaper energy, British Gas has launched its counterattack. British Gas X is an online offshoot that aims to keep its prices low for digitally switched-on consumers. The new brand will not compete with its premium older sibling, which will continue to offer pricier wider packages including add-ons such as insurance and boiler repairs. "This is a chance for British Gas to finally meet modern customer needs by streamlining its products and services," says Lee-Boone. "And they may well have brought the launch forward because of the new demand for digital services and customers feeling the pinch."
If this seems a risky strategy, there is at least a bit of a safety net right now: "Customers are unusually open to change at the moment, so it's as good a time as any to test and learn." For Pyle, there is another challenge on the horizon: staff buy-in. "The business is going to need a lot of manpower for this, but its owner Centrica has spent the past few weeks being slammed by unions for plans to shed 5,000 jobs."


British Gas must also show that not only is it on the right track, but that it knows where it's headed. "As more and more customers become digitally savvy, the two-tier approach is surely not built to last – it will be obsolete soon enough," says Lee-Boone. "British Gas is also touting its eco credentials here: it talks about 'simple, green energy' for its digital customers. Having not made such claims before, it needs to show these are authentic statements, that sustainability is embedded in its business, and that this isn't just a response to the threat posed to it by the likes of Bulb."
Selfridges
Welcome back, we've missed you 💛 | Swipe through today's moments as we opened the doors to our #SelfridgesLondon store. We are now open with additional safety measures across all of our stores, find out more here https://t.co/5KND9WCV73 pic.twitter.com/HiRhAR6OGN

— Selfridges (@Selfridges) June 15, 2020
Finally, back to retail. Selfridges operates in a very different space to Currys PC World, and has a suitably different strategy for success in the new normal. It is augmenting its e-commerce offer by widening its video-enabled personal shopping service, but the four-strong department store group is also trying to make visits to its bricks-and-mortar outlet as richly experiential as can be. Specifically, there's entertainment for anyone who has to join a socially distanced queue to get into its Oxford Street flagship.
"This is great," says Pyle, "because it's exactly what we'd expect to see from Selfridges. Indeed, in some ways, its founder Harry Selfridge was one of the first experiential marketers when he opened the store more than a century ago." More recently, Selfridges has emerged as a leader in the retail-as-experience drive that many see as the concept that can save the high street from the digital onslaught. "This kind of activity is baked into the essence of the brand," says Lee-Boone. "It's just amping up what it was already doing and that's the lesson here for other brands: don't just emulate what Selfridges is doing; learn from the way in which its response to a crisis has been guided by its core values."


Refocus your strategy for the challenging times ahead with CIM's brand new Strategic Marketing Planning for 2021 virtual training course. Delivered in six weekly instalments, this inspiring course is now available to book for FCIMs and MCIMs, ahead of general release on 07 August. Don't miss out. 
Discover more content around ethical consumption and how brands can drive towards a sustainable future by visiting our brand new sustainable transformation hub.