Identifying something that people or businesses want and are prepared to pay for, or a problem that they would like solved (it could be an easy way to make a cup of tea, it could be getting the latest music).
Developing a product or service (anything from teabags to iTunes) that meets that need and then promoting it so that the audience is aware of its existence.
Working out the details and making sure you're charging the right price for the product or service. If the price is too low, you won't make any money, if it's too high, people won't buy it.
it's...
...all about people

Understanding people and what drives them to behave in the way they do is the foundation of all marketing. As human beings, our needs and desires (and the many factors that influence them) are constantly changing. To be a successful marketer, you need to be at the cutting edge of the latest developments and trends because ultimately, no one is interested in yesterday's news.

...creative

Marketing is about finding new ways to explain the benefits of your products and services so that people buy them. Thinking creatively and coming up with new ideas is one of the biggest elements of marketing. Marketers have to be innovative at all times, always thinking ahead in order to create new and exciting products before someone else does.

...about communication

Marketing is all about predicting the next trend or phenomenon. Many consumers change their mind about what they want on a daily basis, so you have to keep up! Being adaptable is one of the biggest challenges facing marketers, but it is also the thing that makes marketing so exciting!

...global

The essence of marketing is thinking big, which often involves considering international audiences. How will people in another country react to your product? When KFC launched in China, they put some consumers off as their famous tagline "finger licking good" was translated as "eat your fingers off"!
Welcome to our Plotr world! Plotr offers independent careers advice so that you can explore many different professional paths. When you click on the image below, you'll be taken to The Chartered Institute of Marketing world on the Plotr website, which will give you loads of information about the different job roles available in marketing.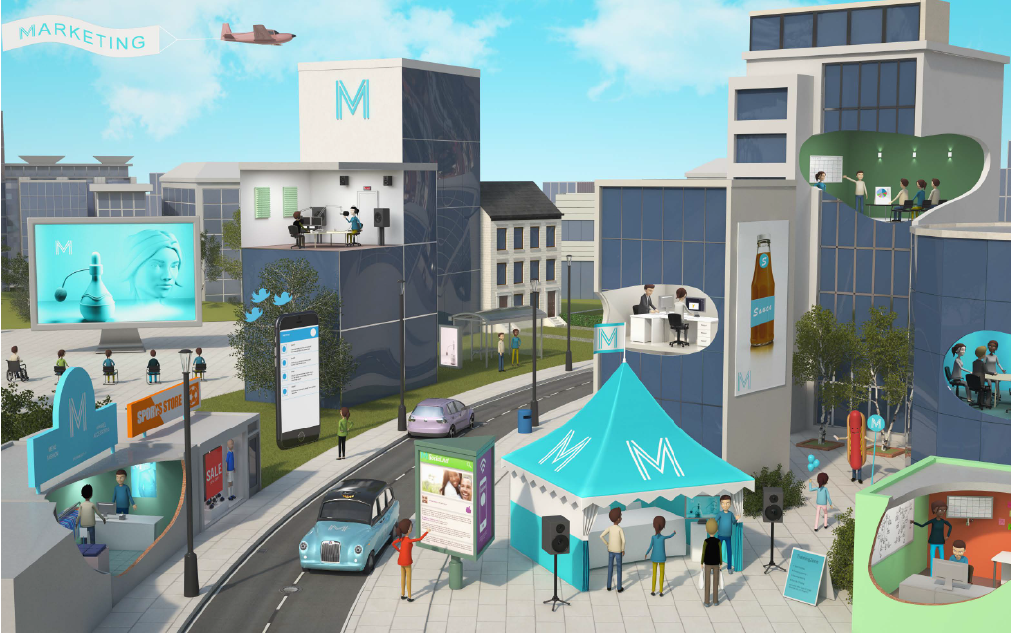 Is marketing right for you?
A successful career in marketing requires a lot of skills. Whilst not all of these skills are necessary, if you can pick out a couple that you're good at, this will really help you when applying for marketing roles or courses.
Art and Design

Creative flair is key to marketing and it is certainly true that a picture paints a thousand words. Design has always played a huge part in marketing as it's important to know the way goods are packaged, promoted and how company websites and literature look and feel.

English and Humanities

If you're good with words and language, marketing could be perfect for you. Effective communication is key to marketing because whether it's a magazine article or a TV advert, you're talking directly to your audience. Unless you can get the important points across, you'll never persuade them to buy your product!

Maths

A surprising amount of marketing is about analysis – which often means taking lots of data, numbers and information in order to make sense of it. Marketing research and strategy are fields where numerate people thrive. For example, the ability to calculate whether promotional campaigns have been profitable is extremely important.

Citizenship

Marketing involves appealing to people globally. You must be adaptable to change and sensitive to different cultures. Citizenship teaches how to be an effective citizen and about understanding the social and political world around you. This ensures that as a marketer you provide an honest, fair and ethical business to all customers.

Computer studies and IT

Technology has become increasingly important to marketers in helping them deliver and promote their products in the market. Just look at the rise of podcasting and 'viral' campaigns. The forward–thinking people with the technical skills to make all of this happen are among the most successful marketers.

Languages

Marketing is an increasingly global business. The ability to speak foreign languages and understand other cultures gives you a major advantage when working for multi–national companies. This could also give you the opportunity to live and work abroad

Science

Before a company can start creating a marketing campaign, it needs a product to sell. Whether it's designing light bulbs or cars, the skills needed to manage the development of products are very specialised and are often heavily based on science.
How do I get into marketing?
University
There are over 800 marketing courses at universities across the UK, so if you want to study marketing you have to choose the course that's right for you. However, employers will generally recruit graduates for marketing roles from a wide variety of degrees, such as Business Studies or English, as long as you can prove that you have the relevant skills.
If you have studied an academic degree, you can complement it with a CIM professional qualifications to show your commitment towards the marketing industry and, therefore, your prospective employer. If you have studied a marketing degree you may be eligible for exemptions to some units of our qualifications through our Graduate Gateway scheme.
Find out if your degree and university are part of the scheme.
Qualifications
If you do not have a degree in marketing, then you may want to consider a relevant course or a professional marketing qualification from CIM. You may be able to find an employer that will sponsor you to do this if they can see the value it will bring to their company.Our qualifications are driven by the practical needs of marketers and the sectors in which they work, as well as being industry-mapped and recognised globally.
If you decide to do a CIM qualification you will also join our membership network, this means you will have access to a wealth of online resources, events and career advice to help you build a long and satisfying career within marketing.
Work
Work experience
If you are still studying then gaining relevant work experience is key when trying to find a job in marketing. Not only does it show passion and drive but it means that you really understand what a marketing work environment is about. The only problem is, work experience can be hard to come by.
Employers will be looking for evidence that you have valuable skills, or at least have the potential to develop them. So, don't ignore that temp job you did this summer - it's all experience in the workplace. If you think you have gained the transferable skills required in marketing then you must showcase them in your CV or cover letter with examples while applying for a marketing role.
Graduate jobs
If you have finished your degree or qualification you will probably be looking for a graduate role. Most graduates start off in junior positions (assistants) and work their way up, as the more knowledge and experience, the more chance you have of getting a job in marketing. These entry-level positions are a good way to gain a broad experience of the industry.
Many large companies offer graduate trainee or assistant schemes. These include Barclays, Heinz, Sainsbury's, Tesco, Vodafone, Adam & Eve DDB and GlaxoSmithKline. The emphasis is increasingly on integrated skills, so you should be prepared to work in any department and gain all-round training. Once you have entered the profession, there are numerous opportunities to help you develop your career.
Useful websites where you can find work experience opportunities as well as graduate role include Milkround, Prospects, Graduate-Jobs.com and Reed.
Apprenticeships
If you definitely don't want to go to university but are interested in a career in marketing, then an apprenticeship where you 'earn while you learn' maybe be a better option for you. Some of the UK's biggest employers are now investing heavily in work-based learning and provide great learning opportunities and access to businesses that some people could only dream of when starting their first job.
Please note that all apprentices must receive the appropriate national minimum wage:
Adult rate: £6.70 per hour
Rate for 18 to 20 year olds: £5.30 per hour
Rate for 16 to 17 year olds: £3.87
Apprentice rate: £3.30 per hour