Could you be a charity trustee in the making?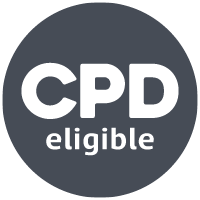 Becoming a charity trustee can be an excellent way to give something back to your community with the skills you've developed in your career, but many people have no idea where to start. In this post we explore what the role involves, the career benefits and the variety of organisations out there who are looking for people with skills just like yours.
What is a charity trustee?
A trustee is a volunteer who sits on what is commonly referred to as a board, which is jointly responsible for helping direct how a charity is managed and ensuring that it operates in the public interest. Trustees play a crucial role in developing the charity's strategy and contributing to management decisions.
A charity must be held accountable to both the law and any governing documents that the charity operates from, and it is the responsibility of the trustee (and the board) to make sure this is the case. Trustees are also responsible for the allocation and management of a charity's resources.
What does a charity trustee do?
A trustee's foremost responsibilities are legal. All trustees have six primary legal duties to uphold:
Ensure a charity is carrying out its purposes for the public benefit
Comply with the charity's governing document and the law
Act in the charity's best interests
Manage the charity's resources responsibly
Act with reasonable care and skill
Ensure the charity is accountable
The role of a charity trustee can be varied and can start with commitments from as little as 30 hours per year. All trustees will be required to attend meetings (usually monthly) where the board will meet and discuss the charity's aims and agree actions to be taken to ensure the organisation is upholding its commitments and operating to the best of its abilities.
Depending on the role and organisation, there can be a huge variety of additional ways a trustee can help in the running of a charity which can include: awareness campaigns, fundraising strategies, bookkeeping and social media management to name a few.
Why become a charity trustee?
Becoming a trustee for a charity is an excellent way to get involved with a good cause and be able to give something back to your community or to get involved with causes that you feel passionately about.  Having the chance to be involved in meaningful work you are passionate about which helps others has been shown to boost both happiness and your health.
Becoming a trustee can be beneficial to your career. This is particularly true for those in the earlier stages of their careers. As a trustee, you will be in direct contact with senior leadership and other well-established professionals, providing brilliant opportunities for networking. Being in a strategic leadership environment will put you in a position where you will be able to develop your skills in decision making, negotiation and leadership. Having experience like this on your CV is uncommon and can really help you to stand out to potential employers.  
Within the charity sector, over a third (35%) of charities are concerned about a lack of trustee diversity. The average age of a charity trustee is 55 to 64 and only 0.5% of trustees are aged 18 to 24, even though they make up 12% of the population. Furthermore, only 8% of trustees are people of colour, even though they represent 14% of the population, from these statistics, it is clear to see that there is work to be done to make boards more representative.
Trusteeship is open to all, regardless of age, ethnicity, experience or even the industry you're in or the stage you're at in your career. Having a board of trustees with different lived experiences and different ways of thinking is critical for boards to make balanced and well-thought-out decisions which keep charities running smoothly. A diverse board also benefits from a wide talent pool and a diverse range of skills to help support the strategic goals of the charity.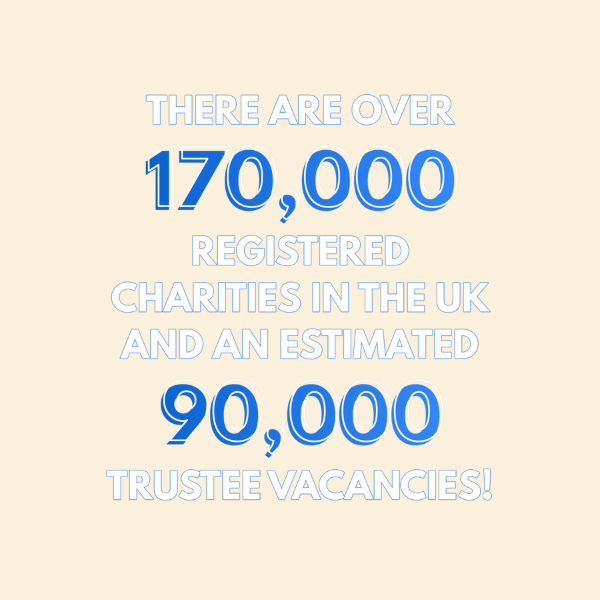 Who can be a charity trustee?
The short answer is anyone. Providing you're over 18 years of age and haven't been disbarred, anyone can become a trustee. According to a recent survey, there are 170,383 registered charities operating in England as of 2022. This is more than at any point previously. This means there are a huge variety of opportunities available, an estimated 90,000 in the UK at present.
What makes a good charity trustee?
The most important characteristics of a good charity trustee are enthusiasm and the desire to make a difference. Being part of a board of trustees is a commitment and other members of the board will be relying on you to meet the needs of the role and attend meetings as scheduled. Other important qualities include good communication skills and being able to work well as a team with other members of the board, everyone has an equal voice and decisions are made as a group, so communication skills are vital in this role. You will also need to have the integrity to be able to uphold the standards of the institution you are working for and make sure that the organisation upholds the standards it has set for itself.
Some top tips:
Be present and prepared for meetings
Ask questions (even the ones you think are stupid)
Stay focused on the charity's mission
Keep learning
How can I become a charity trustee?
It's important to join a charity that inspires you. Being able to bring some passion and enthusiasm to your new role will be a great way to make sure that you are really getting the most out of the role. Getting on Board is a great resource for preparing yourself for the application process and finding your first role.
When it comes to finding opportunities for becoming a trustee there are many resources which can help you, most notably, trustee finder websites. There are a wide range of websites which focus specifically on opportunities for these kinds of vacancies. Some of the platforms favoured by Getting on Board include: Reach Volunteering, CharityJobs, Do-It, Third Sector Volunteering and Trustees Unlimited. It is also worth following the Getting on Board social channels as they frequently post vacancies.
The process for becoming a charity trustee is broadly similar to applying for a job, you will need to put together a CV and a cover letter explaining why you want the role and why you think you are a suitable candidate. It will go along way to also explain why the charity's cause matters to you and how your skills and or experience will be able to benefit the charity.
What can marketers bring to charity trustee roles?
For charities all over the UK, marketing and communications skills could be transformative. Whatever career stage you're at, the knowledge you hold can be put to valuable use.
Every organisation is different. A community group run by neighbours who love their local area, a charity set up by LGBTQIA+ scientists passionate about their work, or a local wildlife trust – they're all full of committed, capable people. But they often don't include anyone with marketing knowledge to help them create a strategy to market their activities, events and services.
The same goes for social media and website expertise. Too many charities just don't have the resources or experience to take advantage of these important channels. Many small charities in the UK don't even have a website, let alone one with excellent SEO. Marketing is as integral to a charity's success as it is to a commercial enterprise – and leadership from marketers like you can help them reach their full potential.
If you would like to find out more about becoming a charity trustee, Getting on Board is running a free workshop which you can sign up for here. The Getting on Board website is a fantastic resource to help you find out everything you need to know about trusteeship and you can also learn more about the Future Trustees Programme. 
If you're thinking about improving your marketing skills and building your career? CIM membership can help support your development at every stage in your career and provides access to a wealth of resources.​