The power of B Corp Certification for sustainable marketing success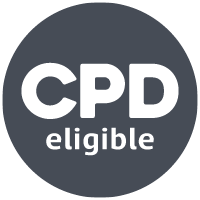 What do Patagonia, Who gives a crap?, and Innocent drinks UK have in common? They're just a few of "over 4000 Certified B Corporations in more than 70 countries and over 150 industries", building a sustainable organisation from the inside out for people, planet and profit. In this article, we reveal what B Corp Certification is, what it means for brands and why it's growing in popularity. 
On 31 March 2022, CIMs inaugural Sustainability Summit's stage was filled to the brim with speakers and organisations sharing their secrets to sustainability success. Watch our exclusive short video from the Q&A panel session to discover more from two brands at different stages of their B Corp Certification journey, what they found most initially challenging and how their journey has changed throughout.
What is B Corp? 
The B Corp sustainability credential was launched in 2006 by the non-profit network B Lab, with "the mission to enable people to use business as a force for good". Since its creation, more than 100,000 businesses from across the globe have signed up for the B Corp Impact Assessment.  
Organisations that apply must meet its high standards to successfully attain B Corp Certification and so far, only 3,500 have currently been certified. In order to achieve this, companies must provide "verified performance, accountability and transparency on factors from employee benefits and charitable giving to supply chain practices and input materials." 
What is required to achieve B Corp Certification? 
Complete the B Impact Assessment (BIA) to measure and verify social and environmental performance

 

Work towards achieving over 80 points. It's rare to achieve this score when taking the assessment for the first time

 

Complete the B Corp legal requirement by amending your governing documents

Submit your application for review.
Why is it important to be a sustainable business? 
According to research by Arabesque.com: 
88% of reviewed sources find that companies with robust sustainability practices demonstrate better operational performance
80% of the reviewed studies demonstrate that prudent sustainability practices have a positive influence on investment performance 
81% of CEOs believe that the sustainability reputation of their company is important in consumers' purchasing decision.
How does it help businesses and marketers?
From an internal perspective for an organisation, the process and gaining certification means an organisation can:
Better understand itself and its purpose 
Identify where it needs to improve 
Understand how it truly serves its stakeholders
Increase the ability to recruit and more importantly retain staff 
You will be able to articulate clearly and succinctly what society can expect from your organisation
Work towards benefitting the three pillars of sustainability: people, planet and profit.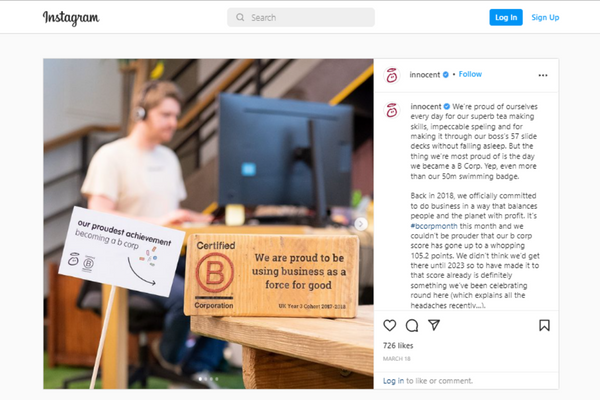 Check out Innocent's Instagram carousel about their B Corp Certification
Where to start
B Corp Certification is designed to help you and your business to: 
Learn which of the UN's seventeen Sustainable Development Goals (SDGs) are most relevant to your business, understand your existing contribution, and find out how you can take action. 
Analyse your operations, policies, and business models to discover the potential positive impact and risks these pose in relation to the SDGs. You'll then be able to convey your learning journey and the impact improvement actions you are taking to your consumers. 
Set goals and track your improvement  
A dashboard helps you to both visualise and comprehend your progress as you work towards your goals 
The benchmarking feature is designed for you to compare your organisation against other businesses in your industry. 
What does it mean from a consumer's point-of-view?
Once a business is certified: 
Consumers can clearly see that a business matches its ethics from the B Corp logo on its products, services and website 
From an external perspective, being a B Corp comes with positive reputational benefits
Can be used as a competitive advantage 
Can help alleviate concerns about Greenwashing 
However, it is important to note that whenever you use sustainability in a competitive advantage situation, it's not with the sole objective of 'selling more' and driving profit. 
Fortify your marketing skills to sustain your business through the ever-changing landscape with the help of our Sustainable Marketing Hub, courses, and sustainable qualification.