What to expect from your marketing apprenticeship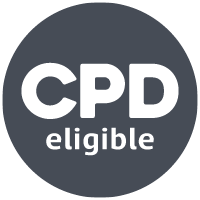 A marketer can approach their career from many different directions. For those who are looking to head down the apprenticeship route, Madeline Thorp, a current digital marketing apprentice, is here to explain what to expect from a marketing apprenticeship and reveal some of the surprises she had along the way.
A marketing apprenticeship can provide you with the necessary skills, knowledge, and experience to help you succeed and grow within the industry. In this article, I am going to talk to you about the expectations I initially had of marketing apprenticeships, and how my experiences so far within my own apprenticeship have allowed me to change (and even exceed!) these expectations. 
"Will I feel as valued as other team members?"
Suffering from imposter syndrome was my greatest fear before I started my apprenticeship, as I always thought to myself: "How could I perform as well as those who have worked in the industry for much longer than me?" 
In reality, I am very successful within my role. I have grown and progressed to create high-quality work that I am proud of. This, alongside the support of my colleagues, has helped me to realise that I am a valued, appreciated, and important member of my team, even though I have less experience in the industry than them. This makes me feel confident when looking to apply for roles and continue along my career journey.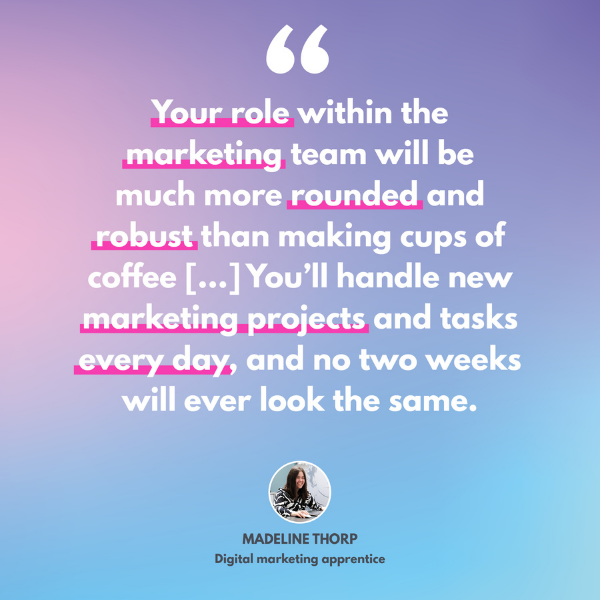 "How will I be able to adapt to the world of work?"
I was initially worried about struggling to adapt to the nine to five, Monday to Friday routine, after attending college and working part-time for two years. 
However, I was surprised by how quickly I became used to it. Admittedly, the first week was a slight shock to the system, however, after that, it becomes a normal part of your week-day routine. 
There were a few things that helped me to make that transition. Such as maintaining a good sleep schedule, making sure that I detached from work in the evenings to relax and communicating with my team if I ever felt overwhelmed or stressed. 
"Will I have to know everything about marketing from day one?"
Although I had a basic understanding of marketing and some background knowledge after completing the CIM Virtual Work Experience programme, with Springpod, I worried that I would be unable to fulfil my job role to the extent required due to some gaps in my marketing knowledge.
My experience has taught me that the purpose of a marketing apprenticeship is to allow people with little to no experience in marketing to kickstart their career in the field, so you're expected to know very little. In fact, I am not sure even top-level marketers can know everything there is to know about marketing, because it is an industry that adapts and evolves so frequently.  
In an apprenticeship, you will be given plenty of training time that will allow you to grow, develop and learn new marketing skills needed for your job role. These skills and experiences will stay with you throughout your marketing career. 
"Will I just be stuck making the tea and job shadowing?"
A huge misconception surrounding apprenticeships in general is that you're just there to be the errands runner, but this could not be more wrong. 
Your role within the marketing team will be much more rounded and robust than making cups of coffee and editing spreadsheets. You'll handle new marketing projects and tasks every day, and no two weeks will ever look the same. For example, as a digital marketing apprentice, I work on a variety of digital marketing projects, including social media content creation, search engine optimisation (SEO), website content updates, and much more! 
"What if I make mistakes?"
When I started my apprenticeship, I believed that the workplace had a 'no mistakes' policy, and that I would be in trouble if I did anything wrong. 
After making my first minor mistake a few months into my apprenticeship, I realised that my ideas about making mistakes were completely skewed. The reality is, whether you've been in your role for five months or five years, never be afraid to make mistakes. They provide a vital learning curve and encourage us to look at things from a different perspective, developing other solutions and approaches. Mistakes are bound to happen, but it's how you learn and progress from your mistakes that matters.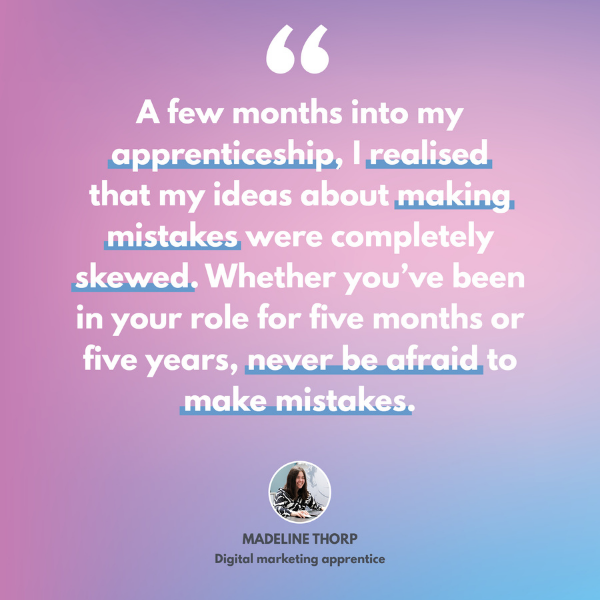 "Will it be difficult to find an apprenticeship?"
Another misconception I had before I started looking for an apprenticeship was that they would be difficult to find. I imagined I would have to spend hours and hours scrolling on the web, hopelessly waiting for an apprenticeship opportunity to pop up on my screen.
In reality, you can find a variety of marketing apprenticeship opportunities online through job sites such as Gov.uk, LinkedIn and Indeed. As marketing is such a huge industry with so many roles, you could find an apprenticeship for anything from copywriting to content creation. It's just about finding the right fit for you. 
If you're in secondary school or college, there will likely be apprenticeships and work experience advertised on your school's bulletin, so make sure to check that out for more opportunities. 
Marketing apprenticeships help kickstart your career by providing you with valuable insights into the industry, allowing you to grow and develop your marketing skills and knowledge on the job. Although there are many misconceptions surrounding apprenticeships, my experiences within my role as a digital marketing apprentice have opened my eyes to how valuable marketing apprenticeships really are.
 
Looking to get into marketing? Visit our CIM appre​nticeships page to access useful resources, including a downloadable guide, to help you kickstart your career in marketing.