2019 in review: Our favourite campaigns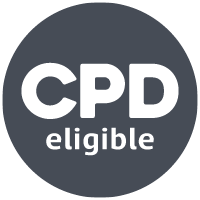 As the year draws to a close, our contributors look back at their favourite campaigns of 2019, drawing on everything from the big budget Marvel universe to an advert created for just £100.
KFC's 'Chicken town'
KFC has had an interesting year. From launching an 'I Love You Bacon Burger' campaign in the so-called 'Year of the Vegan' (The Economist) to putting Colonel Sanders through his paces on the DJ deck at Miami's Ultra Music Festival, their marketing tactics haven't always landed.
However, Chicken Town was perhaps their slickest activation yet. Bold and irreverent, it appeared to me to be a more sophisticated version of the tongue-in-cheek tone we've come to expect from them.
It is also so fantastic to see big name brands continuing to invest in print and KFC have single-handedly proved the value of it. Would that now-infamous 'FCK' ad been half as impactful had it not been physically put into your hands? However, their Chicken Town creative, combining logos of their imitators the world over in glorious technicolour, is a true standout for me.
Ally Lee-Boone, Content Executive, CIM
Hafod Hardware's 'Be a kid this Christmas'
When it comes to Christmas, brands such as John Lewis, Coca-Cola and M&S dominate people's psyche thanks to their heart-warming advertisements. However, this year Hafod Hardware, a small store in South Wales, could have beaten them all with an advert that cost just £100.
The video shows two year old Arthur working in the Hafod Hardware store to the hit song 'Forever Young', when at the end of the ad he goes to pick up a Christmas tree far larger then him, he stands up and Arthur is a grown adult; reminding us all to 'Be a Kid this Christmas'. The advert nails the important message that Christmas can be an expensive time of year, but if people can try to shop at small independent shops it can make a big difference to families.
James Delves, Head of PR and Engagement, CIM


Burger King's 'Burn that ad'
This offbeat attempt invited passers-by to use Augmented Reality (AR) on its competitor's ads. On spying a McDonald's ad on a train, bus stop or billboard, participants viewing it through the Burger King app would see it automatically 'burned' down and replaced with a 'Flame-Grilled is Always Better' message. It then offered the snapper a free Whopper as a reward.
I like the ad mostly because I'm impressed by Burger King's relentless pursuit of McDonald's and others over the last 12 months. With many of 2019's ads good, but ultimately forgettable, this stands out because it's been part of a strategy that has just been trying to land blow after blow after blow on competitors.
I also like it because it makes me question what I think is a good ad, because I'm not sure it is. Creatively, it's great. And it's done exactly what it intended to do - create yards and yards of column inches making sure the brand stays front of mind. It also encourages Burger King customers (they will be customers as they already have the app) to focus very heavily on a competitor's advertising. Given advertising is designed to entice and convince, does Burger King really want to make sure its customers give McDonald's quite so much attention?
Morag Cuddeford-Jones, Editor, Catalyst


Spotify's 'Listen Like You Used To'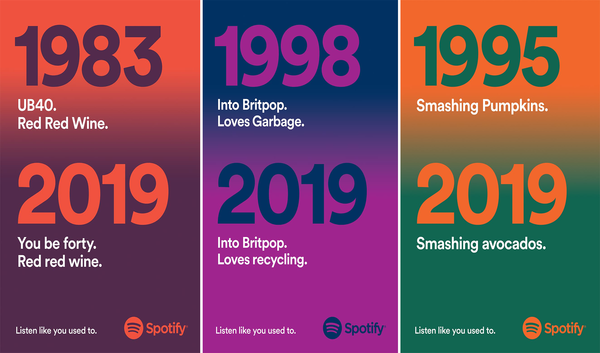 The campaign aims to show that Spotify understands you and the power of music, thereby positioning itself as the listening platform of choice. It's based on the insight that while your life may have changed, you're still likely to enjoy the music of your adolescence.
Aside from being rooted in a compelling insight, for me, a real strength of the campaign lies in its beautifully crafted art direction – clean and simple, to land the clever wordplay. But upon further consideration, the graduated background seems to represent the passing of time, and the use of colour in the two dates highlights the lifestyle differences but music similarities between now and then.
It's my favourite campaign of 2019 because its impactful resonance made me chuckle. It also achieved amplification across social media thanks to people creating their own versions of the campaign creatives, proving it struck a chord with its audience.
James Farmer, Head of Brand and Marketing, CIM


Marvel's 'Avengers: Endgame'
It seems like everything felt so ambitious or political this year, and bad news seemed to outnumber the good as brands made mistake after mistake. Not so for the cinema, and not so for Disney. As attendances increase, and cinema advertising is growing faster than digital right now, the Mouse House are the ones making all the money, and no movie made more revenue than Avengers: Endgame this year; in fact, unadjusted, it is the highest grossing film of all time.
Amongst a $200 million promo campaign was a clever bit of advertising through Google. Click the infinity gauntlet and Thanos will magically make a few spoilers disappear, wiping out your search results in the same way the diabolical super-villain could snap half of the world's population away. The fact that Marvel have done little things like this, to keep us slightly more offbeat personalities interested, whilst making the franchise about as mainstream as it gets, is not an easy act to pull off, but they succeeded.
Adam Pyle, Marketing Coordinator, CIM


As we enter a new year, and we are still slap bang in the middle of the so-called 'golden quarter', marketing campaigns will be rife, from all sectors. There have been plenty of misses this year, but this list is a reminder that ads break through for all sort of reasons and, though brands must make use of their insight, it is not an exact science. We look forward to seeing what marketing in 2020 looks like.
Got any more stand out campaigns to add to the list? Let us know on Twitter @CIM_Exchange.
If you have thoughts on want you want to see on Exchange in 2020, take part in our survey and help shape our future content.