How to kickstart effective email marketing campaigns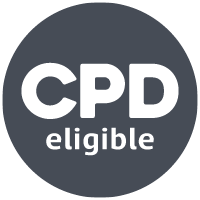 Is the pandemic over? No. Are things improving and businesses starting to open up again? Yes. Is this a good time to review your email marketing? Absolutely. Here, CIM course director Olly Beckett examines some ideas on how best to approach email communications with your customers as we exit lockdown.
Email marketing still has a place in the strategic mix, but, as the world has changed, how you use it as a tactic will have changed too. You may, for good reasons, have either reduced the number of emails you send or stopped them altogether. If you feel it's time to return to normal output, there are some things that you'll have to consider first.
Before resuming your usual email programme, it's worth either slowly increasing the number of emails you've been sending, or gently re-introducing them into your subscribers' inbox. For example, if you've reduced your weekly send to a monthly send, start sending once every two weeks for a month before going back to weekly sends. If you want to really be clever, start sending only to those subscribers who have previously been most engaged with your emails, before increasing volume.
Why is this important?
Because abruptly ramping up the volume of emails you send may be viewed as suspicious behaviour by email service providers. Your emails could end up in spam.
And because a significant uptick in comms may overwhelm your subscribers. If they suddenly start receiving emails/more emails from you, they may react by either unsubscribing or marking you as spam.
Regarding this last point, the content you include in your emails and subject lines can also make a difference to how your subscribers react to seeing you in their inbox again, because you are unlikely to be the only business in your sector ramping up their communications. So, let's take a deeper look at that.
Being clever with content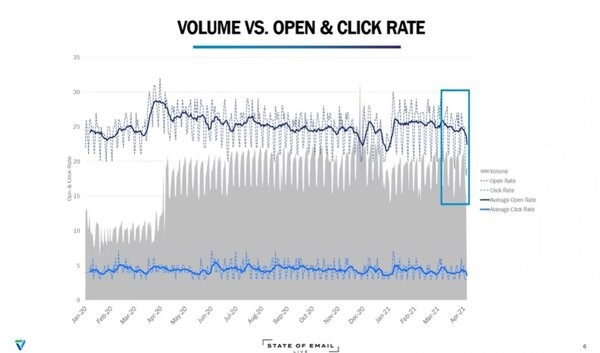 More emails are being sent than ever before, but, according to some analysts and the chart above, engagement is starting to drop off. Relevance and differentiation in the inbox are therefore vital. If you've been absent from your subscribers' inboxes for a prolonged period, acknowledge this in the subject line and body of the first email you send.
Here are some tips on how to do that:
Be positive. People have enough worry in their lives without having to hear about your company's pandemic troubles. An example subject line could be: 'We're back!' – this is short, positive, and will make people curious to see what the email is about.
Have a plan for your emails. If you send one email, then go quiet again for another long period, your customers may start to ignore you. By having a plan you can let your customers know in that first email what they can look forward to in your amazing emails (i.e. content/offers/sales).
Of course, in the time that your emails have been away from their inbox, subscribers may have changed their minds about you. It may seem painful but giving them an obvious unsubscribe link would mean that you're rid of subscribers who will no longer engage, and your deliverability will improve as a result.
Be consistent. Ensure your emails look and feel the same as they did when you last sent them. If a subscriber doesn't recognise you, they may hit that spam button.
Use this as an opportunity to further endear your subscribers to your brand. Let them know what has happened in your company since the last email you sent. Get them excited about what you'll be doing now that the pandemic is (hopefully) becoming less severe.
You'll have noticed that I've mentioned spam and deliverability a few times now. This is because these are the two main issues for email marketers. An email, no matter how well written, is worthless if it is not read. This is something that I discussed in more detail in my most recent webinar for CIM members on effective email marketing for customer retention.
Carefully analyse your first few emails
Once you've started sending emails or increased volume again, it's worth going beyond basic analytics to ensure that your audience hasn't changed. What should you look out for?
Hard bounces: The system from where you deploy emails should automatically remove hard bounces. It's worth checking that this is happening, as well as seeing how many hard bounces you're now receiving. During the past year, subscribers' email accounts may have changed in nature from one which is perfectly fine, to one which is viewed as suspicious. If you continue to send emails to that address, you're going to have deliverability issues.
Engagement: In a year like this it's likely that some of your subscribers' lives and interests have changed. Your emails may no longer be relevant to them. Are you able to change the content that these subscribers receive? If not, and they still don't engage, then it may be time to let them go (assuming they don't engage for 6-12 months).
These simple steps should ensure your email programme bounces back successfully, though you should be sure to not rush into returning to normal. It will be a long and careful process for every organisation moving forward, and email marketing campaigns should be treated with the same due care and attention as every other activity. If marketers can do that, email campaigns will continue to play a significant role in organisational strategies and success in the future.
Ensure your emails don't fall on deaf ears with Olly's Email Marketing virtual training course. Sign up now to discover more about the enduring power of email marketing and how to streamline your communications for success.