Mastering local SEO: Strategies for dominating your niche market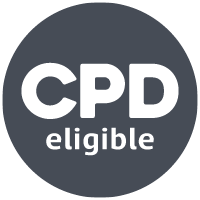 Using local SEO to create relationships with your target market can give your business a boost and a customer base which knows where to go to shop locally. In this article, expert Henry Purchase and CIM Course director, Gavin Llewellyn, share their top tips to help you dominate your niche market.
If you're a business looking to gain an edge in your local market, mastering local search engine optimisation (SEO) is essential. It's no secret that SEO is becoming increasingly competitive and complex, which means it's more important than ever to get ahead of the curve. 
This guide will give you a rundown of local SEO and the methods you need to know to beat the competition. 
Want to find out more about the right SEO mix for your business? You can learn this and more essential tips on our Search Engine Optimisation training course.
What is local SEO?
Local SEO is a marketing strategy for optimising a website for specific local markets. It seeks to increase the visibility of "local" businesses in search engine results, promoting higher rankings in local searches and driving more organic traffic to your website. 
When done correctly, this marketing strategy can be highly effective. Recent studies have found that 98% of consumers looked online for local businesses in 2022—up from 90% in 2019—and that a significant percentage of those consumers act after visiting the website or store. This data confirms how critical it is for businesses to invest in local SEO tactics and strategies to get found and gain visibility with their target audience. 
Local SEO involves the use of a range of tactics, including: 
Optimising the content on a website for geographical keywords

 

Building links from local sources

 

Claiming relevant business listings on sites like Google My Business and Yelp

 

Getting reviews using QR codes in your location

 

Using targeted ads to reach local people 

 
Ultimately, these strategies ensure that businesses can rank higher in the search engine results pages (SERPs) when people are looking for services or products within their area. 
You can use different SEO plugins, such as Yoast SEO or SEOSpace, on your website to master SEO in a more general sense. However, to perfect local SEO you must focus on specific strategies to set you apart from the competition. 
Now, let's examine these key strategies to get the best out of local SEO. 
Strategy #1: Analysing your target market
Analysing your target market is a vital part of any local SEO strategy. It goes beyond looking at demographic data and extends to understanding the wants and needs of your customers. That's why taking the time to research your niche market is so important. 
When determining how to reach and engage with your target audience effectively, it's important to consider search engine data such as keyword research, competitor analysis and website metrics from sources like Google Analytics. This data can provide valuable insights into what your prospects are searching for and the best way to reach them in organic search. 
Understanding what customers in your niche need and responding to it accordingly can ensure your content reaches the right people in your target market — and that you can build relationships with them. This alone can help you gain a competitive advantage and grow your business. 
For example, let's say you're a restaurant owner looking to level up your restaurant marketing, or a self-storage business owner looking to level up your local reach - both have very distinct markets, and even though you'd want them both to rank locally they both have very different: 
Keywords

 

Competitors

 

Target customers

 
Thorough research into these areas will help ensure that your SEO strategy is well tailored to your business and will help generate better quality results.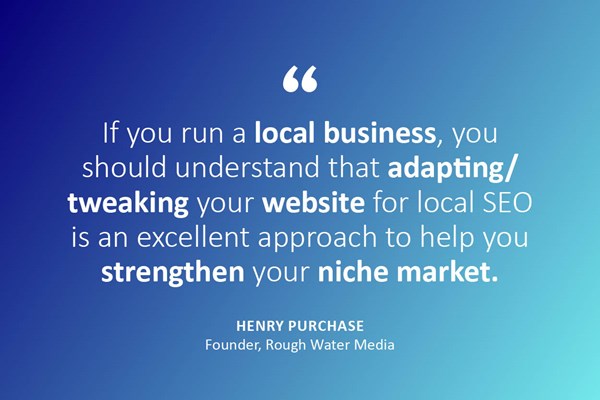 Strategy #2: Optimising your website for local SEO
If you run a local business, you should understand that adapting/tweaking your website for local SEO is an excellent approach to help you strengthen your niche market. There are several strategies you can employ to ensure your website appears in local search results and ranks highly: 
1. Optimise your page titles and sub-titles
Google will look at the information you provide and scan your page for indexing. It's essential to ensure your page titles and subtitles include the keyword you want to rank for and follow all best practices for page titles, sub-titles and content. If you're wondering where to start, following an SEO checklist covering most of your bases is probably best. 
2. Get backlinks from other local businesses
Getting backlinks from other local businesses is an excellent way for your website to gain higher rankings in local search engine results pages (SERPs). Reach out to other business owners and influencers within your niche market who may be interested in creating mutually beneficial partnerships that can result in both parties linking to each other's websites. 
Note: Remember always to provide value first - why would someone provide a backlink if you give nothing in return?
3. Utilise reviews and social proof
Reviews have become an essential factor in local SEO rankings, with 76% of consumers admitting to regularly reading them when looking up local businesses online. 
The first step towards this strategy is ensuring you've claimed your business's Google My Business profile. Next, create a CTA link or QR code that customers can access at your location to leave reviews on Google My Business or other review platforms such as Yelp or TripAdvisor. 
Additionally, ask customers to include your keyword in their reviews — this can help boost your rankings in the SERPs. 
For example, if you're the best restaurant in London, ask your customers to mention this in their reviews! 
Strategy #3: Leveraging social media
Social media is integral to local SEO and getting your business online. To maximise its effectiveness, it's essential to add geotags to all posts, including local keywords in your post descriptions and titles and relevant hashtags. This helps search engines understand your location and brings more focused people to your website.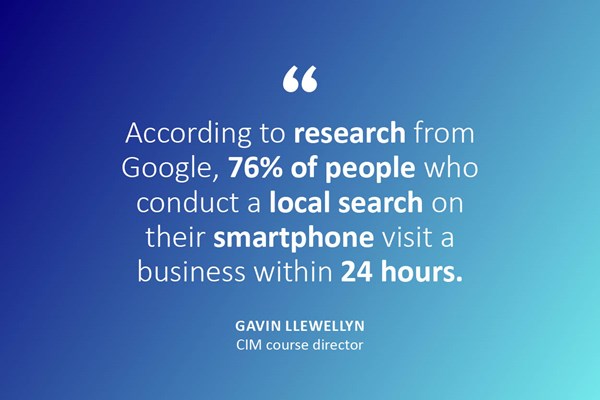 Wrapping It Up
Mastering local SEO lets you establish a strong presence not just in your local market but also in the global market. When done correctly, local SEO can be a potent tool for businesses, helping them succeed in an ever-changing and competitive market. 
Once you've applied the above strategies, you must track and measure data over time to see what is having the most significant impact. And finally, ensure to stick at it, as the results won't come overnight, but when they do, you'll be thankful you started! 
Top tip from Gavin Llewellyn – CIM Course Director for Digital Marketing 101
Boost your local SEO results with optimised landing pages 
Visitors arriving to your website because of your local SEO efforts will be looking for clear information about your product or service. The landing page experience you provide can have a big impact on your local search rankings and what the visitor does next.  
According to research from Google, 76% of people who conduct a local search on their smartphone visit a business within 24 hours, and 28% of those searches result in a purchase. Without location pages, visitors cannot find the nearest and most convenient places to get the products or services they're looking for or the ability to buy them in store or for delivery.  
Creating a well-optimised landing page for local SEO will enable search engines to associate the content on your pages to the keywords people are searching for and other local listings on your website. Think of your local landing page as an extension of the local listing: 
Image source: Yext
In summary, well-optimised local landing pages will help you to improve your: 
Google score

 

SERP ranking

 

Conversion rates

 

Click-through rate 

 

Revenue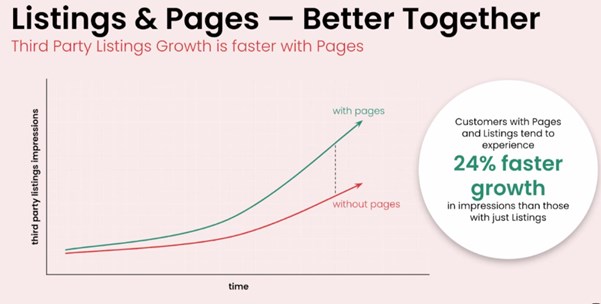 Image source: Yext
Find out the benefits of migrating from Google (Universal) Analytics to Google Analytics 4 and how you can get the best from this platform for your business with our Google Analytics 4 (GA4) virtual training course.